The ASMP is Austin's first comprehensive, multimodal transportation plan, and guides our short- and long-term transportation projects, programs, initiatives, and investments. Adopted in April 2019, the ASMP plans for all the ways we get around Austin. This includes driving, walking, bicycling, rolling and taking public transportation.
The Austin Strategic Mobility Plan (ASMP) is getting its first tweaks and we need your input. The ASMP is a living document that we want to reflect our community's needs and experiences. Recent global and local events since adoption have led the ASMP Team to analyze the existing ASMP policies and now we're suggesting a few new ones we'd like your thoughts on.
In addition to the proposed new policies, we are also collecting feedback for the changes and updates made to the ASMP maps. These changes reflect the new work done on the updated Transportation Criteria Manual, changes to our Public Transportation System, and Mobility Bond Programs.
If you have any questions or comments about the ASMP or this amendment process, please email ASMP@AustinTexas.gov. We will continue to stay in touch throughout this process, but you can also subscribe to Austin Transportation's Mobility Newsletter for week-by-week updates on mobility in Austin.
If you have any questions or comments about the ASMP or this amendment process, please email ASMP@austintexas.gov.
Take our survey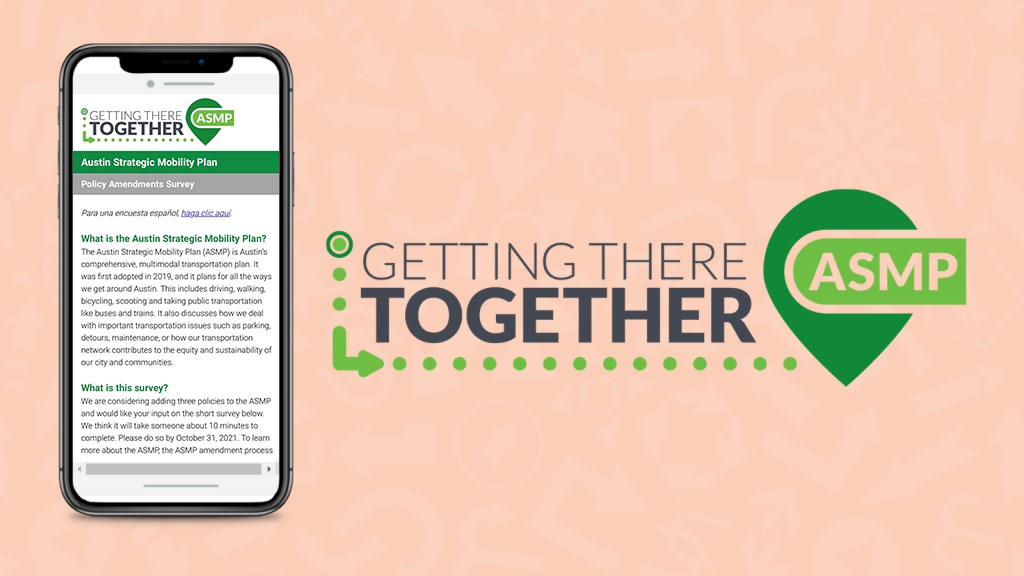 Please review the three new proposed policies here and take our short survey. To request a copy of the survey by mail, please email ASMP@austintexas.gov. Take the survey in English here.
Please review the ASMP Street Network survey to comment on the potential changes to the Street Network. Take the Street Network Survey in English here.
Revise las tres nuevas políticas propuestas aquí y responda nuestra breve encuesta. Para solicitar una copia de la encuesta por correo, envíe un correo electrónico a ASMP@austintexas.gov. Responda nuestra encuesta en español aquí.
Por favor lea la encuesta sobre la Red de Calles del ASMP para hacer comentarios sobre los cambios potenciales a la Red de Calles. Responda la encuesta sobre la Red de Calles en español aquí.
Plan Components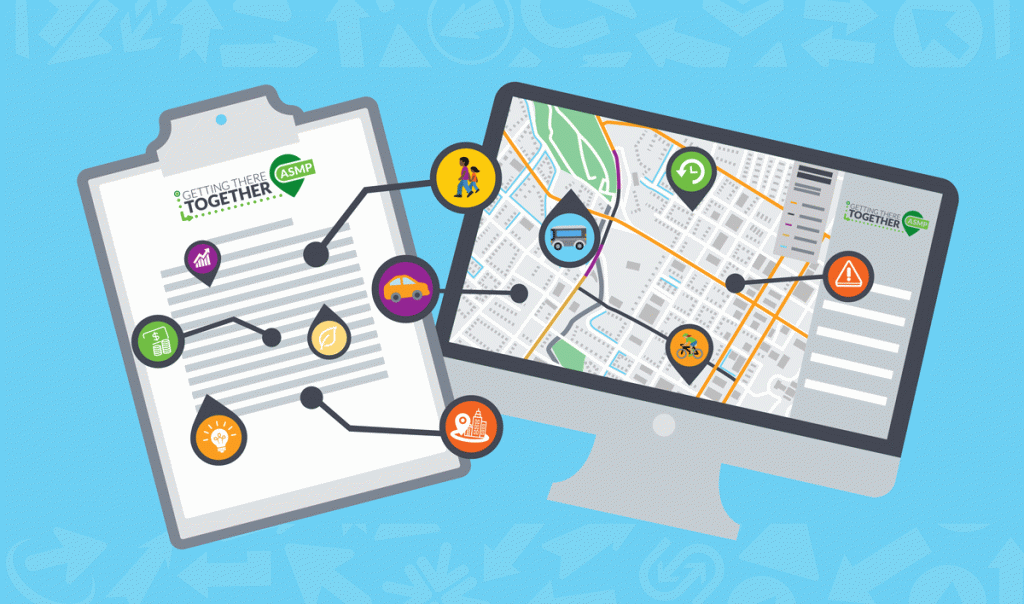 Policy Document

Full plan document

View the complete ASMP policy document or download the accessible version of the ASMP policy document.

Individual chapters

Executive Summary and Introduction

Chapter 1: Prioritizing Our Safety

Safety Culture | Designing for Safety | Safe Behaviors

Chapter 2: Managing Our Demand

Land Use | Parking | Curb Management | Transportation Demand Management Programming | Shared Mobility

Chapter 3: Supplying Our Transportation Infrastructure

Sidewalk System | Roadway System | Public Transportation System | Bicycle System | Urban Trail System | Condition of Infrastructure | Emerging Mobility Solutions | Aviation

Chapter 4: Operating Our Transportation Network

Transportation Operations | Closures and Detours | Goods Movement

Chapter 5: Protecting Our Health and Environment

Public Health | Air and Climate | Water and Stormwater | Land and Ecology

Chapter 6: Supporting Our Community

Equity | Affordability | Accessibility | Public Interaction

Chapter 7: Implementing Our Plan

Data | Collaboration | Financial Strategies | Action Table

Appendices

Maps

These interactive maps reflect our future transportation plans for the entire city. Adopted maps include current and future roadway capacity projects, sidewalk system prioritization, the public transportation system, the bicycle system, the urban trail system, and the high-injury network.

Click on a map to learn more about a specific transportation system, and turn layers on and off to compare different systems. Zoom in on specific areas of the maps to see the information most relevant to you. The layers in these maps are also available for download.

 

Street Network Table

The ASMP Street Network Table and Street Network Map show Austin's vision for improvements to the street network over the next 20+ years. They went into effect on April 21, 2019, replacing the 2025 AMATP Roadway Table and Map.

The Street Network Table and Map include roads that are within the jurisdictional boundaries of the City of Austin. They are used to identify right of way dedication requirements to accommodate future roadway conditions (referred to as Dedication of Right of Way in the Land Development Code).

These future roadway conditions found in the table include a description of the multimodal elements within the right of way. The map reflects all of the systems that make up our roadways. 
Stay Connected
We need YOU on board to reach our community's mobility goals! Come along for the ride:
Recent news