Austin's AVAFest is coming to The Old Bakery & Emporium!
From October 16 - November 13, we will be featuring the work of six Veteran artists in our gallery space in conjunction with Austin Veteran Arts annual AVAFest.
Our AVAFest Opening Celebration will include outdoor musical and spoken word performances on Saturday, October 16 from 3 PM - 5 PM.
AVAFest is a city-wide event and there are so many opportunities to show your support for our Veterans and their families. You can also find more information at AVAFest.org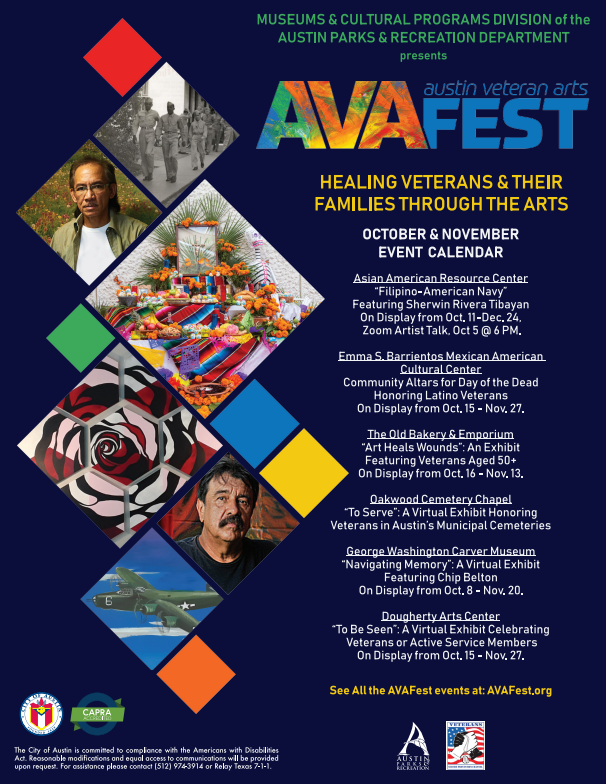 ---
Get Involved - Become a Consignor
We welcome artisans who work in all mediums and celebrate the rich diversity of our community to join The Old Bakery and Emporium team as an Artist Consignor. Our Artisan Emporium features work from creators who are greater than 50 years of age, and whose work embraces the one-of-a-kind aspect of handcrafted art and items. 
To be considered as an Artist Consignor, all artists and handcrafters must offer handmade items and artwork, as well as meet our age requirements. We are currently reviewing our Artisan Emporium offerings for 2021-2022, and would love to welcome new creators into our Old Bakery and Emporium family. 
To receive additional information about becoming an Artist Consignor, please email Herb Torres 
---
Stay In Touch with the Old Bakery & Artisan Emporium
Sign Up for Our Monthly Newsletter