Get Involved - Become a Consignor
Consignors must be 50 or older. Arts and crafts are sold in the Emporium. All items must be handmade to be accepted. Volunteer for 8 hours of service is all that is asked. Consignors can help on the sales floor, greet customers and keep the displays neat and tidy. You can also help as a docent in the history center and art gallery, or help with administrative work and advertising. We have receptions and special events where you can help. There are many opportunities to be part of the community and promote Austin to our many visitors.
Email Herb Torres receive additional information.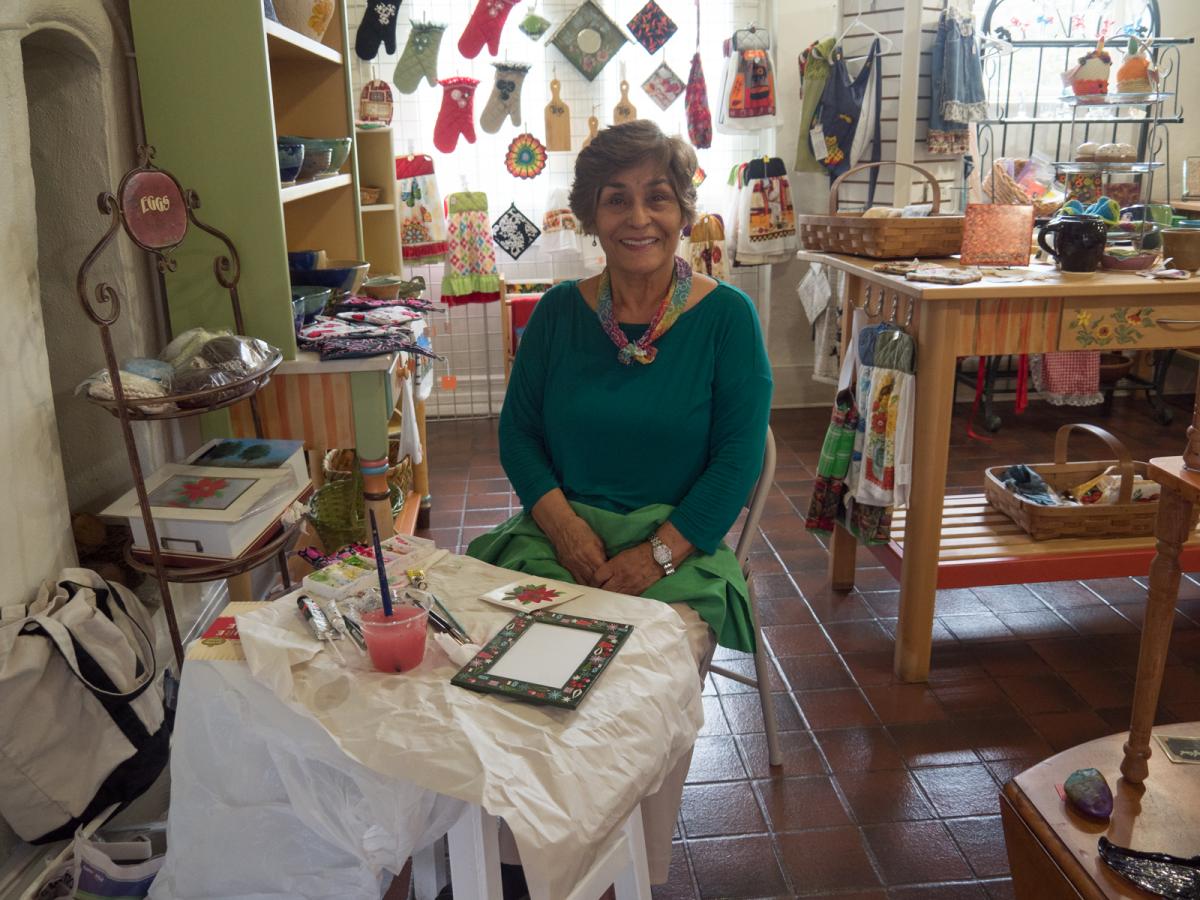 Consignors: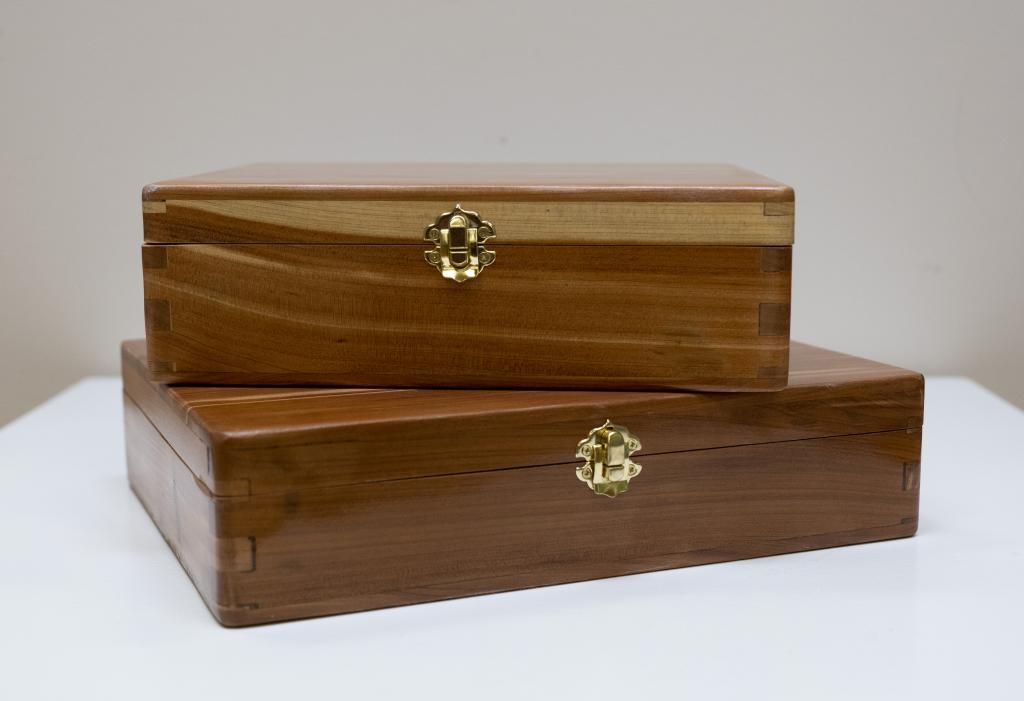 Alton Mutaschink  |  Cedar Boxes

Alton enjoys woodworking in aromatic cedar which he processes for a year prior to making into jewelry boxes and toys. His creativity with attention to detail has been a favorite to visitors.

His precise craftmanship is seen above in his cedar boxes with hinged lid closures and dove-tailed / rabbited corner construction.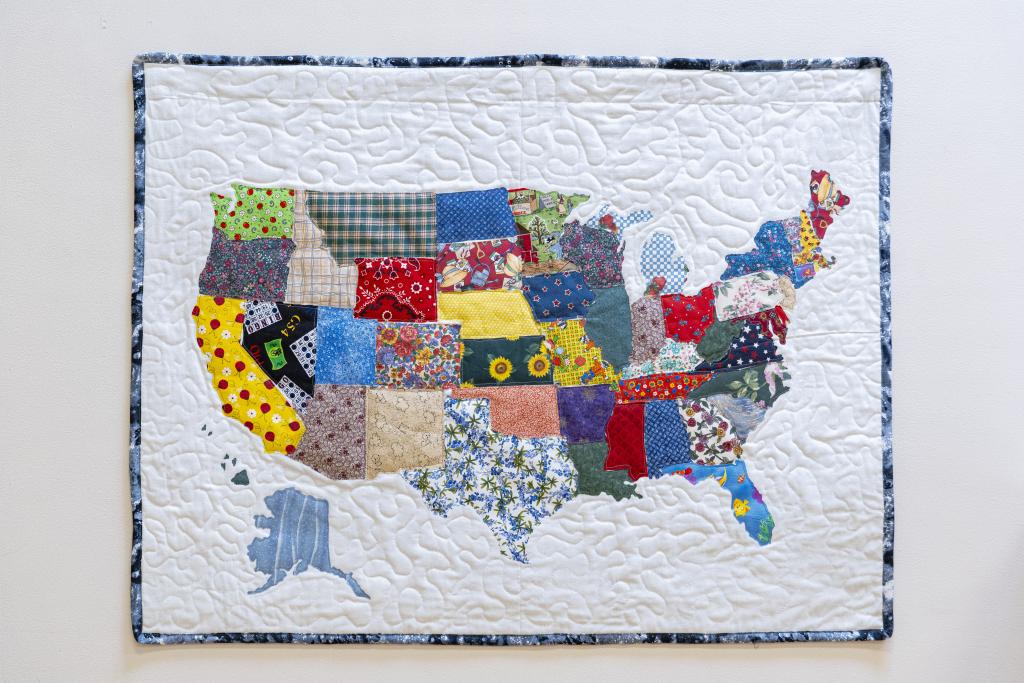 Beverly Shepherd  |  Quilt of U.S. State Map

Beverly is a purveyor of Texan merchandise mostly of up-cycled materials; denim Texas-shaped potholders, old cowboy boots with belts straps and purses and nifty wooden signs with hysterical sayings.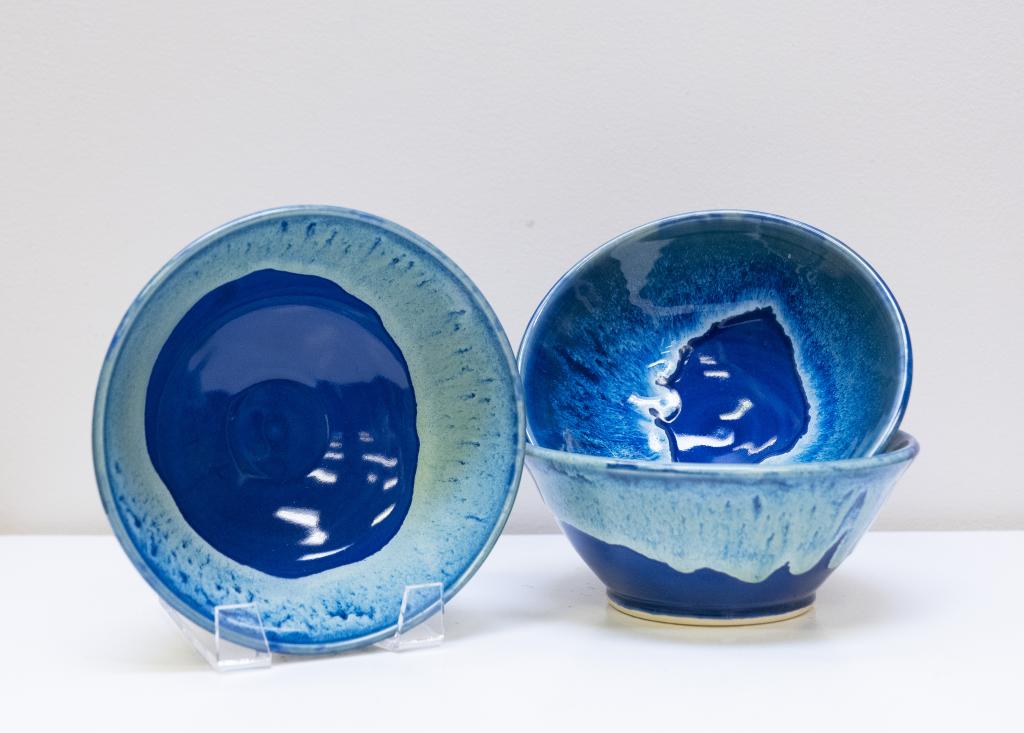 Brenda Armistead   | Ways of Water

These hand-thrown porcelain serving pieces are inspired by Barton Springs Pool, a natural swimming hole located in Zilker Park, Austin. In her work, Brenda has blended her passions of scuba diving and pottery to produce a beautiful mixture of colors and textures in her art.

"My business is called GrannyGoodFish Ceramics. I'm a functional potter with sculptural ambitions. High school art class introduced me to clay, and I was enthralled with it. But after high school came work, and before long I had a family. No time to think about clay. I earned an electronics degree and built a career in Semiconductor Technology in Austin."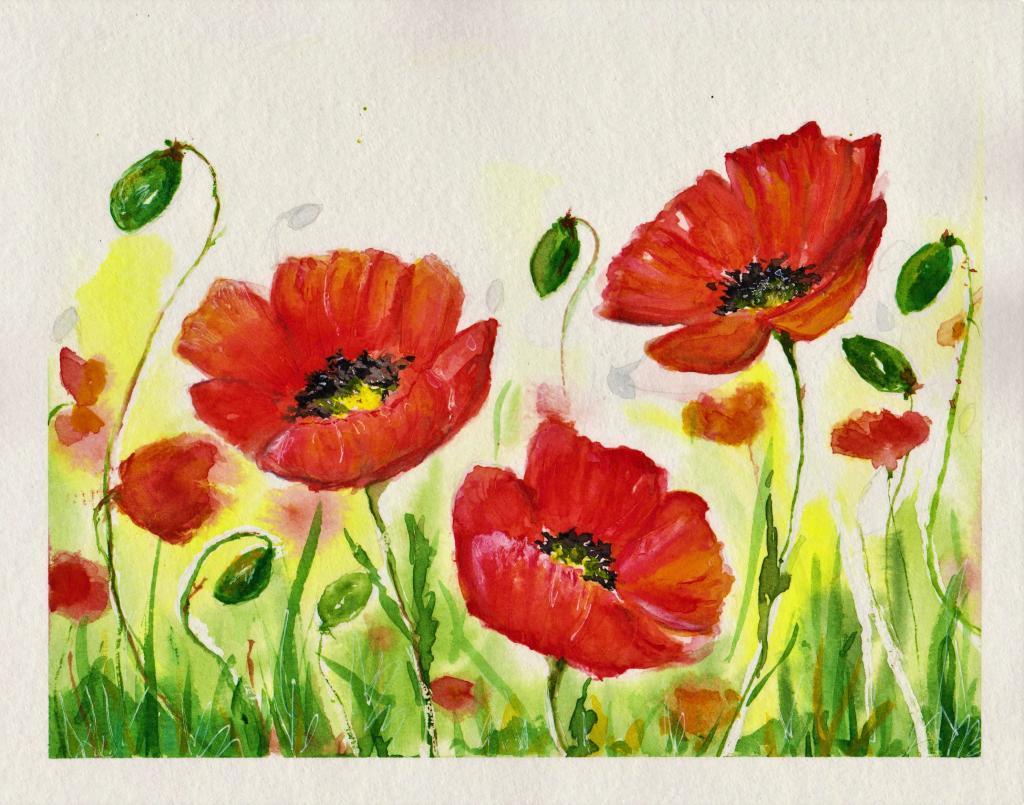 Jane Bost  |  Poppy Fields  

Jane Morgan Bost. Ph.D.,  started painting with watercolor 2 years ago after retiring after 23 years as Associate Director at The University of Texas Counseling and Mental Health Center. Prior to UT, she was the Counseling Center Director at Southwestern University, Georgetown, for 8 years.  Jane loves spending time with the love of her life, David, their 2 children, Christopher & Morgan and miniature schnauzer, Pepper. She loves watercolor, eco-dyeing, photography, gardening, hiking and reading.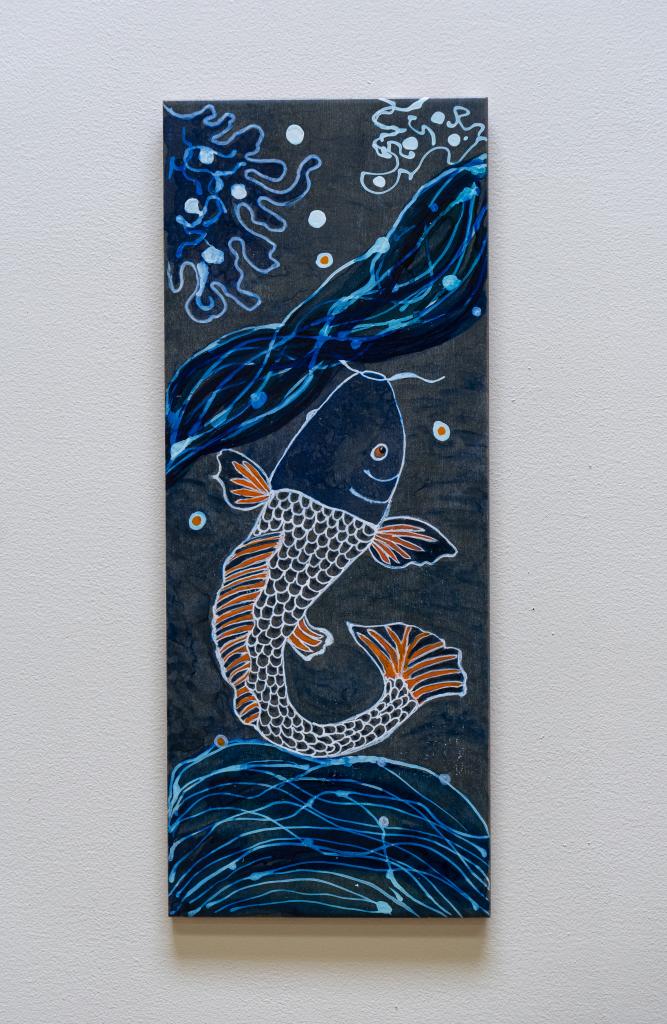 Lyra Bernis  |  Koi Fish

Lyra inherited her artistic expression from her father who created stain glass art. She is diverse in several mediums; stain glass, ceramics, alcohol ink, jewelry, and free-form wood sculptures.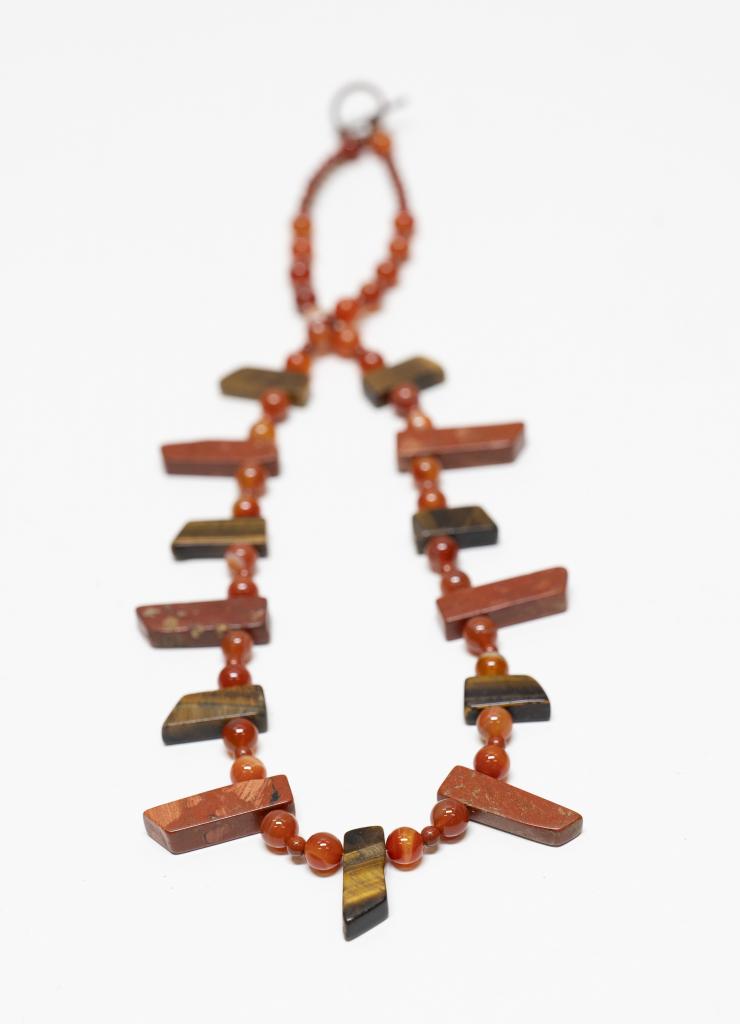 Vici MacIntosh  |  Jasper Necklace

Vici works In partnership with her neighbor, creating necklace and earring sets under the name of V and V Designs. Vici and Virginia are a duo that is a balance of personalities who are a force to be reckoned with.

The necklace above is made of Red Creek Jasper with Tiger Eye (long stones), Red Agate, and Red River Jasper (round stones).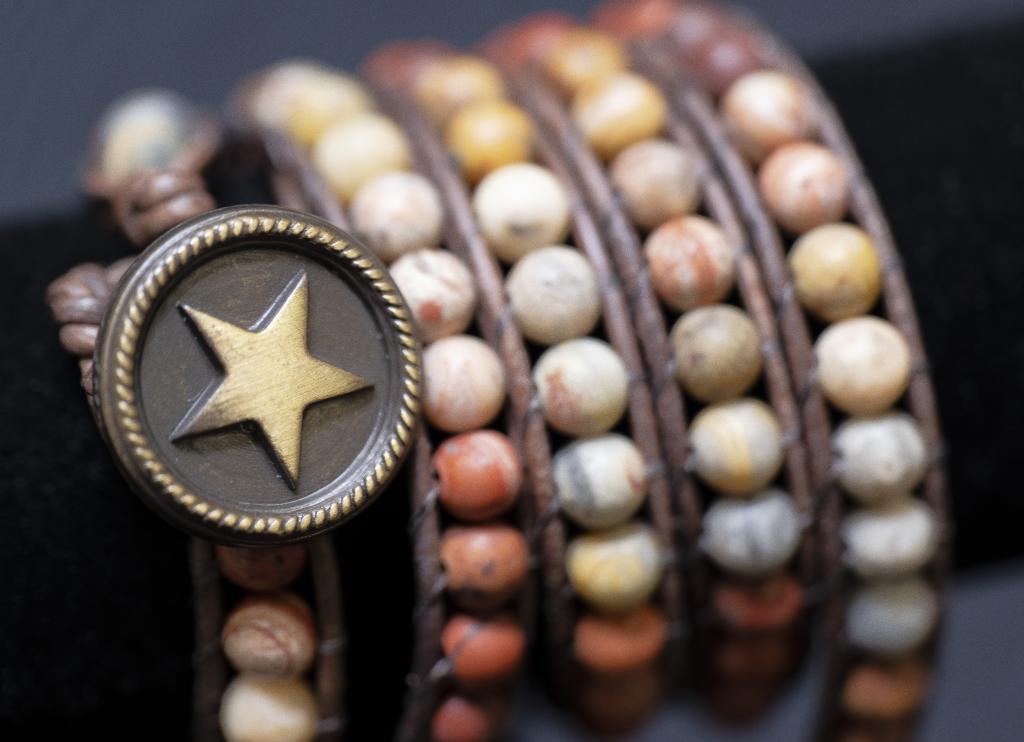 Sharon Boyd  |  Bracelet Wraps

Sharon is an avid horse fan, traveling to shows nationwide, setting up her booth of semi-precious stone jewelry. Her unique items include repurposed materials of wooden and glass beads with metal findings.

Her bracelet above was crafted with red Jasper & Agate with a brass Texas star clasp, woven on a leather strap.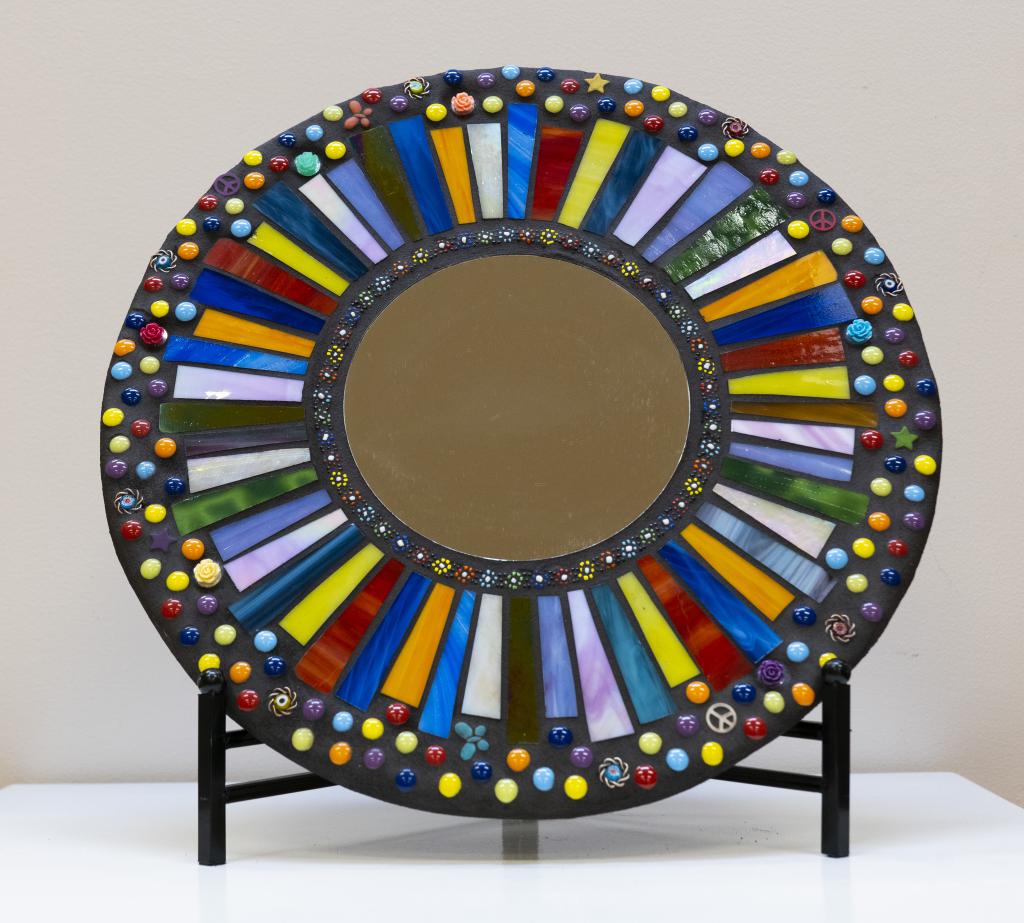 Tina Tzaperas  |  Fuzed Glass Mosaic Mirror

Tina discovered an interest in fused glass then expanded it into applications of mosaic items plus Austin/ Texas/ music-themed souvenir pieces. Her favorite view of the Texas State Capitol, from her "day job" office window, has been captured through her cell phone which she prints onto coasters, magnets and notecards.

Her fused glass mosaic mirror above radiates outward in an art deco style, adorned with an assortment of colorful glass beads and trinkets surrounding a rainbow of brightly colored fused glass pieces.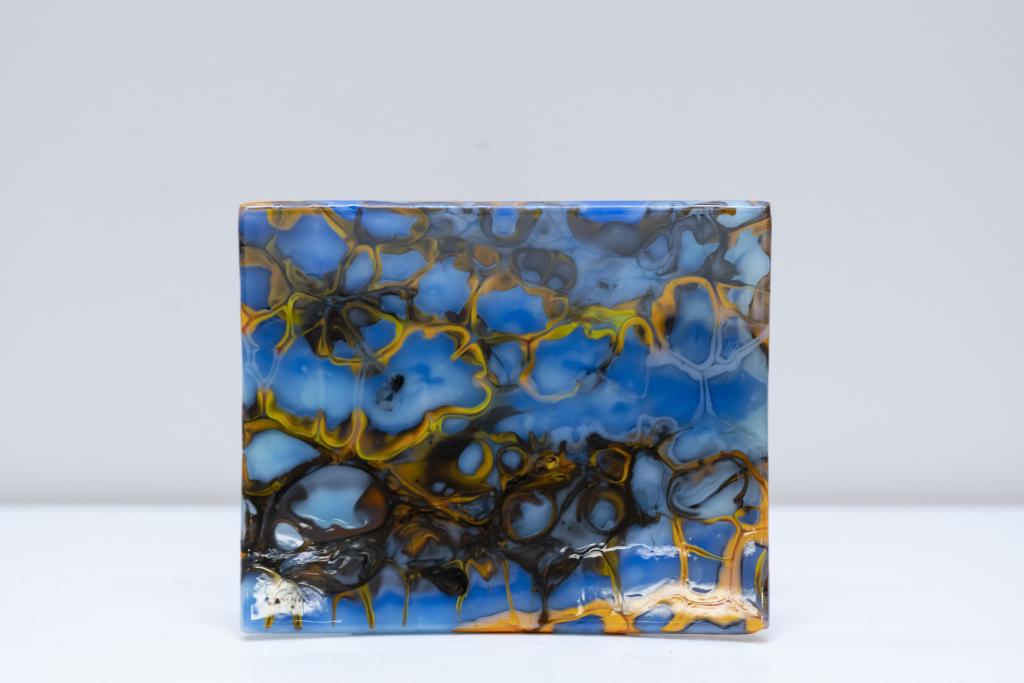 Cynthia Simpson  |  Fused Glass Dish

Cynthia has a physical therapist background who creates fused glass into hypoallergenic jewelry and small dishes.