Know Before You Go!

We want you to stay safe and healthy while you're here in Austin, so please check out our main webpage for closures, capacity limits, and COVID 19 updates. While there, you will also find the most up-to-date information on visitor hours and where advanced reservations are required.
Photo of the Month

Photo courtesy of Austin History Center, Austin Public Library

On January 1, 1863, President Abraham Lincoln issued the Emancipation Proclamation to free enslaved people in the U.S. However, the Civil War did not officially end until April 1965, and enslaved people in the Confederate State of Texas did not hear of their freedom until June 19, 1865 when General Gordon Granger announced the abolition of slavery upon his arrival in Galveston, Texas. This day became known as Emancipation Day and later called Juneteenth. Still celebrated today, it has been an official State holiday in Texas since 1980.

The Juneteenth festivities of that era in Austin began with a procession to Wheeler's Grove, now known as Eastwoods Park, and the parade often had a queen and maids of honor. The festival programs consisted of drilling exhibitions by Black military companies, competitive baseball games, and addresses by speakers, sometimes African American and sometimes white. There were tables of food, and families picnicked throughout the day. In the earlier years of Juneteenth, formerly enslaved people were asked to tell their stories about life before freedom came—stories that often recalled the abominable experience of being enslaved and horrific battle scenes from the Civil War that freed them.

In 1900, Grace Murray Stephenson, a young, white woman who lived a few blocks from Wheeler's Grove, took photographs of the Emancipation Day celebration that year. She later sold her story and photographs to the San Francisco Chronicle. Today, these photographs, including the one above, are displayed throughout the United States as early photographic documentation of historic Juneteenth celebrations.

Austin continues to honor Juneteenth in a similar fashion to their ancestors. Not even a global pandemic could derail the festivities, and in 2020, a virtual party with drive-thru barbecue was provided for those who could make it. This year, Austin is hosting a citywide celebration called Stay Black and Live, featuring music, food, raffles, fireworks, and more. Join the fun at Juneteenthatx.com!
The mission of Austin Parks & Recreation, Historic Preservation and Heritage Tourism Program is to promote and protect the irreplaceable historic and cultural resources of Austin's park system. We work with the community to preserve, maintain, and promote these local treasures so that they will be here for generations to come. Plan a trip to Austin today and immerse yourself our city's rich, diverse history!
The Historic Preservation and Heritage Tourism program has been made possible in part by funding from the Heritage Tourism Division of the City of Austin Economic Development Department.


Oakwood Cemetery was originally established in 1839, the same year the City of Austin itself was established within the Republic of Texas. Known simply as the "City Cemetery" and only 10 acres, it laid just outside the northeast corner of the original town plat. The earliest grave marker shown in historical records was 1840, although there is speculation that the earliest burial was in 1839 of an enslaved person. Today, the cemetery has more than 20,000 burials on 40 acres. Notable burials include Annie Webb Blanton, Susanna Dickinson Hannig, James Gibson Swisher, Andrew Jackson Zilker, Elizabeth "Lizzie" Johnson, Elisha Marshall Pease and "Ernie" Mae Crafton Miller among others.
While you're at Oakwood make sure to stop by the beautifully rehabilitated chapel, originally designed by Austin architect Charles Page and built in 1914. The Gothic Revival-style building was originally made for funeral services, but it was eventually renovated and now functions as a visitors' center. The chapel's steep gables, pointed arched windows, and rustic edges are quite a sight. Its restoration has won awards from Preservation Texas and Preservation Austin and is considered a major milestone in the care of the city's cemeteries. The cemetery including the Chapel is listed on the National Register of Historic Places and remains a testament to the importance of preserving such historic and sacred sites. The Oakwood Chapel Visitor Center is a great place to kick off your tour of this fascinating piece of Austin history. You may schedule a group tour ahead of time or come in during our open hours and explore Austin's history.
| | | |
| --- | --- | --- |
| Cemetery Hours: | 7:00am—7:00pm | Daily |
| Oakwood Chapel Vistor Center Hours: |   | Click here  |
| Map |   | For tours and reservations call (512) 978-2310 |
|   |   | Please review our cemetery rules (PDF) and help us preserve this historic property |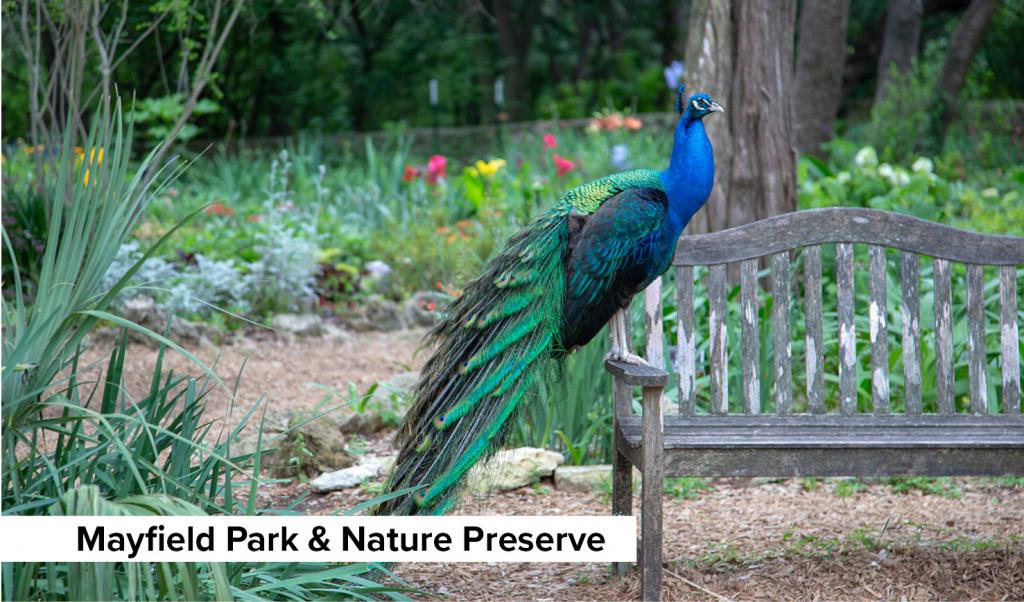 Lush with native plants and historic landscaping, Mayfield Park and Preserve is a must-see for nature-lovers visiting Austin. The house and gardens that make up Mayfield-Gutsch Estate are a picturesque composition drawn from landscape styles prevalent during the early 20th century, cultivated over nearly 50 years of care and hard work by the Gutsch family before becoming a public park in 1971.
Purchased in 1909 by Allison Mayfield, a prominent politician who served as chairman of the Texas Railroad Commission, the property became a summer residence for the Mayfield family. Following the death of Allison in 1923 and his wife in 1924, his daughter Mary Mayfield Gutsch began creating the gardens we see today, with her husband Milton directing the building of the ponds and garden features with the help of Esteban Arredondo, resident gardener for many years.
Peacocks freely wander the grounds, a fixture in Mayfield since a pair of the birds was gifted to the family in 1935. The house and grounds are unified through thoughtful landscaping, including a pergola, trellises, porches, foundation plantings, walks, terraces and a collection of lily ponds that dissolve the boundaries between the two.
In addition to the home and impeccable gardens, there are 21 acres of scenic hiking trails teeming with wildlife that surround the estate. The trails' access points can be found near the home. 

Designed by German-American sculptor Elisabet Ney, an accomplished sculptor in both her native Germany and Texas, the Elisabet Ney Museum is a tribute to turn of the twentieth century Texas and the life of a woman who was a pioneer of the arts in the Lone Star State.
Formosa, as Ney called her art studio, was built in 1892 and expanded in 1902. Ney designed and oversaw construction of the rustic studio, which is Gothic Revival with Neoclassical influences, and is surrounded by a highly naturalized landscape. The building and its grounds reflect the Romantic influence that coursed through Ney's life and work.
After Ney's death in 1907, a group of prominent Texas women art patrons formed the Texas Fine Arts Association, and Formosa became one of the first art museums in Texas in 1911. The City of Austin assumed ownership in 1941, and it is now managed through the city's Parks and Recreation Department. The Elisabet Ney Museum was added to the National Register of Historical Places in 1972, and is one of 40 museums in the Historic Artists' Homes and Studios program.
Admission is free to view the collection of originals and replicas of Ney's works, along with many of her personal belongings. Included among the variety of sculptures and decorations on display are the artist's portraits of William Jennings Bryan, Sam Houston, and Stephen F. Austin, as well as European aristocrats Otto von Bismarck, Giuseppe Garibaldi, and Arthur Schopenhauer. The museum offers a range of educational programs, exhibits, special events, and workshops. Click here for up-to-date events and exhibits.
| | | |
| --- | --- | --- |
| Museum Hours: |   | Click here for hours |
| Map |   | To book a tour call (512) 974-1628 |

Zilker Park is one of Austin's treasures and the recreational hub of the city. Within the 385-acre park is Barton Springs Pool, arguably the city's jewel-in-the-crown. The three-acre pool is fed by underground Barton Springs, which arises from the Edwards Aquifer. With average water temperatures of 68 to 70 degrees, the pool is ideal for year-round swimming. This is where actor Robert Redford learned to swim as a kid, while visiting family in Austin. Today, on busy summer days, more than 2,000 bathers enter through the Bathhouse gate to enjoy the refreshing waters.
The Barton Springs area has a long and rich history, dating back to Native American times. As the small capital of Austin grew following Texas independence from Mexico, local citizens used the cool spring waters for bathing, relaxation, and as a source of drinking water. As more people settled around Barton Creek, mills began popping up along the banks, and bathers continued to use the springs as a favorite recreation spot.
Several hundred thousand visitors enter Barton Springs Pool and the historic 1947 Barton Springs Bathhouse each year. Today, the area is listed on the National Register of Historic Places and continues to be a treasured landmark. Some events at the Barton Springs Pool are limited entry so be sure to plan your visit today!

Mount Bonnell, a 784-foot-high promontory along Lake Austin, is among the most significant natural and historical landmarks in Austin. Managed by the Austin Parks and Recreation Department (PARD), the site has served as a popular attraction since the mid-1800s. Each year, thousands of visitors ascend the stone stairs to the summit of Mount Bonnell, taking in sweeping panoramic views of the lake, downtown, and the western hills of Austin.
The limestone rock composed landmark is cited as an early location for May Pole celebrations in the 1850s and 1860s. Like many other recreational sites in Austin, such as Deep Eddy and Barton Springs, Mt. Bonnell was sometimes the site of entertainment and performances. The 1969 Official Texas Historical Marker references a stunt in 1898, when Miss Hazel Keyes, trailed by her monkey "Miss Jennie Yan Yan," slid down a cable stretched from the top of Mount Bonnell to south bank of then Lake McDonald below.
Mt. Bonnell has been the subject of many legends over the decades, and local lore also named the summit "Antonette's Leap" in memory of a woman who allegedly jumped to her death following the murder of her fiancé. Another legend of unknown origin is that a couple would fall in love on the first visit to Mount Bonnell, become engaged on the second visit, and marry on the third. Perhaps this is the reason so many people choose to get engaged at the summit.
| | | |
| --- | --- | --- |
| Park hours: | 5:00am—10:00pm | Daily |
| Map |   |   |

When Edwin Waller laid out the City of Austin in 1839, he designated four squares as open public space. As one of the original parks, today Brush Square is home to the rich histories of Susanna Dickinson, O. Henry, and Austin firefighters. The three sites are dedicated to showcasing the vibrant lives of these legends.
Celebrate the "Messenger of the Alamo" by visiting the Susanna Dickinson Museum, the one-time residence of the woman who survived the 1836 Battle of the Alamo and carried the news of its fall to General Sam Houston. Her eyewitness account of the Battle of the Alamo remains a benchmark for historians. Inside, history buffs can get their fill of rare Dickinson family artifacts or peruse a library area that details the history of Texan frontier women.
For lovers of literature, the former residence of famed author William Sydney Porter, best known as O. Henry, is a must-see. The writer of such classics as The Gift of the Magi and The Ransom of Red Chief, the museum offers unpublished manuscripts, original photographs and correspondence, as well as various furniture and decor from his former home.
In the historic 1938 Central Fire Station No. 1, you'll find the Austin Fire Museum. The site features uniforms, photographs, equipment, and memorabilia dating back to the 1870s. Celebrate these hometown heroes and honor their dedication to the safety of our citizens.
| | | |
| --- | --- | --- |
| Susanna Dickinson Museum Hours: |   | |
| O. Henry Museum Hours: |   | Click here for hours |
| Austin Fire Museum  Hours: |   | |
| Map |   |   |

Located in the heart of Clarksville, a Freedom Colony established by formerly enslaved people after the Civil War, the 1879 Haskell House stands as a visible reminder of the community's historic roots.  Originally thought to have been built by former slaves Peter and Bettie Tucker, the home was eventually sold to Mary and Edwin Smith. Later, Hezikiah Haskell, a Union Soldier, Buffalo Soldier, and Black Cavalry member boarded with the Smiths and eventually married their daughter Catherine, to whom they deeded their home in 1892. After the death of Hezikiah Haskell, Jr. in 1976, the home was deeded to the City. With a combination of grant money from the Texas State Historic Commission and the Austin Convention and Visitors Bureau and the CCDC's own funds, the Haskell House has become a repository of Clarksville's history.
| | |
| --- | --- |
| The Hezikiah Haskell House is open by appointment only | For reservations or tours you may contact them by e-mail here |
| Map |   |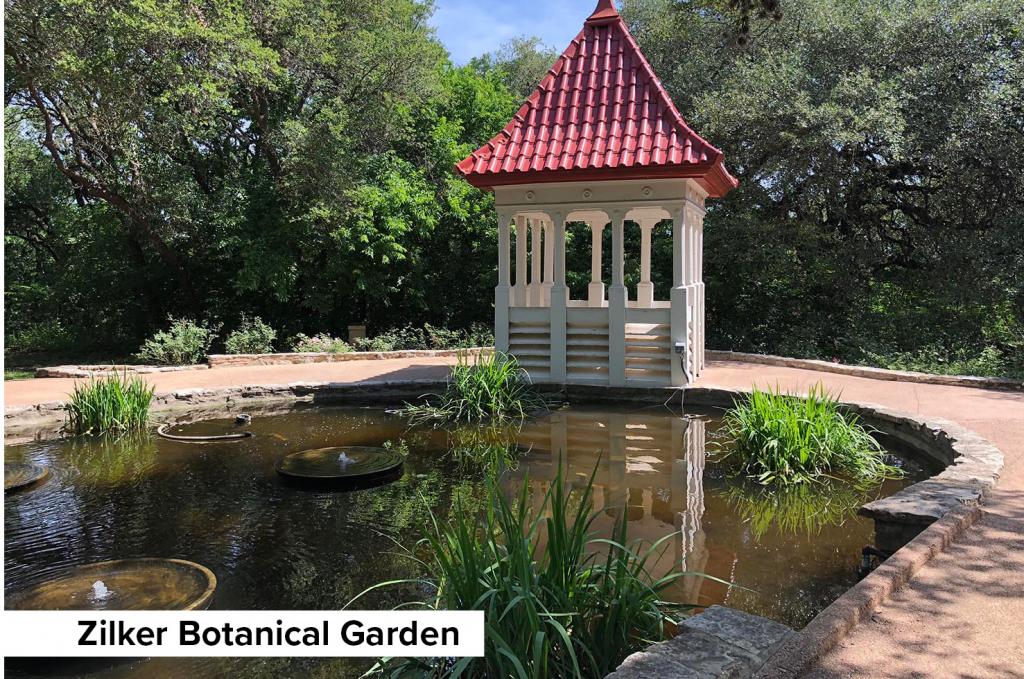 Situated at the top of a hill in the northwest area of the Zilker Park, the Zilker Botanical Garden site is one of Zilker Park's most important midcentury developments. The Zilker Botanical Garden was conceived as a planned collection of independently designed gardens managed by regional garden clubs in addition to the Austin Area Garden Center building, which was dedicated in 1964. The Botanical Garden has become a place that offers enjoyment of some of Austin's most beautiful gardens and provides education about gardening skills.
This 26-acre park consists of 12 different gardens whose aspects change as new garden techniques evolve. Its diverse topography is especially suited to depicting different habitats and displaying an array of native, hybrid, and exotic plants. From the Doug Blachly Butterfly Garden to the Taniguchi Japanese Garden located near the beautiful Hamilton Azalea Garden, visitors see a myriad of ponds, streams, and waterfalls in addition to the gardens. The unique Hartman Prehistoric Garden, which recreates a Cretaceous dinosaur habitat, is the site where more than 100 tracks made by six or seven reptiles along with the bones of an ancient turtle were found in 1992. It features a life-size sculpture of an Ornithomimus, the dinosaur that left tracks of its three toed feet in the gardens. Open year-round, over 125,000 people walk through the garden annually. For admission fees, hours, and upcoming events click here.
| | | |
| --- | --- | --- |
| Garden Hours: | Click here |   |
| Admission: | Adult admission is $3, cash or check only | For further admission rates click here |
| Map |   | Reserve Zilker Botanical Garden for your event by calling (512) 477-8672 x11 |

Downs Field has been synonymous with baseball and the African American community of East Austin since the 1940s. Downs Field was first built at 12th and Springdale Streets as an enclosed, lighted field with grandstand seating for 600 in 1949. In 1954, it was moved to its present location at 12th and Alexander. The field was named in honor of Reverend Karl Downs (1912-1948), the recently deceased president of Samuel Huston College, a historically black college located in East Austin, where he doubled both enrollment and the number of buildings on campus during his tenure.
The site was first used as Samuel Huston College's baseball stadium and where the Austin Black Senators, the first Negro League Baseball team in the city, played beginning in 1927. Famous hometown hero and National Baseball Hall of Fame inductee, Willie Wells, began his baseball career with the Black Senators, and notable players such as Satchel Paige, Willie Mays, Smokey Joe Williams, and Buck O'Neil played baseball here. Later, it was the stadium of the 1942 state champion L.C. Anderson High School football team. It has been the onetime home of Hilton Smith and Richard Lane, players who were later inducted into the National Baseball Hall of Fame and the Pro Football Hall of Fame respectively. Today Downs Field is home to the Huston-Tillotson University Rams, and the Austin Metro Baseball League.

The Old Bakery Building has been an Austin icon on Congress Avenue since 1876, when Swedish immigrant Charles Lundberg opened one of the city's largest and most successful bakeries there. Known for such tasty treats as almond meal macaroons, Sally bread, glazed kisses, and much-loved five-inch-long ladyfingers, the Old Bakery remained a popular snack spot for locals and visitors alike for more than 60 years, passed down from one independent Swedish baker to the next until 1937. You can spot one baker's name—George Siglhofer—engraved into the cement sidewalk in front of the building, a testament to the Old Bakery's long history. While the Old Bakery no longer serves the city with fresh bread and pastries, today you can still stop by the prime Congress Avenue location to gaze up at the large stone eagle set in flight atop the building, one of its most notable architectural features.
The Heritage Society of Austin purchased the building in 1963 and the Junior League paid for restoration efforts, and it is now open to the public as a tourist information center and curio shop with unique souvenirs. An upstairs museum houses the Lundberg-Maerki Historical Collection, featuring an assortment of antique pans and paddles and other interesting items from the Lundberg and Maerki families. There is also an Art Gallery exhibiting local artists age 50 or better.
| | | |
| --- | --- | --- |
| Hours: |   |   |
| Map |   | Click here for hours, exhibits, and events at the Old Bakery |