UPDATES
July 2, 2020  
Due to the recent spike in COVID-19 cases and the projected trajectory of COVID related hospitalizations, beginning on Monday, July 6, all facilities and park amenities will remain closed. This includes facilities previously reopened such as cultural facilities, pools, golf courses, tennis facilities, park concessions, and other amenities. 
All in-person programming for the month of July will be suspended including sports and fitness programming, summer camps, and cultural programming. In addition, the Barton Creek and Bull Creek greenbelts will remain closed. Parks will remain open; however, all amenities (e.g. volleyball courts, tennis courts, playgrounds, disc golf courses, etc) will be closed except for restrooms and water fountains.
City of Austin parks and trails (except for those listed above) will remain open; however, rules regarding mask use and social distancing continue to apply. PARD Rangers will continue to patrol parks and help educate park uses for voluntary compliance. 
The Parks and Recreation Department will continue to provide park access for COVID-19 related City of Austin initiatives such as drive through testing and meal distribution. Additionally, any PARD sites identified as polling locations will open as scheduled for voting.
---
Per the COVID-19 Mayoral declaration, the following PARD facilities are closed to the public:
All Recreation Centers 
Oakwood Cemetery Chapel
Museum and Cultural Facilities
Senior Centers
Barton Creek Greenbelt
Bull Creek Greenbelt
All Pools
All Splash Pad
Barton Springs Pool
Deep Eddy Pool
Golf Courses
Disc Golf Courses
Tennis Facilities
Park Concessions
All Playgrounds
Zilker Caretaker House
Austin Nature & Science Center
Zilker Botanical Garden 
Preserves
Boat Ramps
All Special Event facilities
Park amenities including, but not limited to: basketball courts, tennis courts, volleyball courts, disc golf courses, skate parks, playgrounds and exercise equipment and pavilions.
Postpone
Park Entry Day Use Passes for Emma Long Metropolitan Park, Commons Ford Metropolitan Park and Walter E. Long Metropolitan Park 

Must be reserved in advanced online   

No entry is granted without a day pass reservation
Passes available 14 days in advance, and no less than midnight the night before.  Passes are emailed and should be printed for display.  Once at capacity – no additional queuing to get into the park will be allowed.  Limit 2 per day/household.
Persons who do NOT have a computer, may call for assistance during normal office hours 512-974-6797. (NOTE - Currently the city is working under modified operations due to COVID19.  Please call, leave a message for assistance.)

January - February, and October – December
PARKS PROJECTS
Bull Creek District Park Parking Lot
Date of closure: July 6 - July 27, 2020
Description: Beginning July 6, 2020, the two parking lots servicing Bull Creek District Park will be closed for approximately three weeks. The closure will help ensure the safety of all patrons while construction work is being performed in the area.  The parking lots servicing the Bull Creek Greenbelt will remain open throughout the construction period.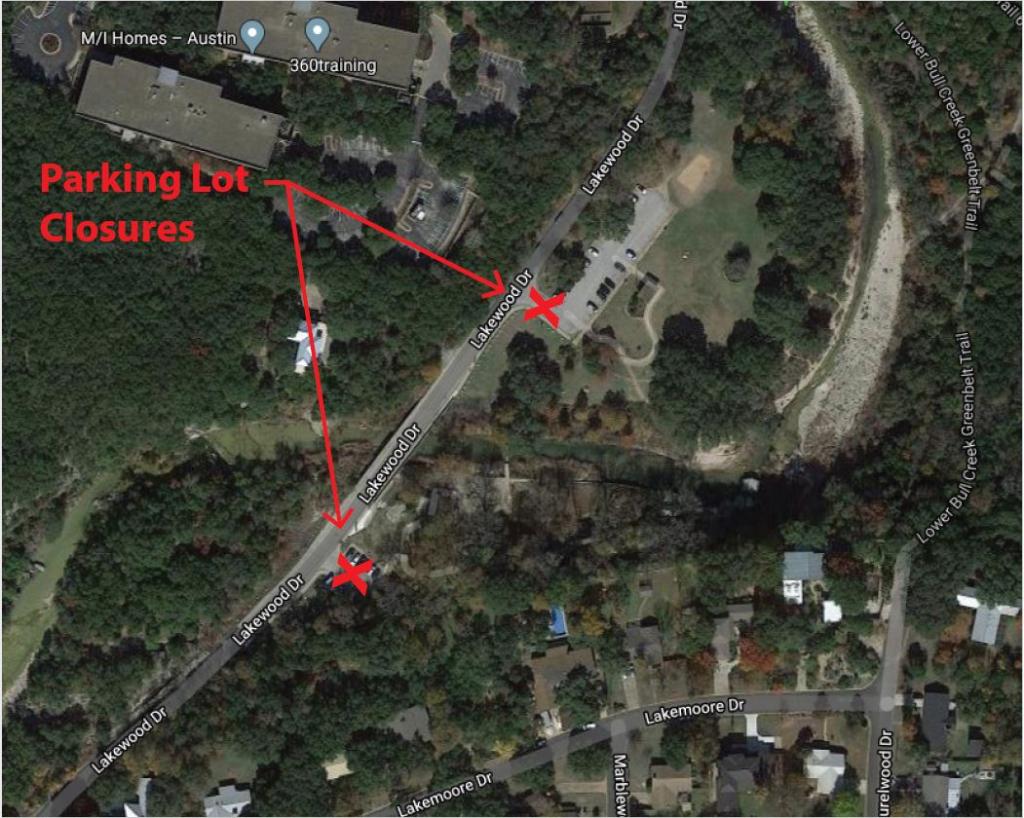 Longhorn Dam Sidewalk
Date of closure: June 29 - July 12, 2020
Description: From 6/29/20-7/2/20 and 7/6/20 - 7/10/20 the sidewalk will be closed from 8am – 3:30pm , and foot traffic will be directed to the bike lane. On 7/11/20 -7/12/20 the times and traffic control are as originally planned.
Pease Park
Shut down one lane of Kingsbury Road to perform underground utilities scope starting Monday, June 22nd and ending on Friday, July 10th. 
June 22 - July 10, shut down one lane of traffic, and we'll have flagmen at the top and bottom of the hill on Kingsbury to direct traffic and make sure there are no issues w/ traffic & pedestrians/bikers. 
We will only be shutting this one lane of traffic down during the hours we are working (Monday-Friday from 7:30AM-4:30PM). Outside of these hours the road would be opened back up like normal.
We will not be shutting any of this road down during the weekends.
We will maintain a safe pedestrian/biker lane for people to still walk up and down the hill while we have the road partially closed.
The re-pavement for this area on Kingsbury Street will happen closer to completion (towards the end of the year/early 2021).
 
Little Stacy Restroom
Date of closure: December 6, 2019 - TBD
Description: Maintenance
Vic Mathias Shores Restroom
Date of closure: October 3, 2019 - TBD
Description: Maintenance
Lakeshores Restroom
Date of closure: December 13, 2019 - TBA
Description: Maintenance
Pease District Park Kingsbury Commons
Date of closure: February 19, 2020 - January 2021 (anticipated)
Description: Southern 7 acres of Pease District Park will be closed for construction. Project information here.
Red Bud Isle
Red Bud Isle is open as of November 22, 2019. PARD made the decision after City scientists did not find any visible signs of floating blue-green algae mats in the vicinity of Red Bud Isle. Water samples taken on November 12 showed no toxins. Dog owners who choose to allow their dogs in Lady Bird Lake should be aware that another harmful algal bloom may occur at any time in any part of the lake. The risk is highest when the weather is hot and dry for an extended period. Allowing dogs to swim in Lady Bird Lake, is done at the owners own risk. For more information, visit austintexas.gov/algae.
Walsh Boat Landing 
Date of closure: Mid-September, 2019 - mid July 2020
Description: Walsh Boat Landing will be closed to the public beginning in mid-September. The purpose of the closure is to begin construction of improvements to the Parks & Recreation facility. The construction of the new boat dock and accessible pathways are nearing final completion.  Anticipated completion date for project is mid July 2020.  Get project information.
Zilker Zephyr Train
Date of closure: May 7, 2019 - TBA
Description: Due to part of the train track near its turnaround started to break away, the Zephyr is temporarily closed.
Eilers Neighborhood Park
Date of closure: July 24, 2018 - Spring 2020
Description: During the renovations, the portion of Eilers Park that contains the play equipment, picnic tables and grills will be closed. The trail entrance paths to Town Lake Trail, Deep Eddy Pool's ADA entrance and the lower open lawn space section will remain open.  When completed, Eilers Park will boast a nature based play element, a toddler swing set, new picnic tables, a climbing play element and new vibrant landscape. Also included will be a premier Art in Public Places sculptural element that will greet visitors at the entrance to the park site.  
Pedestrian Bridge at Roy G. Guerrero Colorado River Metropolitan Park
Date of closure: May 28, 2015 - TBA
Description: The pedestrian bridge is closed due to flood damage until further notice.
POOLS / SPLASH PAD 
All pools are closed until further notice.
Liz Carpenter Fountain
Date of closure:  September 16 - TBA
Description: Liz Carpenter Fountain will be closed from Sept. 16 through December 2019 for repairs and restoration. The scope of work is focused on making electrical improvements and replacing fountain spray nozzles. Liz Carpenter Fountain is expected to reopen in January 2020 with the opening of Alliance Children's Garden. 
TRAILS
Shoal Creek Trail (24th to 29th of Lamar)
Date of closure: May 4, 2018 - TBA
Description: Damaged by landslide. City's Watershed department is working on the plans to stabilize the hillside and give us room for replacing the trail. We anticipate the end of construction early next year if all things fall in line. Website
Walnut Creek Trail
Date of closure: January 13, 2020 - late March 2020
Starting January 13, 2020,* Walnut Creek Trail will close where it crosses under US 183, south of Martin Luther King Jr. Blvd. It will be closed for approximately two weeks, but will be open on weekends. Please check back for updates. Pedestrians and bicyclists should use the new shared-use path and sidewalk along northbound and southbound US 183 and the pedestrian crossing at Martin Luther King Jr. Blvd. to access the opposite side of the highway.
*Dates are subject to change based on weather and other circumstances.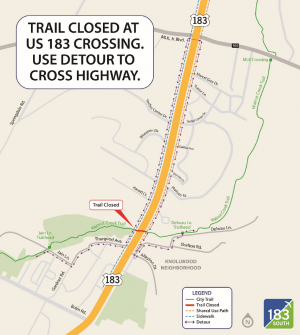 PLAYGROUND
Shipe Playground
Date of closure: June 22 - August 15, 2020
Description: Engineered Wood Fiber (EWF) conversion and ADA improvements
MUSEUMS / CULTURAL CENTERS / GALLERIES
RECREATION FACILITIES / SENIOR CENTERS
ATHLETICS AND GOLF
TURF MAINTENANCE