Share Input
Join the conversation about Reimagining Public Safety in Austin
Para ver esta información en español, haga clic aquí
As the City explores ways to transform the public safety experience in Austin, your input is critically important to ensuring that policing meets the needs of all our residents.
New Input Opportunity: City of Austin Budget
Learn More about the City of Austin Budget and take our survey!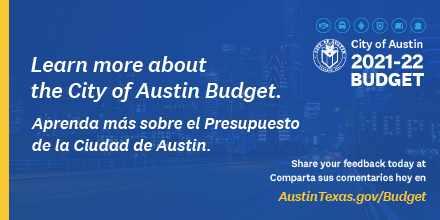 It's that time of year, and the City of Austin wants to encourage our residents to weigh in as the City plans for its next Budget. It's important that we hear from residents and their families to help the City prioritize services that impact how you live, work, play, shop and more.
To learn more about the City of Austin Budget, view the full video by clicking on the links. While there take our short survey!
Video de presupuesto en español
New Input Opportunity: Austin's Next Police Chief
On March 22, 2021 City Manager Spencer Cronk announced the City's launch of the Chief of Police recruitment. To lead this recruitment process, City Manager Cronk has engaged Ralph Andersen & Associates, who has assisted 35 other cities in hiring their Police Chiefs across the country since 2016.
While the virtual community meetings on this topic have ended, you may still provide input via SpeakUp Austin: Your Next Chief of Police Recruitment Process or send an email to Community@AustinTexas.gov. All submissions will be taken into consideration.
Initial Results of Community Engagement Now Available
Since September 2020, RPS has offered residents a variety of ways to provide their thoughts, ranging from online surveys to community conversations. 311 provided a phone option as well. Nearly 1,000 residents and community members have provided feedback up to now. The initial data has been analyzed, and the results are available.
For a full report, click here.
To view the RPS Community Conversation Feedback Dashboard, click here. 
Ongoing ways to share your thoughts and ideas
While the first round of community conversations has ended, you can still provide feedback directly to your council district office or the RPS team. We'll continue to gather input throughout the Reimagining Public Safety process and will include that feedback in future updates to City leadership.