Share Input
Join the conversation about Reimagining Public Safety in Austin
Para ver esta información en español, haga clic aquí
As the City explores ways to transform the public safety experience in Austin, your input is critically important to ensuring that policing meets the needs of all our residents.
New Input Opportunity: Austin's Next Police Chief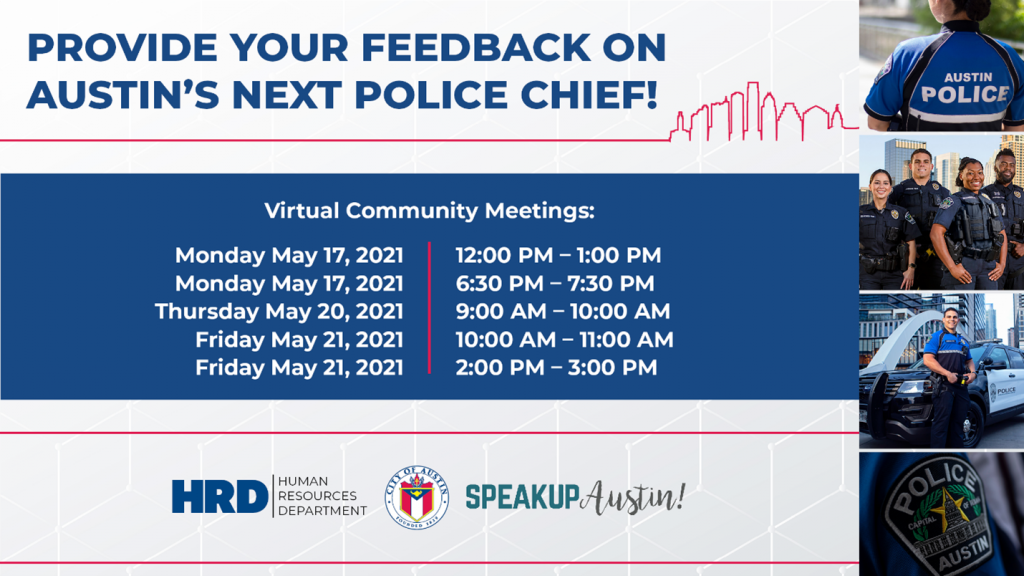 On March 22, 2021 City Manager Spencer Cronk announced the City's launch of the Chief of Police recruitment. To lead this recruitment process, City Manager Cronk has engaged Ralph Andersen & Associates, who has assisted 35 other cities in hiring their Police Chiefs across the country since 2016.
Please join us for a virtual community meeting where you will be able to provide the Consultants from Ralph Andersen & Associates with your feedback as it relates to this incredibly important role for our organization and the community.
Virtual meetings will take place via Zoom. Click on the meeting date links below to join your preferred Zoom meeting.
Virtual Community Meetings:
Monday May 17, 2021                    12:00 pm – 1:00 pm
Monday May 17, 2021                    6:30 pm – 7:30 pm
Thursday May 20, 2021                  9:00 am – 10:00 am
Friday May 21, 2021                        10:00 am – 11:00 am
Friday May 21, 2021                        2:00 pm – 3:00 pm
Those unable to attend may still submit feedback via SpeakUp Austin: Your Next Chief of Police Recruitment Process or send an email to Community@AustinTexas.gov. All submissions will be taken into consideration.
Initial Results of Community Engagement Now Available
Since September 2020, RPS has offered residents a variety of ways to provide their thoughts, ranging from online surveys to community conversations. 311 provided a phone option as well. Nearly 1,000 residents and community members have provided feedback up to now. The initial data has been analyzed, and the results are available.
For a full report, click here.
To view the RPS Community Conversation Feedback Dashboard, click here. 
New Input Opportunity: APD Use of Force
Austin's City Council and City Manager want to know your opinion on Austin Police Department (APD) policies. The Office of Police Oversight (OPO) is organizing a survey and an event series to collect feedback from community members. 
Currently, we are requesting feedback on policies related to the use of force. These policies cover things like how and when officers use their guns. Learn more in OPO's report on APD's use of force policies.
OPO will organize community feedback into a report and submit it to the City Manager, City Council, and the Austin Police Department. 
Click here to take a survey or click here to register for an event. The deadline to participate is May 31, 2021.
Ongoing ways to share your thoughts and ideas
While the first round of community conversations has ended, you can still provide feedback directly to your council district office or the RPS team. We'll continue to gather input throughout the Reimagining Public Safety process and will include that feedback in future updates to City leadership.