Art Gallery at the Old Bakery
The Art Gallery features exhibits by Austin-area artists and art organizations who are 50 years old or greater. Our curated exhibits include artwork of all mediums and celebrates Austin's rich artistic and cultural diversity. Located on the third floor of The Old Bakery & Emporium in the heart of downtown Austin, overlooking the Capitol and the Governor's Mansion.

AVAFest - Austin Veteran Arts Event
Citywide Celebration October 8 - November 27
The City of Austin Parks and Recreation Department's Division of Museums & Culural Programs is proud to once again partner with Austin Veteran Arts for AVAFest 2021.
This year, the art of Veterans, Active Service members and their families will be showcased at locations across the city.
The Old Bakery & Emporium is Happy to Feature the following AVAFest Artists:
Glenn Towery
Glenn Towery has been in the entertainment business for more than 40 years, winning awards of excellence for acting, directing, filmmaking, and art. A proud Navy Veteran, Towery was dismayed to learn that 22 Veterans a day were committing suicide, and he reacted by creating The Veterans Suicide Prevention Channel in 2014. This channel inspired him to create the National Austin Veterans Art Festival (AVAFEST) after showing his own artwork in a national festival for Veteran artists. He explains, "It felt wonderful to see my art on display to thousands of people. [...] So I wanted to create a national Veterans art festival that would be inclusive and not only celebrate the art of Veterans but their cherished family members as well. A festival that will use art as a medicinal supplement to healing for America's Veterans and their family members." 
---
Raul Valdez
Drafted into the Army in 1969, Valdez came from a long line of Veterans of the Armed Services and felt it was his duty to serve. However, his personal participation in the Civil Rights Movement and protests against domestic injustice caused him to question the motivations for military occupation around the world. It became evident to Valdez that freedom and democracy are not at all what the "powers-that-be" are interested in. He explains that, "under the guise of freedom and democracy we are being deceived into what can be called an authoritarian form of government with voter suppression, gerrymandering, and a stack of judges and electoral officials appointed to prevent democracy." To that end, Valdez was inspired to play music and create art to support ongoing civil rights rallies, the farmworkers movement, and anti-racist, police brutality, and anti-war protests, stating that "Music and visual art became tools to serve the community. It is now my duty and motivation to serve what I foresee as a just future for my grandchildren and now great-grandchildren."
---
Christina Green-Martinez
From early childhood, British Forces Veteran Christina Green-Martinez remembers being complimented on her ability to capture the likeness of an image or person, a skill she honed by enrolling in the school of art education at the University of Texas in Austin.  For Green-Martinez, art is a medium to express and share her personal perspective of life and a shared appreciation of the medium and the image. In her more recent work, she seeks to capture images or feelings that she finds intriguing or that have intrinsic beauty. After attending a lecture by philosopher Buckminster Fuller, she gained a new awareness of the physical world, both seen and unseen and the energy that flows throughout, leading her to believe that all is connected. She also enjoys the simple presence of plein air painting and life drawing.
---
Juanita Towery
Juanita Cole Towery, an Austin, Texas-based artist, is a wonderfully diverse artist who uses various mediums to create images to capture the imagination of its viewers. Without locking herself into any particular style of painting, Towery refers to her style of art as "Abstract Nita-ism," where realism and the abstract co-exist in perfect harmony. She also considers herself a 'zone artist' in that she doesn't paint daily. However, when she's in the 'zone', she produces a whole new body of work that may include 10 to 12 pieces. About her work, Towery states, "Painting is as natural as breathing to me. I get lost in the creative process, unaware of the time that passes when I immerse myself in the work. I started drawing at the age of 5 and honed by skills as an artist over many years and am a published artist. However, it never fails that after every piece I finish and put the paintbrush down, that I don't feel an overwhelming sense of gratitude for the gift of creativity."
---
Gene Berry
Gene Berry has always been fascinated with making things. In 1970, while in the Navy, Berry had an opportunity to transfer and work, for two years, in a Pattern maker/ Wood working shop. He caught the woodworking bug and has had a small wood shop in his home ever since. In discussing his artwork, Berry explains, "combining various types and grains of woods plus a geometric or architectural detail brings a whole new dimension to a piece.  The surfaces and edges must be hand detailed so that when the finish is applied the piece feels SOFT. This is my goal for each item I sign my name to." Berry works primarily with wood supplied from local trees that have fallen or been taken down for safety.  The natural, unprocessed wood often comes with defects which Berry highlights as a design detail to show off Mother Nature's design, treating every piece as a future heirloom.
---
Violet Nicklen
Violet Nicklen is an independent professional and award-winning artist who began exploring the arts in the late 1970's.  She put her pursuit of art on the back burner while serving 30 years in the United States Air Force.   After retiring in 2001, she brought her passion for the arts forward again and  began actively exhibiting her artwork in 2001. Nicklen challenges her creativity and finds artistic growth by using combinations of techniques and mediums to craft original works of art that are pleasing to herself and hopefully to her viewers as well.  Many of her favorite works derive from memory and experiences, or combinations of personal photo references and memory.  Nicklen's art philosophy is:  "Art is the essence of the soul, but the true meaning of a work of art is interpreted in the mind and the eye of the beholder". In this show, "Art Heals Wounds", Nicklen selected a floral theme. Flowers are uplifting and gifted for many events such as house warmings, homecomings, various holidays, births, deaths, anniversaries, and other important dates.
---
Peter J. Buotte
Peter J Buotte is an Artist, Veteran, and Art Therapist.   He trained at the School of Visual Arts in New York City; the Maine College of Art in Portland; and the Ecole de Beaux Arts in Paris under Christian Boltanski.  In 2019, he showed "Invisible Wounds" a series of digitally rendered sculptures and photographs in the Texas State Capitol; this exhibit is on display Sep-Nov 2021 at the Central Texas College art gallery. Buotte completed over 25 years in the US Army with 8 overseas tours, five of which were in combat zones. Since December 2016, he is national board-certified art therapist at the Intrepid Spirit Traumatic Brain Injury Center at Fort Hood, TX.  He provides a safe, therapeutic environment for Active-Duty service members to creatively explore post-traumatic stress and mild traumatic brain injury. "Sinking Raft" is a 6 by 9 foot canvas painted primarily in acrylic.   It directly references "The Raft of the Medusa"  a history tableau completed in 1819 by French painter Théodore Géricault. The composition  features remaining survivors from an initial group of 140 in a shipwreck that occurred off the coast of Africa. The event became a scandal because the ship's incompetent captain had little experience, received his commission by political appointment, and ultimately abandoned his ship and people at the time of greatest need.  This serves as a metaphor for the Jan 6, 2021 Capitol riot.  
---
Clarence Ranzau
Clarence Ranzau is a fourth-generation Texan, having been born in San Antonio to parents of German decent.  He is a retired U.S. Geological Survey (USGS) Water Resources Investigator and a retired U.S. Navy Commissioned Officer. Ranzau's artistic interests began in photography during his active military career, often photographing his shipmates and their families using black and white film, and medium format cameras. The final prints were then hand painted. Ranzau is also an avid outdoorsman and traveler, who gains inspiration for his work through trips around the United States, Mexico, and Europe.
---
Featured Solo Artist (2nd Floor Gallery)
Meandering Lines - Caroline Walker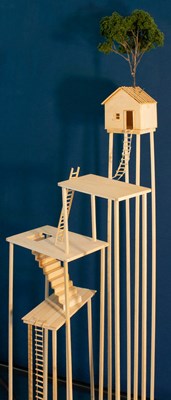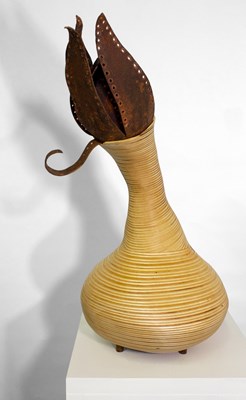 Shelter in Place, 2020                    Phototropism, 2018
Meandering Lines is an exhibit that explores Walker's otherworldly collage paintings, where meandering lines are a theme throughout the work. These lines can represent organic shapes in nature, a path through life, or interconnectivity of humans and the environment. In her sculptural work she bends the edges of sheet metal into flowing organic lines that play off the straight lines of the Baltic birch plywood it is paired with.
---

American Music Series - Rick Steinburg

     

32-20 Blues (Robert Johnson), 2018                       Candy Man (Reverend Gary Davis), 2017
Evolution of an Artist - Marcela Kourkova

    

Futuristic Home, 2020                            Free Form, 2019

Let's Face It - Lauryl Eddlemon

    

Party Girl, 2020                                                         Moonlit Dream, 2020