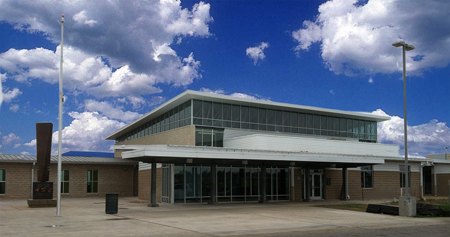 The Turner-Roberts Recreation Center offers recreational and leisure opportunities for Northeast area residents.  Programs include: cultural arts, sports, community/family events, life skills, recreation leagues and numerous classes. Inclusive programs for youth with special needs are also offered.  Turner-Roberts Recreation Center is an 18,700 square-foot facility that includes the 7,700 square-foot Danny L. Thomas Sr. gymnasium, offices, locker rooms, a multi-purpose room, an arts and crafts room, a weight room, a computer room, a kitchen facility and a corridor art gallery. In 2011, a stand-alone building containing a gymnasium and a state of the art kitchen was added to the park.
Colony Park Aquatic Facility Virtual Public Meeting Update
The City of Austin Parks and Recreation Department and partners would like to thank everyone who joined us for the Colony Park Aquatic Facility Virtual Public Meeting on Wednesday, January 27, 2021. We appreciate all the input and comments to help us design the Colony Park neighborhood pool.
In case you missed it, here's the link to the Public Meeting. We encourage you to complete the community survey to provide feedback to the design team at our Speakup Austin page. The survey is in Spanish and English and will be open until Monday, February 15. Please feel free to share with your friends and neighbors.
For more information, please contact Scott Sinn, PARD Colony Park Project Contact at scott.sinn@austintexas.gov.