Smart mobility involves deploying new technology to move people and goods through our city in faster, safer, cleaner, more affordable and more equitable ways.
Austin Transportation seeks to foster creative, mutually beneficial partnerships to carry out real-world testing of smart mobility technology, such as shared, autonomous, connected and electric vehicles.
See below for calls for partnerships, resources for potential public-private partnerships, and current initiatives.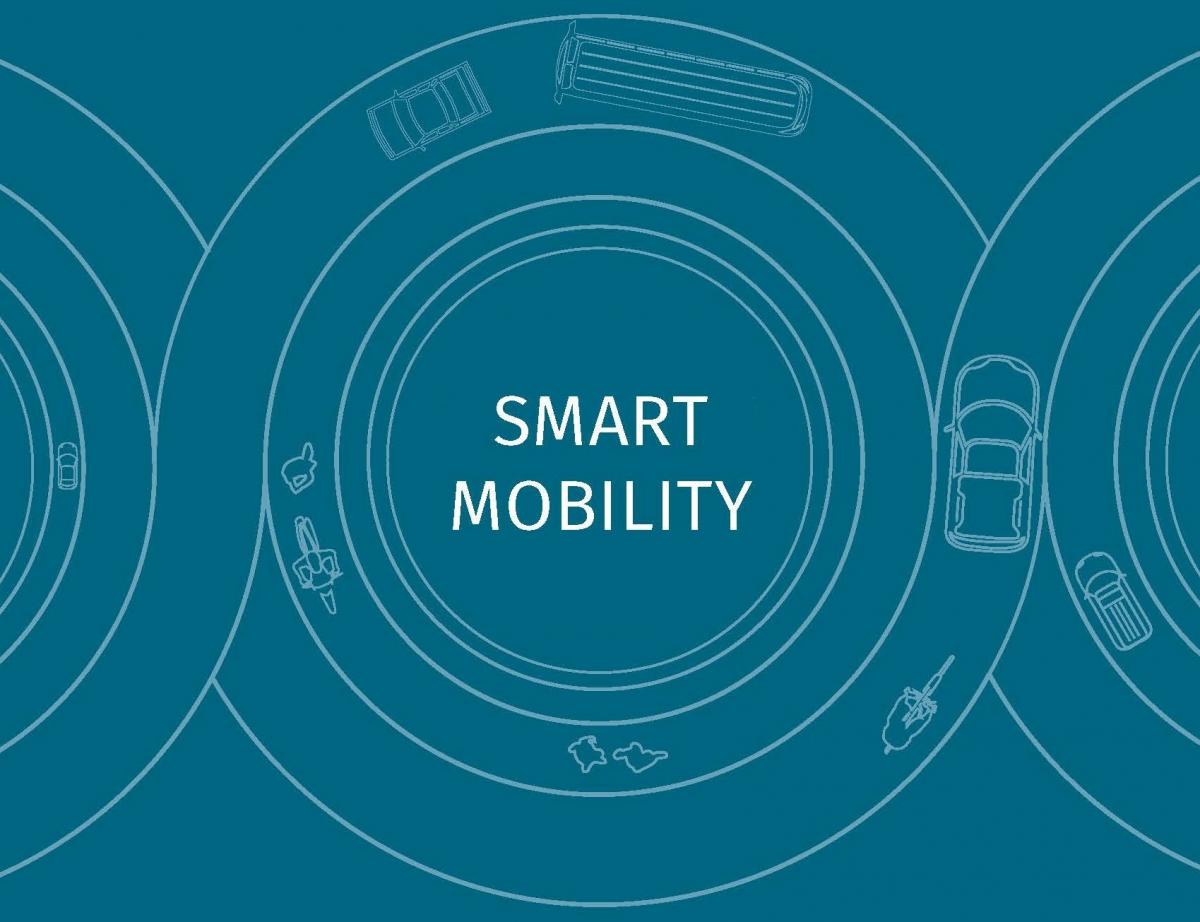 Propose a project or partnership opportunity
Private sector organizations wishing to propose smart mobility projects not listed as calls for partnerships above should submit a Public-Private Partnership Opportunity Expression of Interest Form. If you have additional questions about this process please email SmartMobilityOffice@AustinTexas.gov.
Current Initiatives 
Smart Mobility Roadmap
The City of Austin and Capital Metro have teamed up to create a Smart Mobility Roadmap that lays out a proactive and deliberate approach to new mobility capabilities that will ensure a future that is equitable, affordable, prosperous and data-driven. Learn more and read the Roadmap.
SPACES Pilot
Austin Transportation's Smart Mobility Office is partnering with SPACES Operations on a three-month parking pilot in the City Hall Garage. This pilot will run from August 16 to November 12, 2021 and will test a touch-free parking technology that reduces contact with ticket dispensers, payment machines, screens, and other public surfaces. Drivers can use SPACES to enter the garage, park, and pay using just their smartphone. Since this technology is phone number based, no app download is required.
This pilot is open to City employees, City Hall visitors—who can receive parking validation—and the public. Garage parking prices will not change for paying customers. Using SPACES is optional. The parking ticket kiosks and badge readers will still be available at entry and exits.
Drivers paying with cash or those visiting a retail business that offers parking validation must pull a parking ticket from the kiosk, rather than using SPACES. Affordable Parking Program participants and monthly contract parkers should continue to use their badges to access the garage.
How SPACES Works
Accessing the garage through SPACES differs slightly based on whether a driver is a City employee, a City Hall visitor seeking parking validation, or someone who is paying for parking. In general, however, drivers:
Lift the garage gate by calling a unique phone number posted in the lane and pressing the lane ID displayed on the sign.
Once in the garage, drivers will receive a text message to start their session. First time paying customers should use the text link to enter their credit card payment information, before trying to exit the garage.
To exit later, drivers call another unique phone number and enter the lane ID number to lift the gate.
The video below describes how the technology works. For more information, please visit the FAQ page.
National Science Foundation Civic Innovation Challenge 
Austin Transportation, in partnership with The University of Texas at Austin (UT) and community partners were awarded $50,000 as part of Stage 1 of the Civic Innovation Challenge. The national competition is funded by the National Science Foundation, the Department of Energy and Department of Homeland Security to fund ready-to-implement, research-based pilot projects that provide solutions to address one of two topics:
Offering Better Mobility Options to Solve the Spatial Mismatch Between Housing Affordability and Jobs, or
Equipping Communities for Greater Preparedness and Resilience to Natural Disasters
In moving to Stage 2 of the competition, the team will create a final proposal working with community partners to co-create a community hub in the Georgian Acres Neighborhood, a historically under-resourced area. The community hub design could feature shared transportation options, like e-scooters, e-bikes, and access to transit. The team is also interested in including amenities that could be useful to the community, like wifi, shade structures, or access to charging for handheld devices. The design process will be influenced by large-scale transportation, housing, land use, and demographic data in combination with community input to ensure that the community hub works for those who live, work, and travel in the area.
The team will submit a final proposal that, if selected, will be eligible for up to $1 million of funding. To learn more or contact smartmobilityoffice@austintexas.gov 
Ford City:One Challenge 
In June 2019 the Smart Mobility Office and Ford Mobility partnered to launch the City:One Challenge. This program crowd-sourced ideas to improve access to healthy living in East Austin. Over the course of eight months the program brought together health and social justice experts, community members, government and transportation officials, and entrepreneurs to design solutions that could improve health and mobility out comes for historically underserved Austin communities. In January 2020, the City:One steering committee selected two proposals to receive funding and development support to test and implement their ideas in a real-world setting. The winners were:
Good Apple is Austin-based produce delivery service that provides a free box of food to people facing food insecurity. For every produce box sold, another box is donated to a neighbor in need.
Tappy Guide provides navigation assistance for people with disabilities. The user opens the app and places a video call to the call center where the call is answered by a live advisor, who will then use the user's GPS location and live video stream to support their navigation on the ground. 
In December 2020, the Smart Mobility Office, Ford Mobility City:One team, the City of Austin Equity Office, and Joyce James, a nationally recognized racial equity educator, documented learnings from the City:One Austin Challenge as part of a larger analysis of racial equity in mobility innovation. You can read the Racial Equity in Mobility Innovation: Case Study here or by visiting www.fordcityoftomorrow.com.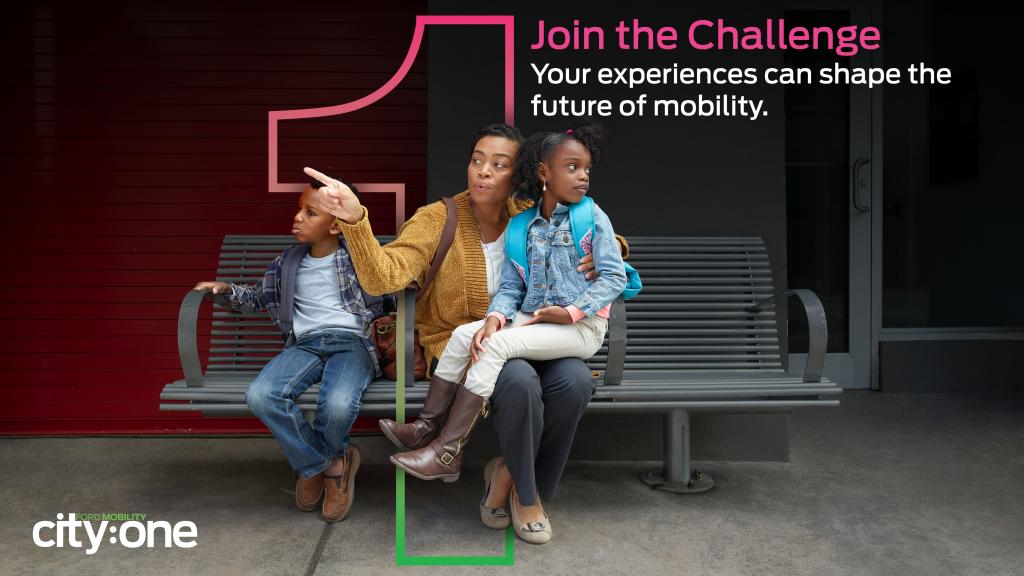 Past Projects
Swiftmile Electric Scooter Parking and Charging Pilot 
The Smart Mobility Office and Swiftmile, Inc. collaborated for a six month pilot to test the usability of the company's universal scooter parking and charging stations. This pilot observed how effectively Swiftmile's stations could be used to manage sidewalk organization and improve access to fully charged e-scooters. During Phase I, the stations acted as parking stations only—without power for charging—while Swiftmile and the Smart Mobility Office worked to understand patterns of use and waited for e-scooters to ridership to rebound in the wake of the COVID-19 pandemic.
Phase II, which began in October 2020, allowed e-scooters to charge while parked in the stations. In February of 2021 crews began removing the temporary Swiftmile charging and parking stations from the downtown and campus area. Smart Mobility Office staff is evaluating data collected during Phase I and Phase II of the pilot, as well as reviewing feedback submitted by Austin community members. Once the evaluation is completed the office will make recommendations regarding the future use of this type of technology in Austin.
Stations were installed at:
900 Electric Dr.
90 Rainey St.
1100 E. 5th St.
2104 Guadalupe St.
400 W. 24th St.
100 Congress Ave.
401 Congress Ave.
500 W. 2nd St.
424 S. Lamar Blvd.
1412 S. Congress Ave.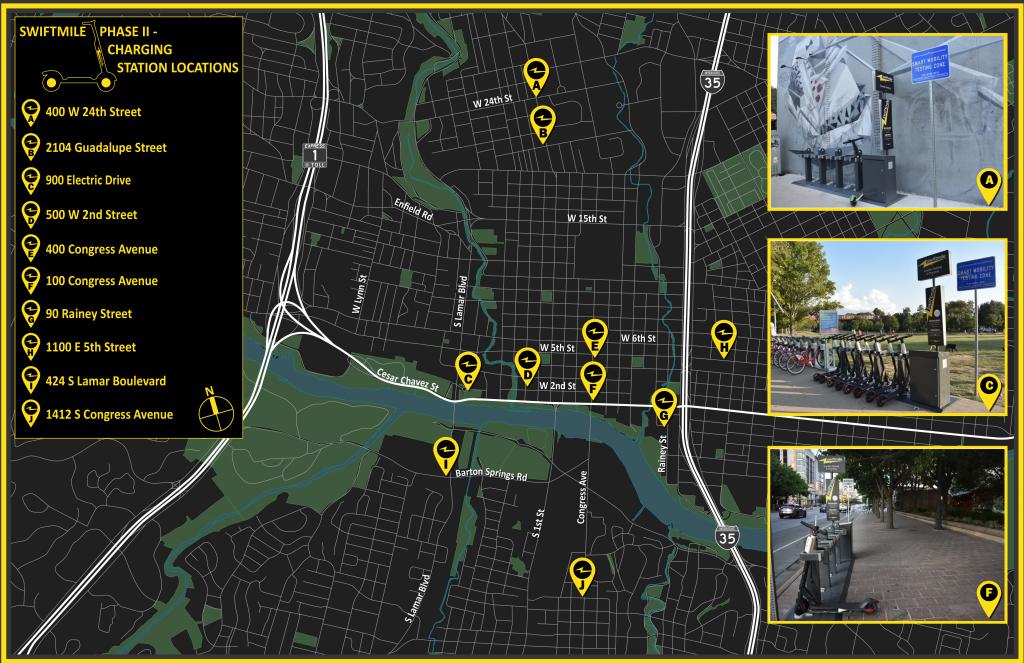 Watch the video below to learn how the stations worked. 
Contact
If you have additional questions about the City of Austin's smart mobility initiatives, please contact SmartMobilityOffice@AustinTexas.gov.