Caminos Foto ATX Youth Virtual Exhibit: Tu Mundo
Caminos is made up of a group of Latinx teens and Latinx youth artists that are passionate and involved in the artistic community in Austin. FotoATX is a city-wide exhibit hosted by the Austin cultural centers simultaneously highlighting the medium of photography and the many local photographers in Austin.
Caminos is hosting its 3rd edition of FotoATX. This year our exhibit will take place in virtual form starting on August 7th, 2020.  The purpose of this exhibit is to promote and empower young photographers, ages 25 and under, to reveal parts of Tú Mundo (your world) to the audience at large. What elements of Tú Mundo will be revealed through your lens ? 
Anyone in Austin is welcome to apply to have their photograph(s) be a part of this exhibit. 
* Submit photos by posting them on the submission form.
* Applicants must be under 25 years old at the time of submission.
* Open to several styles and photographic techniques including photo essays and video collage.
Submission Deadline: August 3, 2020
Submission link
Virtual Reception: August 7, 2020
If you have any questions please contact: frederico.geib@austintexas.gov
Other Projects by Caminos
The Caminos Teens create public artworks and community workshops as some of their many projects throughout their one-year leadership program. These accomplishments are teen-led, with support from ESB-MACC staff and local teaching artists who engage the students, mentor them in the arts, and help them complete their vision. Some of our past projects have included:
La Mujer Mosaic Mural
In the Summer of 2018, the teens from the ESB-MACC Caminos Program decided to embark upon a large scale mosaic mural arts project honoring the contributions of Latinas to our society. The ESB-MACC is currently in the process of installing a base to install this mural, creating a timeless public artwork made by Latinx teens presented to our community.  The mosaic is a double-sided wall which will face out towards the hike and bike trail (NW) and towards the ESB-MACC plaza (SE). The work will be 24x6 feet and will include iconic images of both public Latina celebrities as well as unsung heroines from our own community. J Muzacs is the Artist mentor responsible for overseeing the project, and it was coordinated by Frederico Geib, Caminos program director at the ESB-MACC. Stay tuned for the unveiling of the mural as a major project in 2020! For questions, contact: Caminos@austintexas.gov.
Breaking Barriers Latinx Youth Conference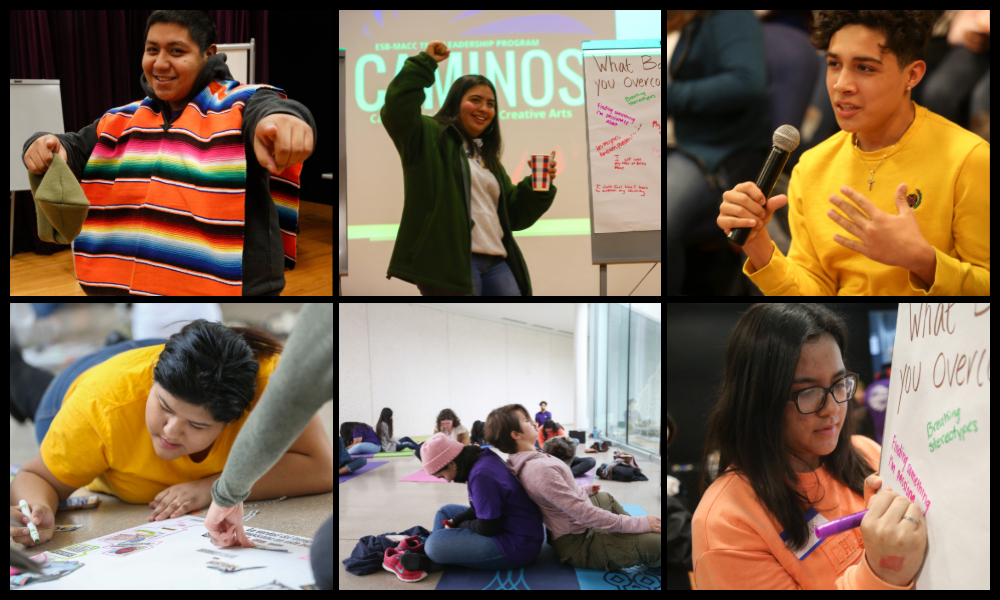 In February 2019 the Caminos Teen Program organized its first Latinx Youth Conference around the theme of breaking barriers. On February 22, 2020 the next class of Caminos teens organized their second annual conference, building upon the success of the first year. This conference was a powerful day for our youth to share thoughts, ideas, art, and music. We could not have anticipated such brave, talented, and expressive youth sharing so much of themselves to build resilience. We are stronger when we come together! Remember for follow Caminos on social media for more events and opportunities like this! "They call us DREAMers but we're the ones that never sleep." Check out the photos from 2019 and 2020! 
Preservar y Promover Cultura Mural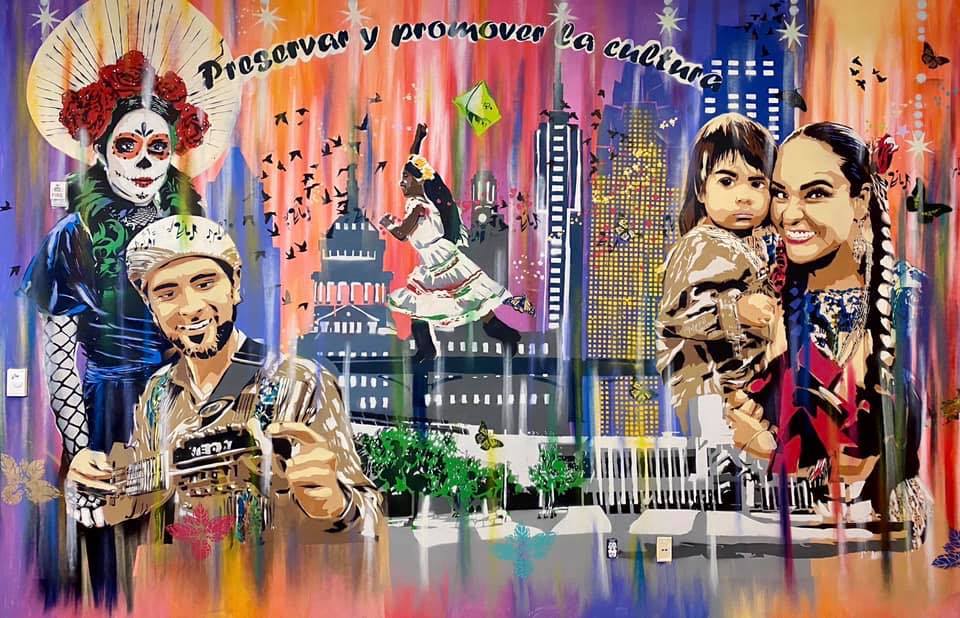 In February 2020, the Caminos teens designed and painted a permanent art installation in the conference room at the ESB-MACC. The mural was designed by the teens with teaching artist Niz, who taught them a stencil making technique that was brand new for all of the teens. The mural depicts the teens' favorite memories at the ESB-MACC, including the performing artists who have inspired teens with their talent and expression of culture. Javier Jara, one of the ESB-MACC's Latino Artist Access Program participants, along with a Catrina-dressed participant from the 2019 Day of the Dead celebration, and Sonia Lopez, a dancer and teacher with the Ballet Folklorico of Austin group at the ESB-MACC, are some of the figures that the teens depicted in the mural. Over a series of working sessions, mostly on Saturdays, the teens worked with Niz to add layers of spray paint to the mural and resulted in a multi-dimensional, multi-colored, collective masterpiece to be enjoyed at the ESB-MACC for years to come. On February 29, 2020, the Caminos Teens inaugurated the mural with their friends, family, and supporters as they completed their leadership program and celebrated their graduation. We look forward to future mural projects from the 2020 Caminos class and beyond!