The MACC Galleries are open to the public for scheduled visits. Make a reservation to visit or drop by during office hours: Monday-Friday 10-6, Saturday 10-4.
Also, view our online exhibits below.


The exhibit on display is currently Amuletos by Luis Guerra. It will be on display in the SZC Gallery from Sept 25- Nov 27.
To learn more about Amuletos, check out the Amuletos Online Exhibit and this Smithsonian handout, Three Farmworker Projects & a Mural.


The pieces inspired in the "Colores de Mi Alma" exhibit are inspired by Austin's Eastside, Animal Wildlife, Tejano Musicians, and Latino Community Leaders. The colors represent the vibrancy and passion I feel in my soul for art. I am beyond grateful for the opportunity to share my vision and life's work with you all. A huge thank you to the ESB MACC for hosting my artwork. - Amado Castillo III
MULTI curated by Coka Trevino
MULTI is a virtual exhibit curated by The Projecto's Coka Treviño which will be featured in The ESB MACC's annual La Mujer celebration. MULTI tries to express a few of the many dream-states that our life as Mexican and Mexican American women have internalized in and outside of contemporary colonialism, and how we're collectively trying to unlearn and find our own, authentic voices.
The artists of MULTI are: Poet and writer Ariana Brown; Photographer and Designer Patricia Carrington; Performer and Video artist Fina Ferrara; Contemporary artist and visual activist Irene Antonia Diane Reece; and experimental video and sound artist Natalia Rocafuerte provide us with different views of Mexicanidad and the Latinx experience.
Multidisciplinary, Multifaceted, Multicultural; Resilient Artists that have grown, reached, and accomplished trusting their own strengths, and resources. Womxn that have dared to dream a different life.

21/ Veintiuno Ender Martos
Ender Martos
21/ Veintiuno
by Ender Martos 
Exhibition Dates: February 1, 2021- March 31, 2021
Ender Martos, an award winning Texan Venezuelan artist based in Austin, plans to jumpstart the long awaited 2021 with a cultural headrush.   The visual artist will debut "21 (Veintiuno)'', a virtual exhibition of his celebrated optic art, along with his personal reflections on the theme of "diversity within diversity."
Ender Martos is a rapidly rising artist who has drawn comparisons with kinetic art masters such as Jesus Soto and Carlos Cruz-Diez. Ender mixes different media to create wall sculptures and massive installations that involve the viewer in sensorial experiences of movement and color.  Ender's work has been very well received by art collectors from many cities of the US and Mexico, including Miami, Chicago, Austin, Houston, Fort Worth and Mexico City.  Ender is known for using intricate geometrical patterns and carefully placed color arrangements to celebrate the strength and beauty of cultural diversity.  
"21/Veintiuno" ("twenty-one" in Spanish) will be debuted online on February 1st, 2021.  The virtual exhibition will have multiple digital photographs of Ender's work arranged in three thematic periods of 21 years, each one representing the artist's past, present and future.  The Emma S. Barrientos Mexican American Cultural Center of Austin presents this special exhibition as part of their Award-Winning Artists solo exhibits, which has gone virtual since March 2020 due to the COVID-19 pandemic. The  exhibit can be viewed on www.veintiuno.art, on the Smithsonian Learning Lab, and programming and news related to the exhibit are also found on the ESB-MACC Facebook.
Graceful Celebration of Diversity
Outside the ESB-MACC is a temporary installation of Ender's sculpture "Graceful Celebration of Diversity"
This vibrant sculptures measures 12' diameter x 72" and is made from Powder Coated Steel & colored acrylic sheet.
The sculpture was created by Martos with TEMPO in 2019, a program by the City of Austin's Art in Public Places.
"Graceful Celebration of Diversity is a 3D installation that I produced for the prestigious TEMPO art program of the city of Austin. It comprises 8 (eight) color metal cylinders that are arranged in a circle formation, providing an interactive optic art experience to those walking around the piece or going through it. The different colors of the sculpture represent diversity, while its eight cylinders symbolize prosperity; the piece is a celebration of the intrinsic relationship between these two fundamental ideas: diversity and prosperity." - Ender Martos, January 2021
*Please note that while the MACC building is currently closed to the public, the sculpture is located on the MACC grounds which remain open to the public, so it can be appreciated by folks walking by on the Lady Bird hike & bike trail.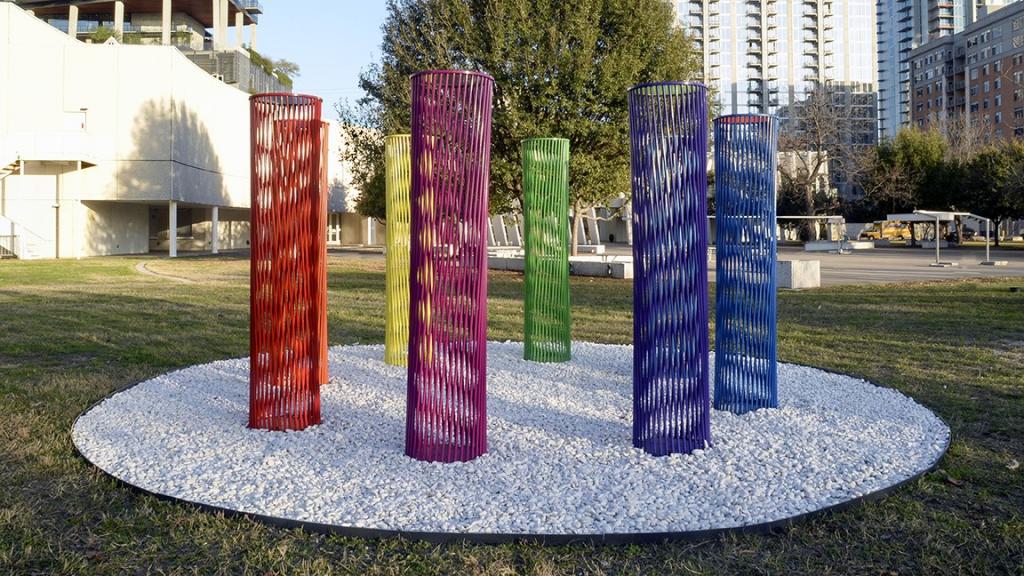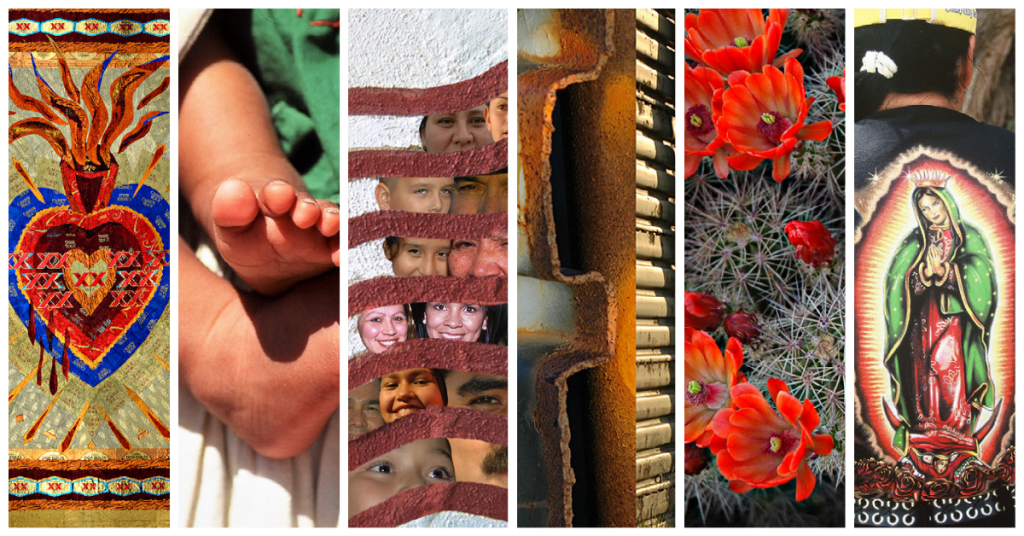 Exhibition Dates: Sept 16, 2020-November 25, 2020
Diana Molina is an exhibiting artist and curator at the ESB Mexican American Cultural Center for Fall 2020. Her online exhibit XX Timeline at the Crossroads XX, can be viewed at any time on her Digital Exhibit and Programs Page and on the Smithsonian Learning Lab.
"My work examines the spectrum of elements that inhabit my world. In various forms and mediums I observe the human experience with a lens focused on the environmental framework we inhabit. The artworks feature the result of the interwoven relationship between people, land, and culture and bring to light perspectives from the road less traveled. I illustrate the borders of my homeland and those I cross, not only in the literal sense of a governmental division of territory, but also by the influence of ideologies, customs, politics, economics and views of life."
Diana Molina

TOURS

The ESB-MACC is currently closed. Under normal circumstances, we offer tours by appointment Monday-Friday 10am-2pm. This page will be updated when the ESB-MACC reopens. You will be able to schedule a visit to the galleries and/or reserve a tour by completing our online Tour Request Form. For questions about tours and school groups, email lori.navarrete@austintexas.gov.


Mosaic Mural "La Mujer"
At the ESB-MACC's annual La Mujer Festival on April 13, 2019, guests previewed the mosaic mural, titled "La Mujer", which will become an outdoor art installation at the ESB-MACC. The mural honors Latinx women and serves as a powerful reminder of the transformational power of the Arts to bring youth and community together through creativity.
Caminos
Caminos is an immersive; one year long paid internship empowering Austin-area Teens to carve their own path in the creative arts. Students work alongside ESB-MACC professionals on a variety of community oriented activities. The Caminos students meet on Saturdays at the ESB-MACC and represent a diverse spectrum of schools and geographic areas of Austin. These high schoolers learn about Latin American and Indigenous cultures in the Americas and serve other teens by creating content and events that are relevant and enriching. In so doing, they become Ambassadors of Latinx culture in Austin while receiving precious professional development and empowerment along the way.
Caminos Mosaic Mural Artist Mentor: J Muzacz
Caminos Program Coordinators: Frederico Geib
Caminos Mentors: Anabel Gomez, Cecilia Yakin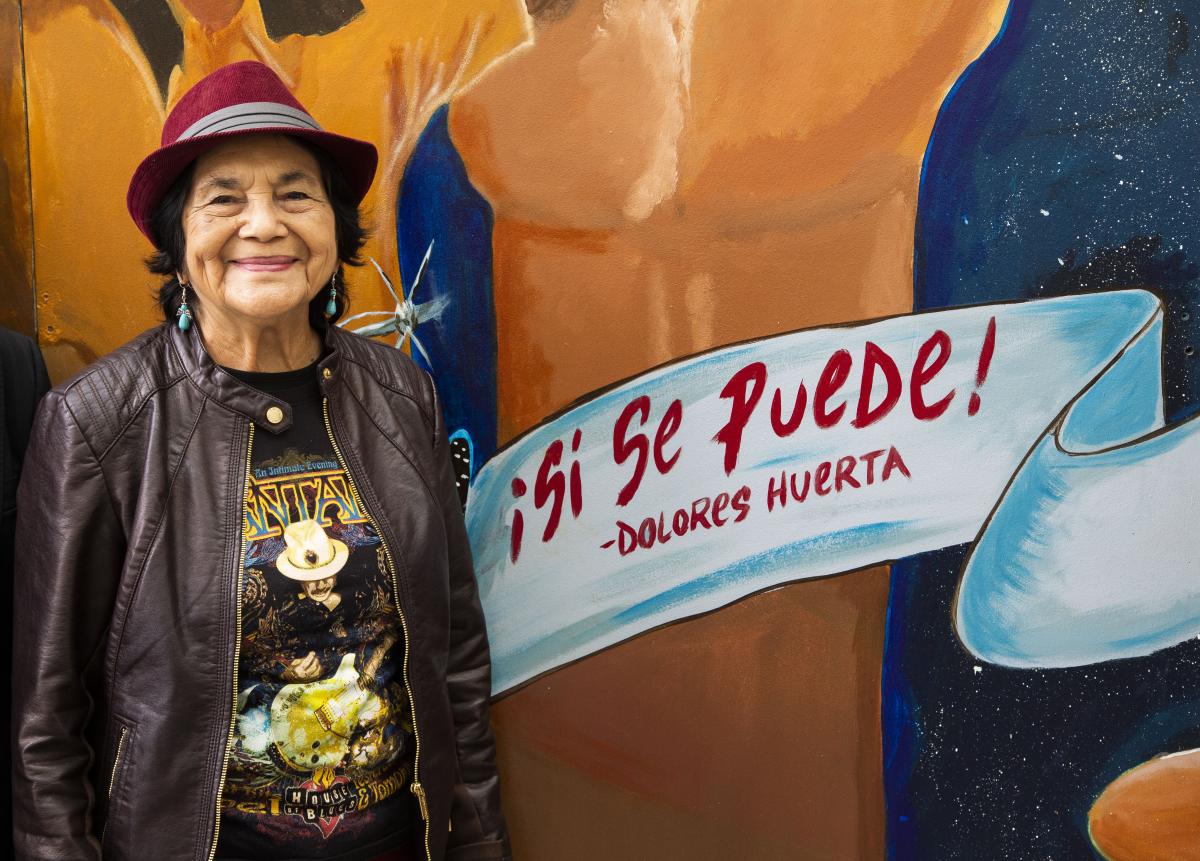 Caminos Mural (2018)
Created by students in the Caminos program in 2018, this handpainted mural at the entrance of the ESB-MACC commemorates Latinx heroic actions demonstrates a vision of global connection and world peace. Activist Dolores Huerta poses at the mural in 2018. 
Caminos Program Coordinator: Frederico Geib
Mural Artist Mentor: Raul Valdez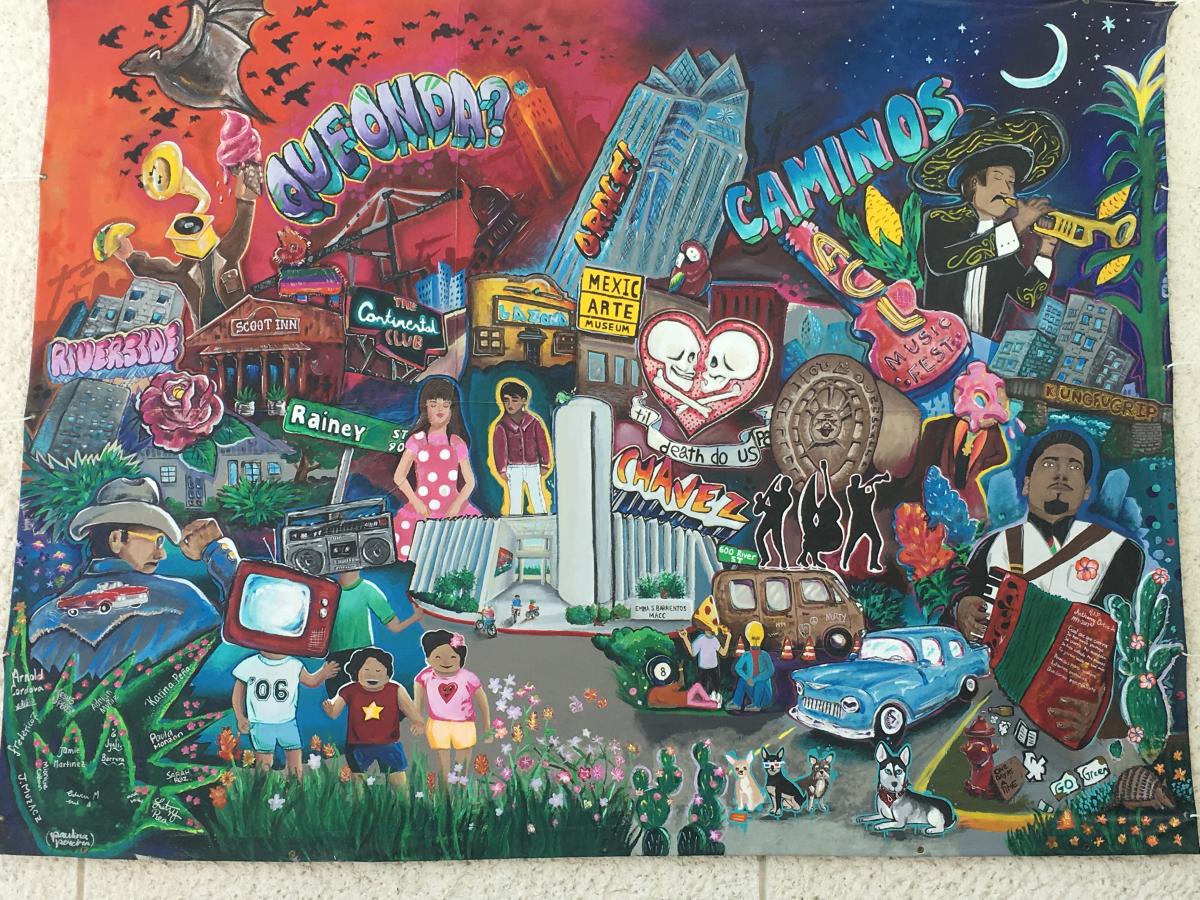 Caminos Legacy Mural (2017)
Caminos Students
The Caminos Legacy Mural was created by Adrian Muniz, Analiza Valdez, Arnold Cordova, Jamie Martinez, Jesus Perez, Jyali Barrera, Karina Peña, Litzy Valdez, Mianiche Calhoun, Paula Monzon, Paulina Pereira, and Sarah Ruiz as a community arts mentorship project led by muralist and arts educator J. Muzacz. The teenage students in the ESB-MACC Caminos program painted a mural that celebrates the vibrant community around the ESB-MACC while showcasing their creative passion and vision for the future of Austin seen from the perspective of Latinx youth. The actual mural is simply the tip of the iceberg as this project involved dozens of hours of community interviews, historic research, and outreach. The result is a vibrant blend of ideas and feelings from long time community members, filtered through the creative lenses and originality of the twelve Caminantes of the Caminos Teen Internship Program.
Caminos Program Coordinator: Frederico Geib
Artistic Mentor:  J. Muzacz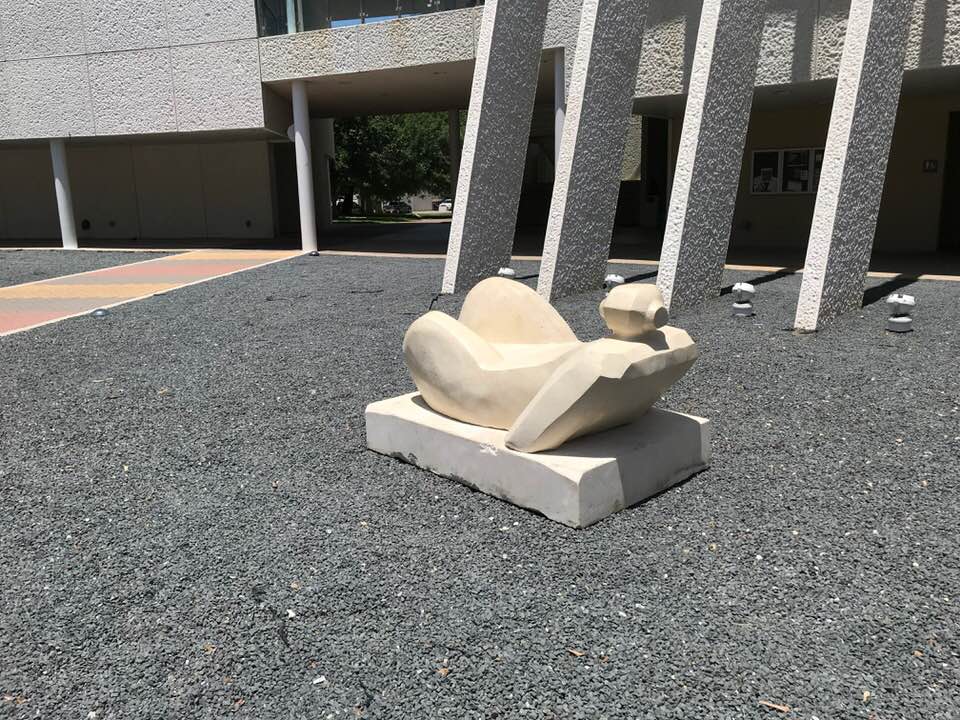 Maya (2017)
Reynaldo Alaniz
Limestone
Reynaldo Alaniz was commissioned by the City of Austin to create Maya, a hand-carved limestone sculpture of an abstract female figure.  The piece was commissioned by TEMPO, the Austin Art in Public Places temporary public art program. Maya was exhibited in Austin's Edward Rendon Sr. Park in November 2017 as part of the East Austin Studio Tour, and can now be viewed in the Zócalo of the ESB-MACC on a one-year loan from the artist.
The sculpture was inspired by a Mayan figure called a Chacmool, which is a type of stone statue that has been found at archaeological sites such as the Mayan pyramid of Chichén Itzá and several Aztec sites near Mexico City. The Chacmool is a reclining figure whose head is turned completely to the side, legs raised, with a flat area on the abdomen where sacrifices were placed. There is no definitive knowledge of where and when they originated but archaeologists have associated them with the Aztec rain deity Tlaloc due to markings found on some of the Chacmools.
Maya is a hand-carved limestone sculpture that invites the viewer to consider the history of Mexico's indigenous past. The placement of the sculpture in relation to the ESB-MACC building is reminiscent of the Chacmools placed outside Mesoamerican temples. Maya isn't an exact replica of a Chacmool, but is a modern adaptation that uses simplified lines and minimal detail to evoke the presence of the ancient figure while holding its own as a contemporary art piece.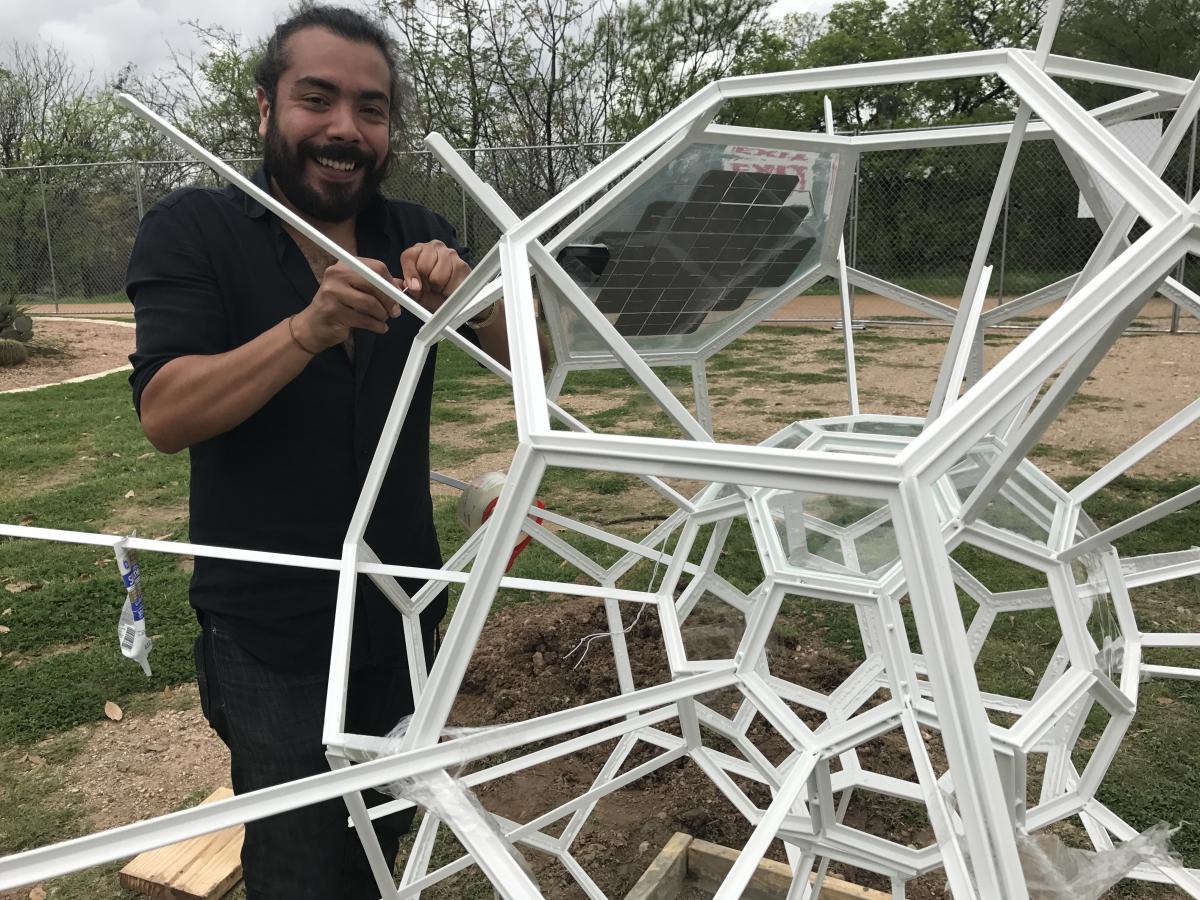 Exoskeleton (2016)
Victor Pérez-Rul
Solar Hardware, Steel
Exoskeleton is a site-specific public sculpture for the Emma S. Barrientos Mexican American Cultural Center, designed by Mexican artist Victor Pérez-Rul whose artistic labor evolves around the empiric development of energy research through the multidisciplinary approach to science, technology, and art. Exoskeleton generates, stores and processes energy through its solar panels, specifically designed to produce an electromagnetic spectrum. Its relation to the environment shapes its behavior. Exoskeleton exists through a technological system in relation with the environment that enables stages of wakefulness and sleepiness, life and death, and the apparently motionless lifeless stage. "Renewable energy is key to its essence and purpose, to accomplish this collaboration with Solartec, a Mexican company specialized on solar energy. This project was accomplished thanks to the ESB-MACC, and to the donors involved: the University of Texas at Austin: Visual Arts Center, Victor Pérez-Rul and Solartec."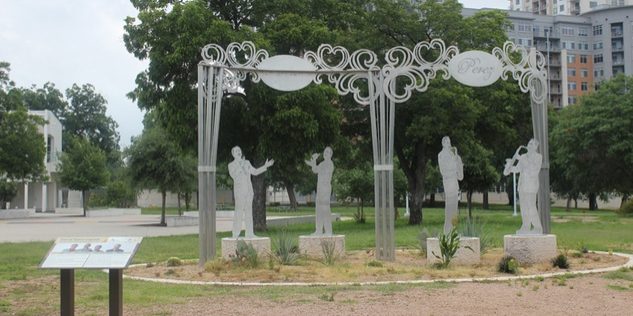 Tejano Music Legends (2015)
Carmen Arismendi
This sculpture at the edge of the Zócalo pays tribute to local Latino musicians that were integral to Austin's music scene. The deep musical traditions and cultural contributions of the Perez and Ramos families are represented by the figures of brothers Ruben Perez & Ernest Perez, and brothers Alfonso Ramos & Ruben Ramos.  The Perez brothers are shown playing the saxophone and the Ramos brothers are engaged in song. The performers each led their own orchestra or band, and are joined by two curvilinear "stage structures" to symbolize the link between the two families. The vertical supports represent curtains on the side of the stage and a curving cut metal pattern based on a modified treble clef sits at the top and holds the names of these great families.


Uprooted Dreams (Alebrijes)
On permanent display in the Education Area upstairs at the ESB-MACC is Uprooted Dreams (2012), a site-specific sculptural installation that features over 19 individual, brightly colored woodcarvings, mounted in the public entrance of the Education Area. Artist Margarita Cabrera was selected to create an artwork which would engage the community in its production. "Uprooted Dreams is a work of art designed in the form of workshop production...nineteen members of Austin's immigrant community- guided by Master Artesanos, Ranulfo Sergio Ibañes and Lucia Luria Sosa, experts in the Mexican craft tradition of alebrije-created, carved and painted wooden sculptures. These pieces embodied artistic themes of uprootedness as they spoke to the transformation of people, land, and community. For the artist, artesanos, participants, and audience, the process and product of Uprooted Dreams provides an ongoing platform on which to build respect, equality, solidarity, and dignified ways of making art and creating community.   - Margarita Cabrera
Axolotl (Mexican Salamander)
The ESB-MACC houses an aqarium that is home to a very special species of salamander called the Ajplote. Their name is "Axolotl" in Nahuatl, which is an indigenous language of Central Mexico spoken by the Aztecs of Ancient Mexico and still spoken in Mexico today. Revered by the Aztecs, the axolotl is unusual among salamanders in that the adults retain large external gills and demonstrate a remarkable ability to regenerate lost body parts. The Axolotl once made its home in the interconnected lakes that filled the basin of Tenochtitlan, where Mexico City now stands. But over the centuries, lakes and canals have been polluted, endangering the animal in its natural habitat. Axolotls are now being reproduced in capitivity and then reintroduced to the wild. The ESB-MACC' s Education Department maintains a collection of 5 Axolotls that reside in an aquarium in the Raul Salinas room to inspire and educate visitors of all ages. If you are visiting the ESB-MACC, make a request at the Front Desk  to view the adorable Axolotls!



TOURS
Site and gallery tours are available upon request. Please click here to download our tour request form.
GALLERY HOURS
Monday - Thursday 10am - 6 pm
Friday  10am - 5:30 pm
Saturday  10am - 4pm
PARKING
Free parking is available to those attending our programs, galleries and special events. A temporary parking pass is available in the main office.

SUBMISSION GUIDELINES
Proposals are accepted year-round, and due to the large number of submissions received, ESB-MACC cannot guarantee immediate review of proposals. Submissions will not be returned.  Emailed proposals will not be reviewed.   All work samples should be of good quality. Please do not send originals as we cannot accept liability for damage or loss. To apply, please complete the gallery application below.