The Dougherty Arts Center (DAC) has been home to local, national and international performing artists since 1978. Bring your next film festival, dance recital, live concert of staged performance to our stage, or use our free creative space rehearsal rooms for your auditions, production meetings, workshops and rehearsals.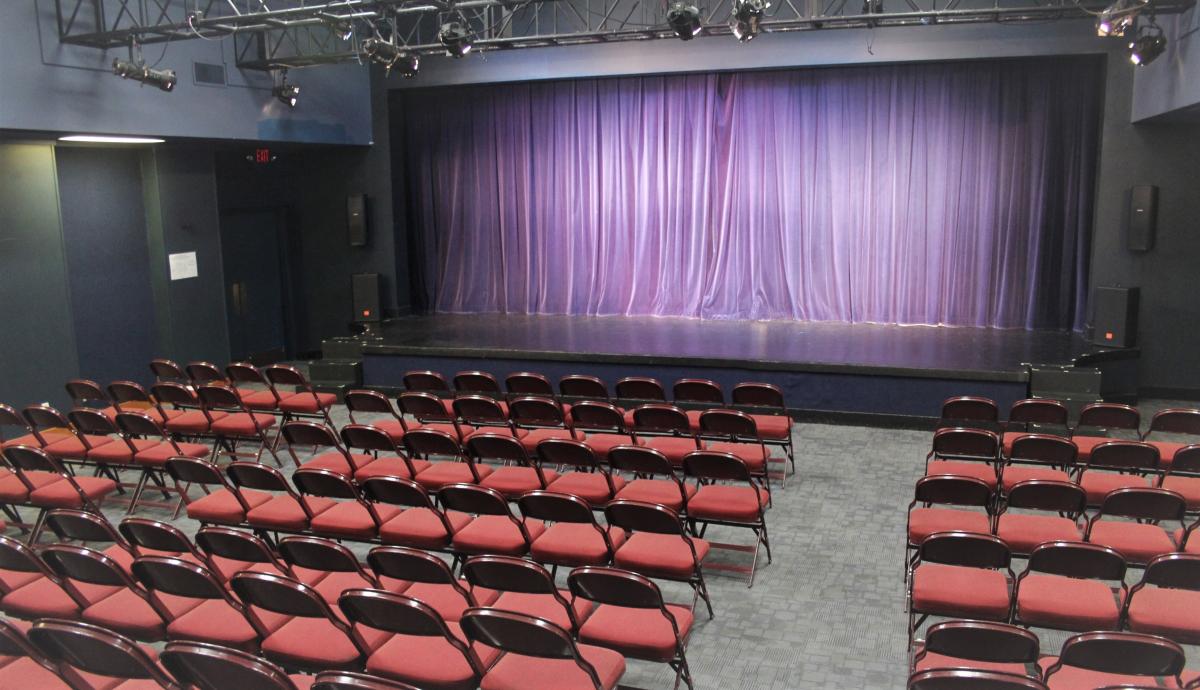 The Theater is currently booked for the remainder of 2020.
The Dougherty Arts Center will begin accepting 2021 theater reservation requests beginning April 27, 2020 at 10am. Request forms will be time stamped and reviewed in the order they are received. Request forms submitted prior to 10am on April 27, 2020 will not be accepted.
 The DAC strives to create equal access to its performing arts facilities. A fillable pdf version of the Request Form and guide will be available on our website  on Friday, April 24, 2020. Additionally, an online web version of the request form will be available on April 27 at 10am.  The DAC is currently unable to receive printed request forms submitted by mail or in person. 
If you need assistance with your application, or have questions about the Dougherty Arts Center Theater, please email DACTheater@austintexas.gov
2021 Reservation Request Form (fillable pdf)  Please Note- Applications submitted prior to April 27,2020 at 10am will not be considered
Rental Spaces
Click on the links below for more information about the theater and the no-cost Creative Space Rooms.   

Rental Fees and Forms

Availability Calendar
Creative Space Reservations are not being accepted at this time.  
To see if the dates/times you would like to request space are available, check our availability calendar below! Current reservations are listed in this calendar only by the room they have reserved and the time frame of the reservation, not by their organization name.You cannot reserve space directly through the online calendar, nor does this calendar guarantee that space is available. It should only be used as a guide to assist you prior to completing any/all required request forms. 

Rental Inquiries and Reservations
Lucy Miller-Downing, Theater and Event Coordinator
Lucy.Miller-Downing@austintexas.gov
512.974.4045

Frequently Asked Questions
To reserve one of our two free creative space rooms you must download and complete a Creative Space Reservation Request Form, and submit it via email at DACInfo@austintexas.gov, or in person. If the facility is able to accommodate your request, a DAC representative will contact you via email and phone to confirm.
What kinds of events could I host in the theater?
The DAC theater is equipped for the purpose of a variety of different events. It is best suited for small staged theatrical performances, acoustic concerts, dance recitals, film screenings and lectures.
Can I rent the theater for a personal event, such as a birthday party, wedding, or life celebration?
The DAC Theater is not available for life, family or personal events such as weddings, birthdays, quinceañeras, family reunions and social gatherings.
Is the Julia C. Butridge Gallery (adjacent to the theater entrance) part of the rental package?
No. The Julia C. Butridge Gallery is not included in the DAC theater rental agreement. The gallery is open to the public during regular business hours and cannot be reserved for private events. Renters will work with the Theater Coordinator to coordinate the concessions and box office set up in the gallery.
I want to host an event and invite vendors to sell merchandise. Can I do that?
Theater clients are allowed 2 tables in the gallery adjacent to the entrance of the theater to sell concessions or merchandise with the appropriate permits. We do not have the ability to accommodate additional vendors in the theater, gallery or outdoor area.
I would like to serve my guests and participants alcohol during my rental. Can I do that?
Renters planning to sell or serve alcohol to the public at the DAC will need to request so in writing to the theater coordinator and will be required to obtain general and liquor liability  insurance, TABC  permit for the sale of alcohol and a temporary food permit. More information can be  located on the PARD Special Events website.
Can I tour the facility?
Of course! However all tours and walkthroughs of the theater and creative spaces are by appointment only. Please email DACTheater@austintexas.gov to schedule a tour today

Helpful Documents and Links