You are here

A key priority for CodeNEXT is effectively engaging the community in a two-way conversation about the draft Land Development Code and how it affects our everyday quality of life. As work continues toward a more effective LDC, you will have several opportunities to ask questions and give your opinions.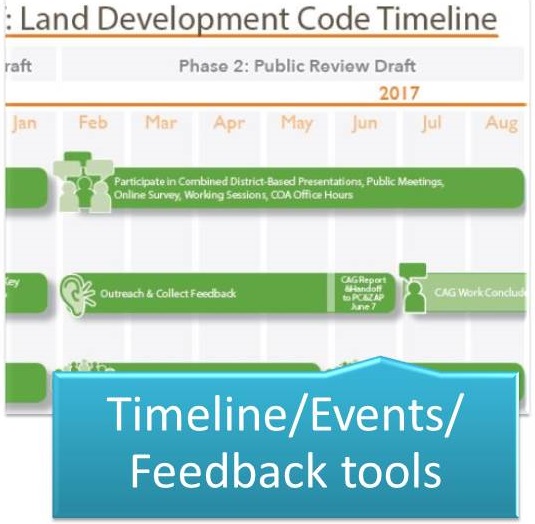 Open House: CodeTEXT
Plan to attend one of these Combined District meetings. All are open to the general public, regardless of district.
Feb. 18, 2017
Crockett High School (5601 Manchaca Rd.)
Noon to 2 p.m.
Feb. 25, 2017
Lanier High School (1201 Payton Gin Rd.)
1 p.m. to 3 p.m.
March 4, 2017
Lyndon B. Johnson Early College High School (7309 Lazy Creek Drive)
1:30 p.m. to 3:30 p.m.
March 25, 2017
Stephen F. Austin High School (1715 Cesar Chavez St.)
Noon to 2 p.m.
April 1, 2017
Westwood High School (12400 Mellow Meadow Dr.)
Noon to 2 p.m.
CodeNEXT Topic Talks
Want to dive deeper into major areas of interest? Plan to attend these five topic-based information sessions. Topics of discussion include "Process & Procedures," "Community Character," "Environment," "Mobility" and "Affordability." DATES TBA
Open House: Mapping
Ten Council District information sessions will present draft maps depicting new zoning districts applied across the city. Austinites will see and understand the implications of the code as it is mapped in each district. DATES TBA
CodeNEXT Road Show
By request. We'll come to your small group for an informal update and conversation.
---
---