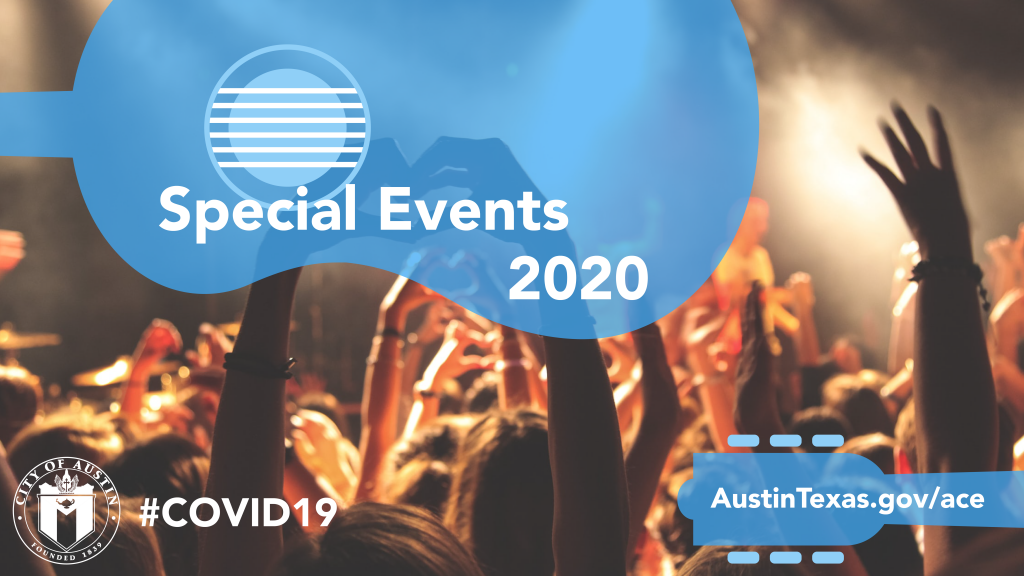 2020 Special Event Updates
Gatherings & Special Events Prohibited 
Austin-Travis County residents have done a remarkable job at flattening the curve of COVID-19 transmissions in central Texas and we need to ensure this concerted community effort continues.
Executive Orders from the State Governor supersede City or County Orders and we are obliged to operate within the parameters set out by the Governor. There are still a number of measures the community is strongly encouraged to take as we work with industry leaders to identify a plan to reopen businesses and kick start events safely. These include maintaining physical distancing, regular hand washing, wearing cloth face coverings when out in public, helping protect those who are at highest risk, and minimizing social gatherings and in-person contact with people from other households.
Continuing to do these things effectively will help in our battle against COVID-19 and enable us to return to normal life as soon as it is safe to do so. 
Special Event Permit Application Cancellation from Spring 2020
The City received just under 200 Spring Festival Season permit applications. A list of the permit application cancellations is available. Cancellations may be for any reason, including but not limited to the Austin-Travis County Orders to prohibit mass gatherings.
Questions and More Information 
If you have questions about your event application or future plans, contact us at specialevents@austintexas.gov and we can schedule a remote meeting with you.
311 Information Dial 311 or 512-974-2000 to reach a City ambassador ready to answer any question, or assist with any issue you may have regarding City of Austin departments or services.
Stay Safe
In case of emergency, always dial 911. For non-emergencies, dial 311 or 512-974-5000.
APD Support
Submit a Police Report online to report a criminal incident to the police department. 
Download the APD app  to get direct access to APD services including station locations, crime prevention information, news updates, and more.
Get Around
Micromobility:
Micromobility Guidelines People who plan to use micromobility services, like scooters and some bikes, should do so in a safe and ethical manner. Please help keep Austin moving safely.
Get Home Safe:
Friendly reminder that buzzed driving is drunk driving. Know how you're getting home before leaving for a night on the town. 
Capital Metro:
Capital Metro can help you get around. Check out routes, maps and download their app to help you navigate Austin public transit.  
Austin-Bergstrom International Airport:
ABIA Ground Transportation information and a video to help you navigate ride share pick-up at the Airport. 
Explore Austin
City Hall Take a tour around The People's Gallery in City Hall (at 301 W. 2nd Street) 8 a.m. to 5 p.m., Monday – Friday. Admission is always free!
Zilker Park is just south of downtown and one of our most-loved outdoor spaces. This 351-acre metropolitan park is home to a variety of recreation opportunities, facilities, and special events.
Central Library was named one of TIME Magazine's World's Greatest Places 2018. The library is home to 500,000 books, an art gallery, rooftop butterfly garden, café, and a technology petting zoo, and more.
Austin History Center is the history division of the Austin Public Library devoted to preserving information about local businesses, residents, institutions, and more so future generations have access to our history.
The Texas Capitol is the meeting place of the Texas Legislature. Our beautiful Texas Capitol building is widely recognized as one of the nation's most distinguished state capitols.
Ann & Roy Butler Hike and Bike Trail at Lady Bird Lake is one of Austin's many trails. This 10-mile trail is a gem right in the heart of downtown along Lady Bird Lake (Town Lake).
Blanton Museum of Art Located on the University of Texas at Austin campus, the Blanton Museum is an art collection with nearly 18,000 works showcasing art from across the ages. Discover new and old favorites as you check out their exhibits.
Bullock Museum Discover your love of Texas history and check out their ever-changing artifacts, rare documents, photographs, and special exhibits. 
Zilker Botanical Garden Visit the botanical gardens to enjoy handsome trees, natural grottoes, and aquatic features.
Entertainment Districts Explore Austin's divers entertainment districts where you'll find everything from trendy shops and restaurants to cool live music venues, renowned museums and galleries, and scenic outdoor destinations.
South Congress South of Lady Bird Lake, South Congress is a vibrant district with great food, shops, hotels, music, and Austin history! Check out this video about SoCo.
Leave No Trace and help Keep Austin Beautiful! Minimize your impact on Austin by practicing the principles and properly disposing waste in designated areas.
Media Links
Latest press release and the the initial press release for more information.