UPDATES
In consultation with the Austin Public Health Department and the public health authorities, the following amenities are currently OPEN:
Austin Nature & Science Center (closed September 30 to October 15 for Austin City Limits Festival and maintenance week)
Barton Creek Spillway (aka "Barking Springs")
Barton Springs Pool (closed due to flooding)
Basketball Courts
Boat Launches
Boat Docks
Boating Concessions
Campsites at Emma Long Metropolitan Park
Cemeteries
Clay Shooting Concessions
Disc Golf Courses
Event Buildings (stand alone sites) (reserve online with limits)
Filming Permits (at sites without closures or operating limits)
Food Concessions
Girl Scout Cabin (outdoor space at 25% capacity and modified operations-  no events any size) 
Golf Courses are open under modified operations 

Face masks are required inside the golf pro shop and in concession areas
Pro shops are limited to up to 4 people inside at a time
Starting intervals of 10 minutes between groups
Two golf carts per group only
Patrons please continue to exercise social distancing
No drinking water on the golf course  
Please bring your own water or non alcoholic-beverage to the golf course.
Fivesomes are not permitted

Mayfield Park (outdoor areas only)
Neighborhood Tennis Courts (and outdoor Pickleball Courts)
Oakwood Cemetery Chapel 
Outdoor Exercise Equipment
Outdoor Restrooms 
Parks Greenspace 
Picnic Sites & Pavilion Permits (reserve online with limits)
Playgrounds
Pools:  

Bartholomew
Barton Springs
Big Stacy
Deep Eddy (Due to current well-water conditions and recent mechanical failures, the Deep Eddy shallow side is closed until further notice and the deep side may experience delayed openings. Please call the pool phone for opening updates at 512-472-8546.)
Springwoods

Preserves
Recreation Centers are open at the regular operating hours for limited programming
Senior Centers (open for limited COVID-19 safe programs.  Pre-registration is required)
Skate Parks
Special Event Sites (with limits and approved health safety plans)
Splash Pads: 

Bailey
Bartholomew 
Chestnut 
Eastwoods 
Liz Carpenter 
Lott
Metz
Pease
Ricky Guerrero
Rosewood 
Lott

Sunshine Camp (outdoor space at 25% capacity and modified operations-  no events any size) 
Tennis Centers at reduced capacity and modified operations (payment on line, limited bathroom access, increased time between court bookings  – no events any size) 
Trails
Umlauf Sculpture Garden (outdoor space only at 25% capacity and established modified operations -no events any size)
Volleyball Courts
Water Fountains
Zilker Botanical Garden
*Each facility will operate under reduced capacity and COVID-19 Modified Operating Procedures specific to each facility, such as social distancing, cleaning protocols, and other requirements of the non-profit operators.
The following PARD facilities are CLOSED to the public:
Some Splash Pads 
Girl Scout Cabin indoor space 
Sunshine Camp indoor space 
Zilker Caretaker House
Park amenities including, but not limited to: athletic fields, and pavilions.
Park Entry Day Use Passes for Emma Long Metropolitan Parks

Must be reserved in advanced online (reservation required for visits Friday - Sunday)  

No entry is granted without a day pass reservation
Passes available 14 days in advance, and no less than midnight the night before.  Passes are emailed and should be printed for display.  Once at capacity – no additional queuing to get into the park will be allowed.  Limit 2 per day/household.
Persons who do NOT have a computer, may call for assistance during normal office hours 512-974-6797. (NOTE - Currently the city is working under modified operations due to COVID19.  Please call, leave a message for assistance.)P
PARKS PROJECTS
Barton Springs Pool
Date of closure: 10/14/2021 – TBA
Description: Flooding
Rosewood Neighborhood Park Tennis Court
Date of closure: 10/18/2021 – 3/31/2022
Description: The tennis court and adjacent parking spaces will be closed from October 18, 2021 through March 31, 2022 for repairs. Dolores Duffie Recreation Center and parking area plus other facilities remain open as scheduled. 
Zilker Park Great Lawn
Date of closure: 9/20 – 10/17/2021
Description: For ACL fest followed by a week of fall park grounds maintenance on the lawn. Interactive map with details: bit.ly/3za1uwb
Restroom Closures 
Date of closure: March 1, 2021 - TBA
Description: Restrooms listed below are currently closed due to damages from the recent winter storm.
Bartholomew District Park Restroom
Govalle Neighborhood Park Restroom
Date of closure:  October 4, 2021
Description:  Due to the recent vandalism, we have made a decision to shut down all restrooms at this location.  Port a cans will be delivered and placed on site.  
Onion Creek Metropolitan Park
Yarrabee Bend
Zilker Train
Date of closure: May 7, 2019 - TBA
Description: Due to part of the train track near its turnaround breaking away, the train is temporarily closed. Austin Parks Foundation is bringing the train back in late Summer 2021. For more information visit zilkertrain.org. 
Pedestrian Bridge at Roy G. Guerrero Colorado River Metropolitan Park
Date of closure: May 28, 2015 - TBA
Description: The pedestrian bridge is closed due to flood damage until further notice.
TRAILS
Shoal Creek Walk Access Trail (5th to 6th St.)
Date of closure: November 16, 2020 - November 2021
Description: The ramp access to Shoal Creek between 5th and 6th Streets will be closed for about a year.  The trail itself will remain open, just not the ramp up to 6th Street.
Shoal Creek Trail (24th to 29th of Lamar)
Date of closure: May 4, 2018 - TBA
Description: Damaged by landslide. City's Watershed department is working on the plans to stabilize the hillside and give us room for replacing the trail. We anticipate the end of construction early next year if all things fall in line. Website
Butler Hike-and-Bike Trail Detour on Longhorn Dam - Starting June 29, 2021
Trail Access Closed at Willow Street
Date of closure: September, 2021 - 2026
Description: Trail access at Willow St is temporarily closed due to construction. See map for the nearest trail access point. The trail access will be closed throughout construction of 98 Red River for an approximate duration of 64 months.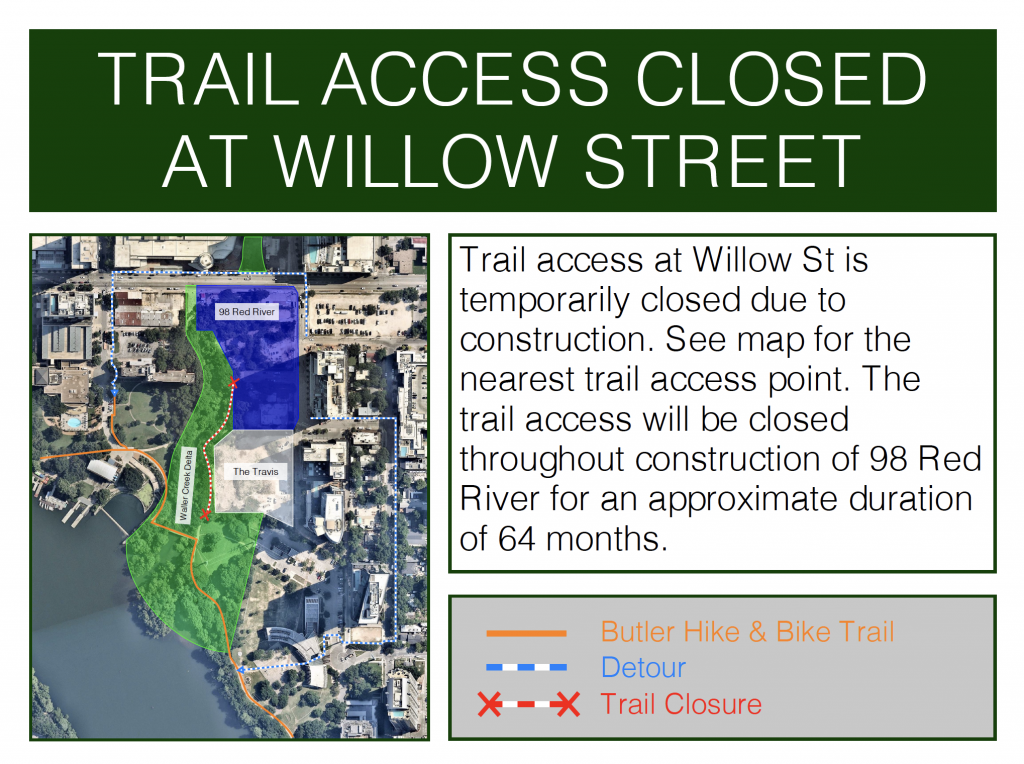 PLAYGROUND
MFB Clarksville Playground is closed until mid August 2021.
Description:  Replacing the playground and restriping the Pickle Ball Court. 
Reed Playground
Date of closure:  July 20 until September 1, 2021
Description:  Closed for a playground replacement.
ATHLETICS AND GOLF
TURF MAINTENANCE