Austin Transportation has collaborated for years with the Capital Metropolitan Transportation Authority (Capital Metro), Austin's regional public transit provider, to enhance transit service and achieve the community's goals for a safe, accessible and inclusive multimodal transportation system. 
The Austin Transportation Transit Enhancement Program was created in 2018 as a more formal partnership with dedicated resources to identify sticking points for transit and collaborate to build solutions. Projects from this program focus on improving transit speed, reliability and safety, and range from spot improvements, like designing better bus stops, to corridor improvements, like installing transit priority lanes.
For more information on how Austin Transportation works to enhance transit operations, email transit@austintexas.gov.
Coming Soon: East Riverside Drive Transit Priority Lanes
ATD and Capital Metro are partnering to bring two miles of transit priority lanes to East Riverside Drive. The lanes between Grove Boulevard and Summit Street will organize traffic flow and improve on-time transit performance and the efficiency of Capital Metro service. Installation will begin in late February 2021, with the project anticipated to open by early April 2021.
The transit priority lanes will be installed in the curbside lane and operate all day in each direction. New signage and updated roadway markings will establish the lanes. Other vehicles can enter the transit priority lanes in order to make a right turn.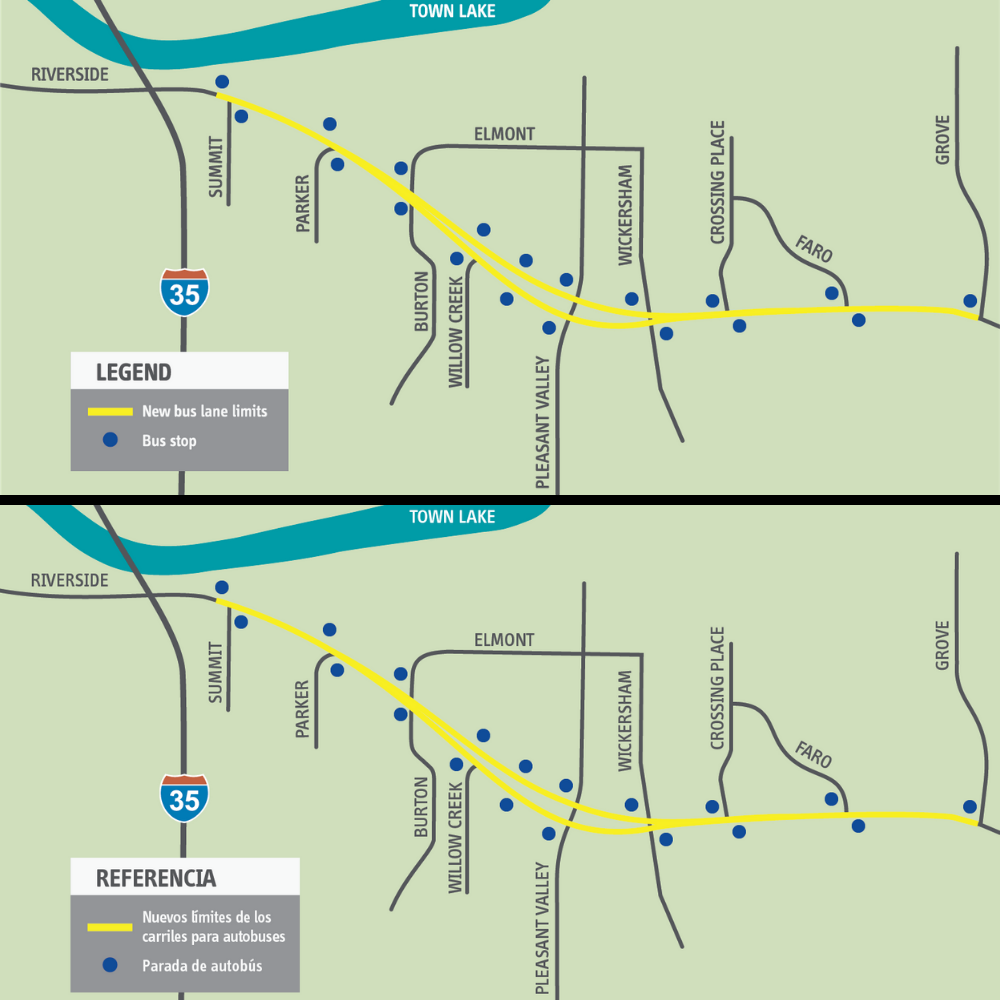 ---
Spot improvements
Spot improvements are low-cost projects at individual locations on City streets aimed at solving particular sticking points that impact transit speed and reliability. Improvements range from modifying the striping on a roadway to installing special transit signals at intersections to improve bus operations. 
Operational improvements

Not all transit improvements have to be expensive. Low-cost improvements like signage, striping and concrete work can go a long way to improve bus operations. Bus turns can be particularly challenging, and corners can be modified to better facilitate those movements to happen more safely and reliably. In anticipation of CapRemap, Capital Metro's bus system overhaul in 2018, Austin Transportation and Capital Metro worked together to redesign ten area intersections to facilitate better bus turning movements. Since then, work has continued across the city – relocating stop bars, modifying parking, or rebuilding corners as needed to keep buses moving.

Transit queue jumps

In some locations, bus operations are complemented by transit queue jumps. These are special traffic signals that give bus operators a head start on other traffic, helping them more easily merge, turn, or travel through intersections. Transit queue jump signals display symbols instead of standard green, yellow and red bulbs in order to minimize driver confusion.

The first transit queue jump in Austin was implemented on North Lamar Blvd at Airport Blvd. Since then, queue jumps have been added on Guadalupe Street at 4th Street, Lavaca Street at Martin Luther King, Jr Blvd., 38thStreet at Duval Street, and West 5th Street at Baylor Street.

Bus stop optimization

The bus stop is your gateway to Austin's transit system. It's where the majority of riders wait for transit service, and it can have a big impact on the experience of both bus riders and bus operations. Capital Metro and Austin Transportation work together to optimize bus stop design and locations, evaluate their proximity to safe crossings, and improve the distance between stops.
Corridor improvements
Corridor improvements consist of a series of coordinated improvements along a particular roadway or segment of a bus route. These improvements are implemented in unison with larger street design programs to improve transit speed and reliability over a broader geographic area and can include the installation of a series of spot improvements, transit priority lanes or transit signal priority technology.  
Transit priority lanes

Transit signal priority

West 5th Street shared bus-bike lane

Guadalupe Street contraflow bus lane

Red pavement bus-only markings

East Riverside Drive Transit Priority Lanes
Programs and Partnerships
Austin Transportation and Capital Metro also regularly collaborate to manage transportation demand, encourage and incentivize transportation options, and plan for the future of high-capacity transit in Austin. More about these programs and partnerships, and links to Capital Metro resources are available below.
Get There ATX
Get There ATX is the ultimate resource for information about sustainable transportation options in Austin. The website is a one-stop-shop that helps residents, employees, employers and visitors interested in taking more sustainable trips get streamlined information. The site consolidates information on the different mobility options available in Austin, and provides specific trip solutions for commuters, employers, schools, special events and visitors.
Project Connect
Project Connect is Capital Metro's bold transit plan for a high-capacity transit system in Austin and the surrounding region. It includes a new light rail system, a downtown transit tunnel, new MetroRapid routes and vehicles, a transition to a zero-emissions fleet, and much more. Project Connect aims to expand transit capacity and offer more choices, making our entire region better connected by linking people, neighborhoods and employers.  
Smart Trips
Smart Trips Austin is an active transportation options program that aims to reduce single occupant vehicle trips and increase trips taken by foot, bike, bus or shared car. Through this program, the City of Austin and Capital Metro work together to encourage Austinites to consider more sustainable options for getting around town. These options can help you improve your health, save money, avoid traffic congestion and keep Austin a clean and beautiful place to live. 
Capital Metro Resources
Capital Metro is Austin's regional public transit provider and is responsible for transit service planning, maintenance, and operations in Austin and several surrounding communities. This includes station installation and maintenance, route planning, setting rates of fare, and more for MetroBus, MetroRapid, and MetroRail as well as paratransit and carpool services.
Recent News