You are here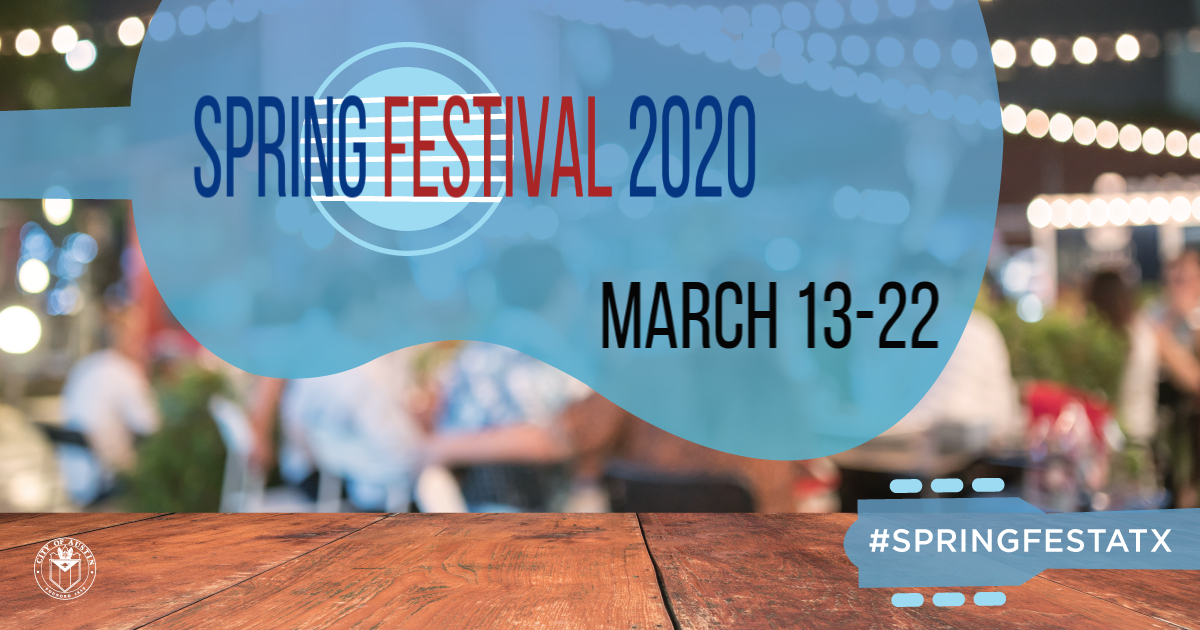 Spring Festival is 
the
 period from early to mid-March (13th-22nd) with a high concentration of events in and around downtown.
Spring Festival 2020 Application Deadline Waiver
The Austin Center for Events is clarifying application deadline criteria for Tier 2 and Tier 3 special events in preparation for the upcoming Spring Festival Season (March 13-22, 2020).
 
In order to assist organizers in obtaining all necessary permits and facilitate the timely and efficient processing of permit applications, the Austin Center for Events will consider waiving the Tier 3 application deadline on a case-by-case basis for events that meet all Tier 2 criteria except for "lasting four days or less." These otherwise Tier 3 events will then have a 30-day application deadline instead (same deadline as a Tier 2 event).
For events that occur during the Spring Festival Season, the deadline to submit a special event application is February 7, 2020, if the event will last 13 or fewer days, is held primarily on private property, and the estimated attendance per day is less than 2,500 attendees.
For more information, please call 512-974-1000 or email SpecialEvents@austintexas.gov.
 
---
Spring Festival Events Calendar
View the Spring Festival Events Calendar here.
 
---
#SpringFestATX Guide
Learn about how to get connected, get around, stay safe, and explore and enjoy all that Austin has to offer.
 
Get Connected
Join the conversation! Follow us on Twitter and use #SpringFestATX to share info about ways to get connected, get around, stay safe, explore, and enjoy our great city!
3-1-1 is our city's all day, any day, info center. Dial 311 or 512-974-2000 to reach a City ambassador ready to answer any question, or assist with any issue you may have regarding City of Austin departments or services.
 
Get Around
Plan your route before you head out! Please consider using one of these alternate forms of transportation to and from the event.     
Micromobility:
People who plan to use micromobility services, like scooters and some bikes, should do so in a safe and ethical manner. Please follow these guidelines to help keep Austin moving safely.
Get Home Safe:
Friendly reminder that buzzed driving is drunk driving. Know how you're getting home before leaving for a night on the town. Check out these resources to help you get home safe.
Capital Metro:
Let Capital Metro help you get the most out of your Spring Festival ATX visit! This year will be busier than ever, which is all the more reason to ditch the stress of driving and parking by taking Cap Metro to the fun. Check out their options here.
Airport:
Drivers - Click here to find out how to pick up your ride app & taxi passengers at the Austin-Bergstrom International Airport.
Flyers - Click here to find out how to meet your ride app or taxi driver.
Come back soon! Travelers heading to the ABIA can still be dropped off curbside on the upper level of Presidential Blvd. in front of the terminal. For more information click here.
 
Stay Safe
The Austin Police Department is here to keep you, your family, and our community safe.
In case of emergency, always dial 911.
For non-emergencies, dial 311 or 512-974-5000.
Download the APD app here to stay informed and engaged by getting direct access to important APD services including station locations, crime prevention information, news updates, and more.
 
Explore and Enjoy
Visit City Hall - Hanging out downtown? Take a tour around The People's Gallery in City Hall (at 301 W. 2nd Street) 8 a.m. to 5 p.m., Monday – Friday. Admission is always free!
Park it outside! - Just south of downtown is one of our most-loved outdoor spaces, Zilker Park! This 351-acre metropolitan park is home to a variety of recreation opportunities, facilities, and special events.
Check out Central Library - Named one of TIME Magazine's World's Greatest Places 2018, the library is home to 500,000 books, an art gallery, rooftop butterfly garden, café, and a "technology petting zoo," and more.
Learn something new at the Austin History Center - The center is the history division of the Austin Public Library devoted to preserving information about local businesses, residents, institutions, and more so future generations have access to our history.
Walk over to the Texas Capitol - Meeting place of the Texas Legislature, our beautiful Texas Capitol building is widely recognized as one of the nation's most distinguished state capitols. Take a tour, enjoy the lawn, and grab a bite to eat!
Take a hike! - Our beautiful city is home to many trails. In the downtown area, the 10-mile Ann & Roy Butler Hike and Bike Trail at Lady Bird Lake is a natural gem right in the heart of Texas.
Explore the galleries at the Blanton Museum of Art - Located on the University of Texas at Austin campus, the Blanton is an art collection with nearly 18,000 works showcasing art from across the ages. Discover new and old favorites as you check out their exhibits.
Connect with Texas history by visiting the Bullock Museum - Check out their ever-changing artifacts, rare documents, photographs, and special exhibits!
Our little bit of paradise! - Visit the Zilker Botanical Garden to enjoy its handsome trees, natural grottoes, and aquatic features. Fun for the whole family, a couple of friends, or a solo adventure.
Take a stroll down South Congress - South of Lady Bird Lake, South Congress is a vibrant district with great food, shops, hotels, music, and Austin history! Check out this video about SoCo.
Looking for something to do? - Explore our diverse entertainment districts, where you'll find everything from trendy shops and restaurants to cool live music venues, renowned museums and galleries, and scenic outdoor destinations.
Keep Austin Beautiful! - Minimize your impact on Austin by practicing the Leave No Trace principles and properly disposing waste in designated areas.
---