The YBC Trail was originally envisioned during the Oak Hills Neighborhood Planning process. Trail enthusiasts and neighbors came together to create a vision for a separated trail system that would connect much of the Oak Hill and Barton Creek areas of Austin to Downtown Austin, facilitated by the pending completion of the Mopac Mobility Bridges project. This trail project hopes to connect the Mopac Bicycle Bridges to the ACC Pinnacle Campus, Freescale, AMD, and other major destinations in the region.
Phase 1 (In Design) - Updated February 2019
Phase 1 of the project is currently in design and includes the Southwest Parkway Section spanning approximately 1.5 miles.
The section begins at the intersection of MoPac and Gaines Ranch Loop and ends at the intersection of Industrial Oaks Blvd and Gaines Creek Tributary (north side).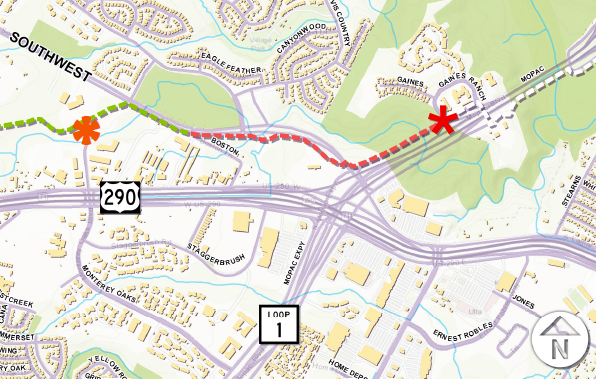 YBC Trail Schedule
| | |
| --- | --- |
| Timeframe | Phase |
| Spring 2020 | Finalize Design |
| Summer 2020 | Advertise Bid |
| Fall 2020 | Construction Start |
Preliminary Engineering Report - March 2017
A Preliminary Engineering Report (PER) evaluates all the environmental constraints of the project including: topography, drainage, various soil types, tree canopy, wildlife habitat, floodplain, surrounding land uses, location of utilities, cultural assessments, critical environmental features, endangered species, property ownership, as well as several other elements. Resident feedback is also included in the document. 
View the final YBC Trail Preliminary Engineering Report. 
Recommended alignment for the YBC Trail. Click to enlarge.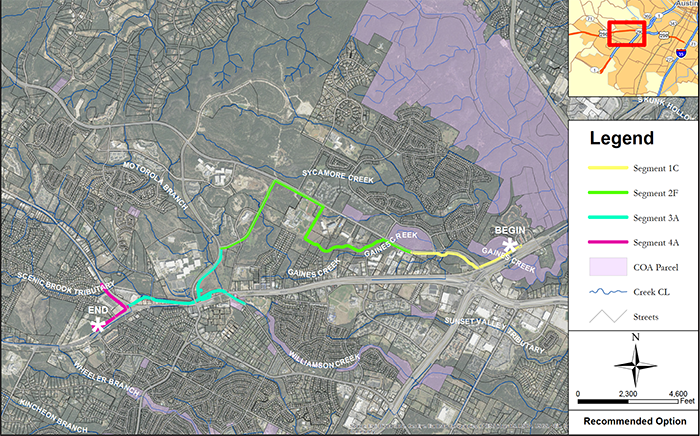 For all other concerns, please e-mail Project Manager Jessica Salinas.