Meet Kristen and Michelle and Remodel Boutique
Learn more about the Austin entrepreneurs who have earned their place in the first cohort of Box Bazaar tenants.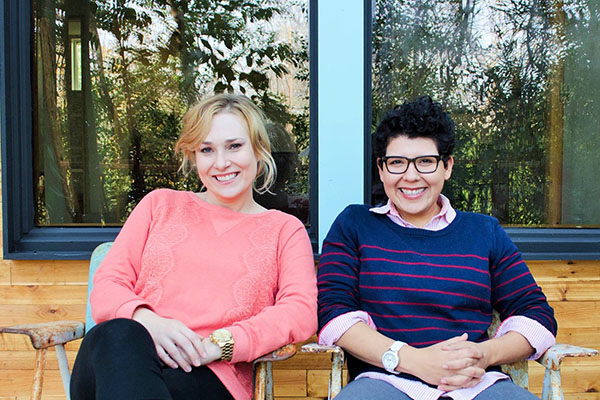 "What we do is not very complicated.
We make ugly things pretty,
specifically homes."
Kristen Harper and Michelle Flores have navigated the male-dominated construction world for the past ten years with persistence turning their real estate business into a multi-faceted remodeling and investment firm.
 
Remodel Boutique is a design + build firm focusing on vintage-inspired design. Their love is taking the old and adding modern touches, so they remain true to the soul of the home and its inhabitants. They believe your home should reflect who you are, perfection is boring, and unique spaces should be affordable by all.

Remodel Boutique works independently with Four Walls Group LLC, a high-yield investment firm. Four Walls Group pursues renovating and rehabbing in Austin, primarily on the East side, where Kristen and Michelle live and work with their son, Tèo. As a family they take on adventures while renovating East Austin. With the addition of Michelle Chaiken aka 'the brain' and her baby William, this team of powerful women plan on taking over Austin one beautiful house at a time.
"We believe that design should be affordable for everyone. Beautiful homes aren't just pretty - it creates a wealth of things. When you have a beautiful home, it creates equity. When people have equity in their homes, things start happening. It's the beginnings of intergenerational wealth.  It's very important that people have access to be able to remodel their homes."
What is the Box Bazaar?

 

The Box Bazaar is a temporary neighborhood installation that will activate a piece of city-owned land in East Austin by housing six business incubator spaces for small, local businesses in retrofitted shipping containers and by creating a vibrant neighborhood center with programming designed to benefit the surrounding community.

This City of Austin pilot project aims to bring citywide goals for complete communities, economic opportunity, and equity to life in a yearlong demonstration project - the first of its kind in Austin.

The Box Bazaar is a joint effort between many City of Austin departments including Planning and Zoning, Public Works, Development Services, Economic Development, and the Office of Innovation. The Planning and Zoning department's Imagine Austin implementation team heads the project.