The Austin City Council approved contracts on March 26, 2020, paving the way for Austin Water to modernize its water metering system. Over the next five years, the project will replace more than 230,000 analog water meters with electronically read water meters connected to a wireless network. The project will also develop a customer portal with near-real time water use data where customers can sign-up for customized notifications.
Austin Water will notify customers when their installation is scheduled. Customers can expect to receive much more information in the coming months.
About Austin's Smart Water Meter System
What is the My ATX Water Project?
My ATX Water, Austin's smart water meter system, will replace analog water meters with electronically read meters connected to a wireless network. A customer portal will provide daily water use data and custom notifications. The project is an important strategy to achieve water conservation goals in Austin Water's 100-year water plan, known as Water Forward.
A new digital meter will be installed at each home or business.
Water use will be collected and transmitted daily to a customer portal via a secure wireless connection.
Customers need to sign up for the customer portal, where they can track water use and get alerts when water use increases, or possible leaks are detected.
Customers will continue to receive a monthly bill for water and wastewater services.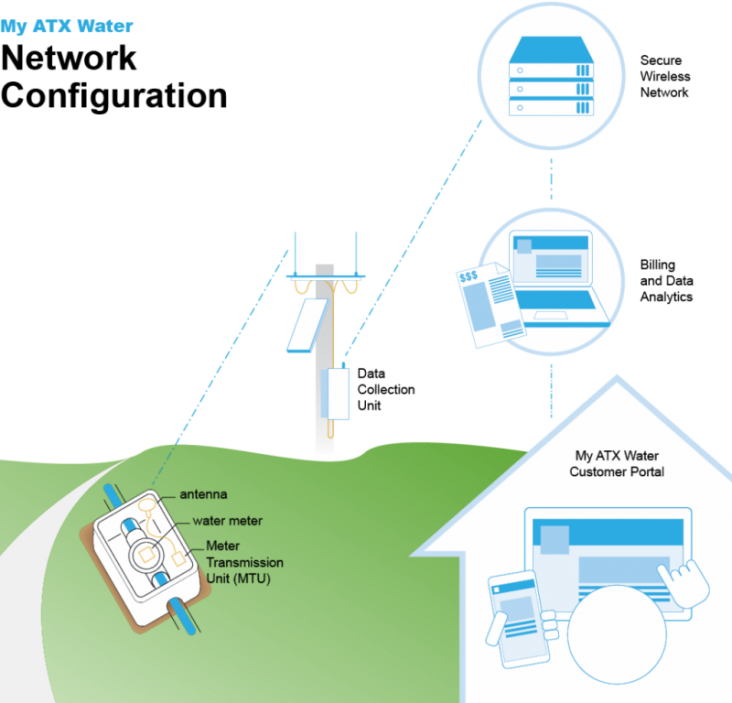 Customized Notifications – Sign up for custom notifications if your water use suddenly increases, indicating a possible water leak. 
Daily Water Use Updates – Your data is at your fingertips. Know how much water you are using. 
Water Budgeting Feature – Sign up for alerts if your water usage is exceeding your threshold. 
Tools to reduce your water use and save money – Water-use reports help you reduce your water use and save on your monthly bill.
Printable Resources