Lady Bird Lake experienced a harmful algal bloom between July and November 2019. When cyanobacteria, also called blue-green algae, produce toxins, it is called a harmful algal bloom or HAB. We are aware of five dogs that died after swimming in Lady Bird Lake.
The 2019 harmful algal bloom appears to have only affected dogs, and the risk to people appears low. Lady Bird Lake continues to meet State of Texas contact recreation standards, which are based on bacteria levels.
If you allow your dog to swim in Lady Bird Lake, you do so at your own risk. The risk is greatest when the weather is hot and dry for an extended period of time. We recommend the following:
Keep dogs away from visible floating mats of algae.
Rinse your dog after contact with the water.
If your dog becomes sick after swimming, take your dog to a veterinarian immediately.
Avoid creeks and lakes where the water is warm and stagnant or where there is lots of algae present.
Remember that people are not allowed to swim in Lady Bird Lake (Ord. 640611-C). Normal boating and paddle boarding activities have continued during the algae outbreak. We recommend that people avoid areas with floating algae mats and rinse off after contact with the water.
Swimming Holes for Pets
All off-leash dog areas along the water are now open. Please be aware that there is the potential for harmful algae in any natural water body. Algae and bacteria are much less likely to be present at harmful levels when the water is cool and flowing. Avoid warm, stagnant pools of water or areas with lots of algae.
Testing and Monitoring
We initially tested water samples and algae from eight locations on Lady Bird Lake. Additional samples were taken at the Walsh Boat Ramp on Lake Austin and downstream of Longhorn Dam. We detected toxins in various algae samples taken at Red Bud Isle, Auditorium Shores and Barton Creek between August and October. The toxins were only detected in the algae and not in the water itself. The abundance of algae on the lake has varied, peaking in August with a second, lower peak in October. On November 12, there were no visible blue-green algae mats. Water samples taken at that time confirmed there were no toxins in the water.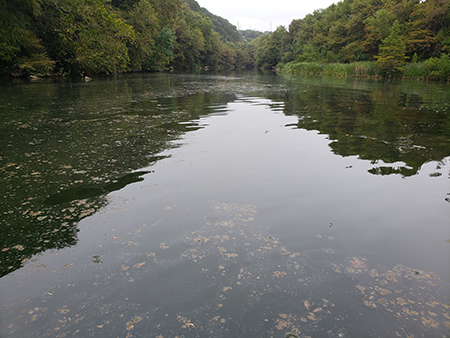 Algae at Red Bud Isle on October 14.
Cause and Type of Algae
Blue-green algae is common in Austin and worldwide. There are many types of blue-green algae and only some species can produce toxins. We are not aware of any human or pet health problems from harmful algae in Austin prior to 2019.
Blue-green algae tends to be more prevalent in late summer and early fall. It thrives when temperatures are hot, nutrients are high, and flow is low. Zebra mussels, flooding during the fall of 2018 and climate change are potential contributing factors.
Drinking Water
Austin Water regularly tests algae levels on Lake Austin and Lake Travis near their intake pipes and has not seen levels of concern for drinking water. Currently, Austin Water does not use Lady Bird Lake as a source for drinking water.
Symptoms of Exposure
If your dog enters the water, we recommend rinsing your pet off. Animals who ingest algae with this toxin could have a number of symptoms. They can also be exposed to the toxin by licking algae from their fur. Exposure could result in respiratory paralysis and death. Look for these signs in your pet within minutes to hours of exposure:
    Excessive drooling, vomiting, diarrhea
    Foaming at the mouth
    Jaundice, hepatomegaly
    Blood in urine or dark urine
    Stumbling
    Loss of appetite
    Photosensitization in recovering animals
    Abdominal tenderness
    Progression of muscle twitches
    Respiratory paralysis