Watershed Protection is working on a project to help with flooding along Williamson Creek from West Gate to South Congress Ave.
Maintenance Update
This spring, the city began work to replace driveway aprons with curbs along residential streets in the buyout area. We still have a few finishing touches that will be completed in the fall.
In March, Texas Conservation Corps crews worked along Heartwood Drive to clear out dead or unhealthy landscaping material, remove invasive plants, plant fruit and native trees, and build split rail fences in some areas. These rustic-style fences allow for water to move through in the event of a flood and help distinguish public vs. private property. Similar work will take place in other buyout areas along Williamson Creek in the fall.
Background
This area experienced serious flooding in 1998, 2001 and 2013. After the floods in 1998 and 2001, we partnered with the U.S. Army Corps of Engineers and evaluated widening the creek, raising bridges, detention ponds and buyouts. Public meetings and surveys were conducted between 2002 and 2006. Ultimately, the U.S. Army Corps of Engineers found that only buyouts in some areas met their funding criteria and provided full flood protection. The City of Austin bought houses in the Bayton Loop area near West Gate as a result.
Current Project 
The project has been divided into two phases. Phase 1 started in 2015 and consisted of buyouts in four areas between Menchaca and South Congress. 52 households chose to sell their homes and move. 
Phase 2 started in 2020 with an engineering feasibility study. This study has found about 400 houses at risk of flooding. We are currently evaluating the potential of nine different options to help reduce that risk, including: 
Floodwall 
Detention pond 
Changes to the channel of the creek 
Buyouts 
Flood diversions 
Different combinations of the above options 
Map of Phase I Buyouts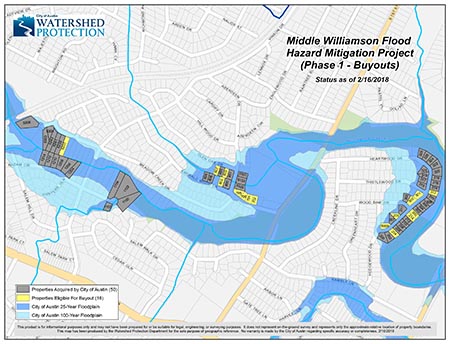 Click on the map for a larger version. (Map was created in February 2018).
Timeline and Process
Our capital improvement projects take many years from start to finish. The process typically includes the following phases: 
Feasibility Study – when the potential of several solutions are evaluated. 
Preliminary Engineering – when a solution is identified and costs are updated. 
Design – when the details are worked out and construction plans drawn up. 
Bidding and Permitting – when a contractor is hired and all permits are acquired. 
Construction – when the project is built. 
Phase 2 is currently in the Feasibility Study phase. The results will dictate the rest of the schedule. We will have more information about the results in early 2021. At that time, we are planning to conduct a survey to find out more about the community's priorities.  
Maintenance of Buyout Area
We now own 52 lots in the project area. Depending on the results of the feasibility study, we may use the buyout areas for a floodwall, pond or some other type of flood control.  
Generally, we maintain buyout areas as open space. Natural areas help filter pollutants and improve water quality. They also help prevent erosion and provide habitat for a diverse group of animals. We have some options on the type of maintenance provided, and we have conducted surveys to find out community preferences.  
Find out more about the maintenance of the Williamson Creek buyout areas here and general information on our Green Infrastructure Management web page. For maintenance questions and concerns, please call 3-1-1.
Central Williamson Creek Greenway
The buyout areas are part of the Central Williamson Creek Greenway. Planning is underway, and community members can help create a vision for this green space. Find out more at Parks and Recreation project page or at CentralWilliamsonCreek.net.  
 
Documents