Watershed Protection is planning a pilot project to try preventing the growth of harmful algae near Red Bud Isle. We are testing whether Phoslock treatments and biochar will reduce nutrient levels and the amount and/or toxicity of blue-green algae in the pilot project area.
We do not know how effective the project will be at reducing harmful algae. Visitors to Red Bud Isle should continue to treat algae with caution and not allow their dogs to touch or ingest algae.
Details
The Austin City Council approved the contract on June 10, 2021.
The treatment area is about 20 acres of Lady Bird Lake near Red Bud Isle.
A first Phoslock treatment was completed the week of June 21.
A second treatment is scheduled for July 22 and 23.
A third treatment is planned in August.
We discourage recreational boating near Red Bud Isle during treatments.
Separate from the Phoslock pilot project, we will also install 50 biochar units near Red Bud Isle to assess their ability to lower nutrient levels. Biochar is similar to a Brita filter.
How Phoslock Works
Harmful algae thrive in warm, stagnant water with high nutrient levels. Phoslock binds phosphorus, a key nutrient, so that it is unavailable to the algae.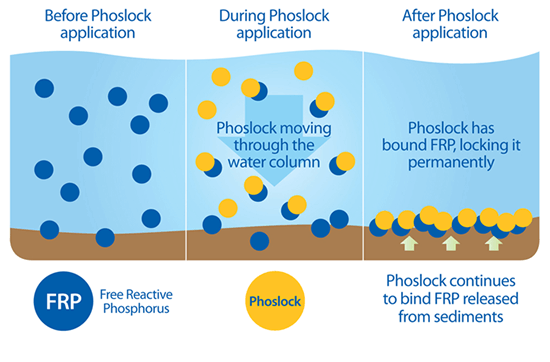 Safety Information
Phoslock is safe for humans, the environment and wildlife. It is a patented technology and consists of a lanthanum modified bentonite clay material. It was specifically developed to bind phosphorus in surface water and sediment and has been widely used to prevent harmful algae blooms. 
Over 80 peer-reviewed publications exist on Phoslock that specifically address its efficacy, longevity and potential impacts. Phoslock has received U.S. and Canadian NSF/ANSI Standard 60 Certification for use in drinking water.
Cost
$300,000 for 2021
Cost includes material, treatment, laboratory testing and analysis
Results
Preliminary results may not be available until several weeks after the initial treatment is complete. We will continue monitoring the pilot area for several months to gather data about how long any improvements last. The contract includes a four-year extension to allow treatment in subsequent years or other areas of the lake if the pilot project proves to be successful.