You are here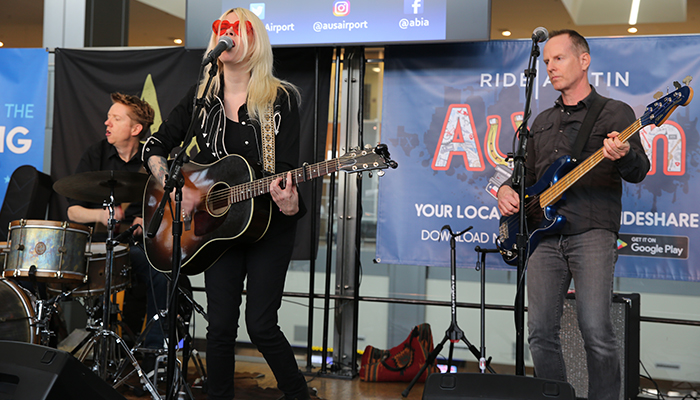 Jaimee Harris performaing during SXSW 2018
 
Music is in Austin's roots and it's our passion! This is a city filled with venues and musicians that truly make it The Live Music Capital of the World®. The minute you step into the terminal you can catch local musicians at one of our venues Monday through Friday.  Live music performances are accessible to ticketed passengers only, and are made possible by the City of Austin Aviation Department, Delaware North Companies and Pepsi.
Live music performances:
Heart of Austin Bar
Gate 19, 3:00 to 5:00 p.m.  Monday - Friday
Annie's Cafe & Bar
Gate 27, 1:00 to 3:00 p.m.  Monday - Friday
Gate 27, 3:30 to 5:30 p.m.  Monday - Friday
Tacodeli
Gate 24, 1:00 to 3:00 p.m.  Monday - Friday
Tie-Dye Piano Performances
I Vini's, (Gate 32), 3:30 - 5:30 p.m. Monday, Wednesday, and Friday
Live Music Sponsorship
Austin is home to almost 2,000 bands and performing artists. Hundreds of live music venues all over the city, including the airport make for a lively scene for locals and visitors. Be a part of the Austin music experience by becoming a live music sponsor at Austin-Bergstrom International Airport.
Over 1 million passengers on average per month travel through Austin's airport. Promote your Brand or Business to this diverse audience and help support local Musicians & Live Music by becoming a sponsor. Sponsoring the Live Music Stage will provide your company or brand with exposure to passenger traffic through the inclusion of signs and banners at the main-stage.
For more information on live music sponsorships, contact airport Music Coordinator, Michael Pennock at 512-530-6508 or e-mail Michael.Pennock@austintexas.gov
---