The Fiesta Gardens Complex Rehabilitation project scope will focus primarily on preserving and restoring the character-defining architectural features of the historic buildings and structures, while providing rehabilitation to meet current codes and enhance the use of the site. Programmatically the focus will remain unchanged: Fiesta Gardens will continue to provide a special events rental venue for family celebrations such as reunions, fiestas de quinceañera, parties and weddings. The complex will also continue to serve the festival area to the west during festival events.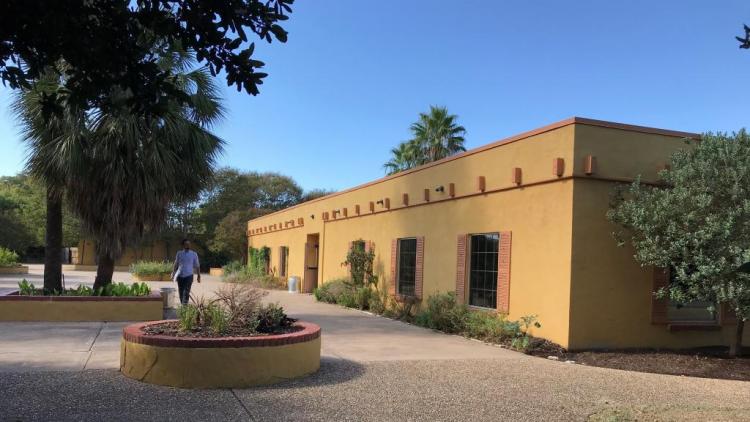 Facility Background
Fiesta Gardens is a park-side event and entertainment complex that lies on the north shore of Lady Bird Lake, just east of IH-35. Opened in 1966, the complex was an early public-private partnership conceived as an interregional tourist attraction for water-based entertainment, events, and shopping. The complex features a mid-century modernist take on Spanish Colonial-Pueblo Revival architecture. Fiesta Gardens' principal contributing structures include a dining hall, an outdoor patio with a bandstand, a grandstand facing a lagoon on Lady Bird Lake, and the "Mercado de México" that originally served as shopping stalls facing an enclosed garden courtyard.
After the City of Austin purchased the site in 1967, Fiesta Gardens' site boundaries expanded to include an outdoor pavilion and additional park grounds for concerts and outdoor events.
Today, Fiesta Gardens still functions as an event and entertainment complex, but now also provides offices for Parks and Recreation Department (PARD) employees in the Mercado Building and serves as a city maintenance equipment depot.
Fiesta Gardens is one of several event spaces in the Austin park system. In addition to neighborhood meetings and family gatherings such as weddings and reunions, the complex hosts innumerable events that draw tourists to the Austin area each year. Events include the Dragon Boat Festival, Texas Craft Brewers Festival, Texas Veg Fest, Austin Celtic Festival, Hot Sauce Festival, Austin Pride Festival, SXSW Music Festival, Dia de los Muertos Music Festival, and Ice Cream Festival.
The Fiesta Gardens Complex is listed in the National Register of Historic Places.
Project Information
Fiesta Gardens is listed on the National Register of Historic Places, therefore all work on the facilities in the complex shall conform to the Secretary of the Interior's Standards for Rehabilitation.
Project Objectives
Phase 1 opportunities include:
Architectural restoration and rehabilitation to enhance the use of the Dining Hall, patio, bandstand and grandstand;
Mechanical system upgrades to meet code compliance and sustainability goals
Landscape and site improvements to address site access, comfort, circulation and drainage;
Holistic site design to incorporate wayfinding signage and interpretive information, define pedestrian entry from the street, and enhance the patio space and surrounding landscape plantings;
Preservation repairs to address the deteriorated conditions of the Mercado Building's exterior walls.
Phase 2 opportunities include:
Architectural restoration and rehabilitation to facilitate use of the Mercado Building as part of the special event venue for celebrations and for community programs;
Architectural, civil engineering and landscape design to integrate the PARD maintenance vehicle storage area into a new public parking area, additional park space, as well as support space for the Fiesta Gardens complex;
Landscape and trail design for a new terrace at the water's edge near the base of the grandstands to provide space for performances.
Anticipated Schedule
Fall 2020: Conducted focus-group stakeholder engagement meetings and email surveys to past users of the site. Developed and documented the Schematic Design. (details below)
Fall 2020: Held an Open House for interested public to review the Schematic Design. (details below)
Winter 2020 through Summer 2021: Develop Design & Construction Documents.
To Be Determined: Bidding timeline is contingent on construction project funding.
To Be Determined: Construction phase is approximately one year.
Please note that as with any construction project, schedules are projected as accurately as possible, but all dates are subject to change. The project team will continue to provide schedule updates as the project nears construction.
Community Engagement
Community Engagement efforts will focus on users of this event space, including neighborhood users, vendors, and prior reservers of the space. An Open House is planned at the end of Schematic Design to inform the community and interested stakeholders of the planned preservation work and functional improvements. This information will be made available once scheduled.
Fiesta Gardens is listed on the National Register of Historic Places, therefore all work on the facilities in the complex shall conform to the Secretary of the Interior's Standards for Rehabilitation.
Survey (closed November 1, 2020): view survey results (PDF)
Community Open House Meeting - Junta Comunitaria
November 16, 2020, 7 p.m.
Funding and Resources
The funding for the Fiesta Gardens Complex Rehabilitation is made possible through Hotel Occupancy Tax (HOT) funding to support projects and initiatives that meet allowable uses as defined under Chapter 351 of the Texas Tax Code. HOT revenue is an essential tool for the promotion of tourism and supports the growth of the tourism, convention and hotel industry. PARD is an important partner in this effort as public parks, museums and cultural centers are among the top tourist attractions in the City.
Contact Information
For more information, email HistoricAustinParks@austintexas.gov.
For requests to reserve Fiesta Gardens for an event, please email: reservations@austintexas.gov