Net-Zero Hero: Walter Moreau

I'm helping to make Austin Net-Zero by: Building affordable housing that uses less energy and produces solar power.
Meet Walter Moreau, Executive Director of Foundation Communities — an Austin-based nonprofit affordable housing developer. Since the 1990s, Foundation Communities has offered affordable, attractive homes with onsite support services for thousands of Austin Families. A key focus of their efforts is to use green building principles to save on operating costs, reduce residents' utility bills and make our community a better place to live. Walter has led the organization since 1997.
Walter spoke with us about his approach to green building and affordable housing in Austin, including what his biggest challenges and rewards have been along the way.
This Sunday, Sept. 27, a Foundation Communities property will be featured on Austin Energy Green Building's (virtual) Cool House Tour. The Jordan at Mueller building is LEED Gold Certified, and Austin Energy Green Building 5-star rated. Walter calls this project, a "miracle" due to its proximity to downtown and nearby amenities in the Mueller neighborhood. The sustainably built apartments at the Jordan rent for $805-$1,365.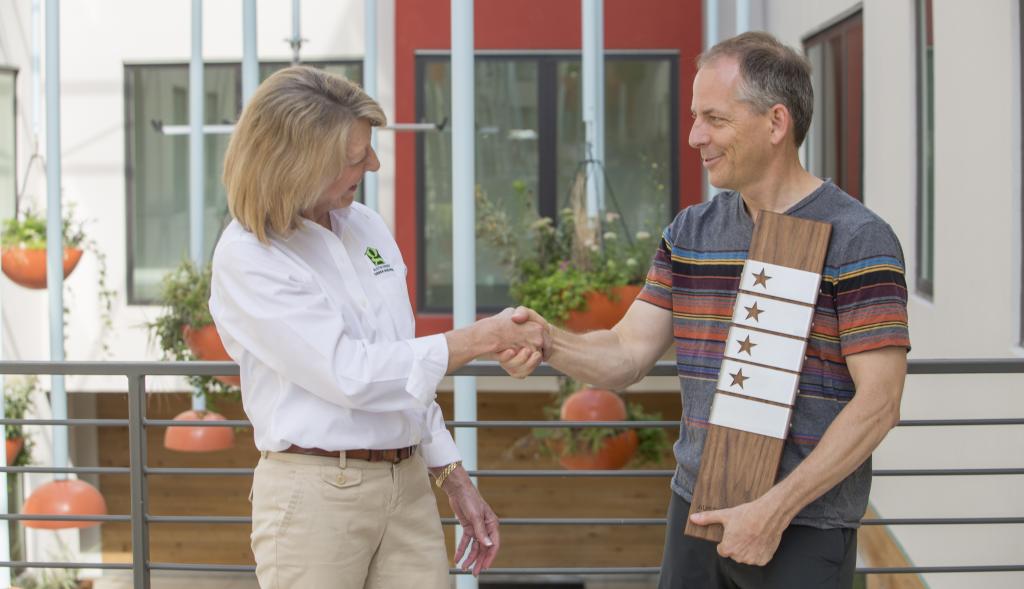 Walter Moreau accepts 4-star Austin Energy Green Building award for the Capital Studios property.
What inspired you to take action?
We've only got one planet, and we are using up her resources in an unsustainable way. We are already feeling the impacts of climate change.  Foundation Communities owns over 3,500 apartments, so we have a huge carbon footprint. Many of our green improvements reduce that footprint and also save us money over the long run.
How did you do it?
We never plan to sell any of our affordable housing communities, so we approach them as a long-term owner and steward. We can consider a very long payback period for durable, green renovations that save on energy and water use. Affordable housing is not just about low rents, but also low utility bills for residents.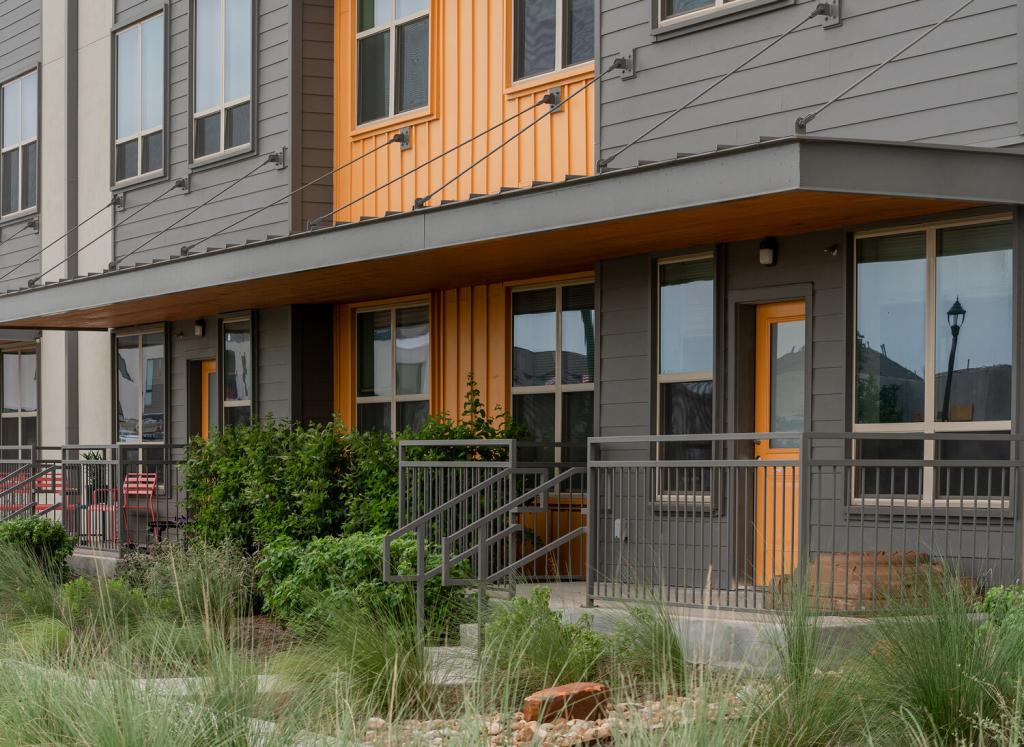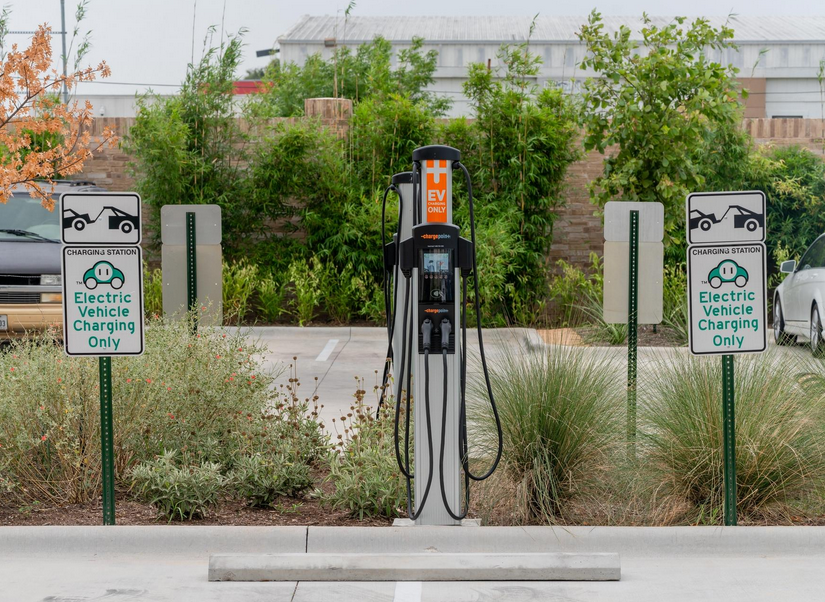 What's been the toughest part?
Well, the easy part was making simple property improvements twenty years ago that had quick payback periods. For example, we could replace toilets and save enough on the water bill to cover the cost in less than a year. We've really done most of the 'low hanging fruit' like duct sealing, HVAC replacement, insulation, LED lighting, etc. that we can do. The tough part now is finding the money to invest in green improvements that have much longer payback periods.
What's been the greatest reward?
Foundation Communities started installing solar electric panels on our roofs almost twenty years ago. Today we are the largest private producer of solar power in the region!
What advice would you give others?
Look for improvements that you can make now. Simple, durable, passive solutions (vs mechanical systems) are the most foolproof – so stuff like solar screens, insulation, and shade trees all help. In our new construction, we've backed off from pushing the envelope on the latest green gizmos and fallen back on more dependable material and system choices and design features.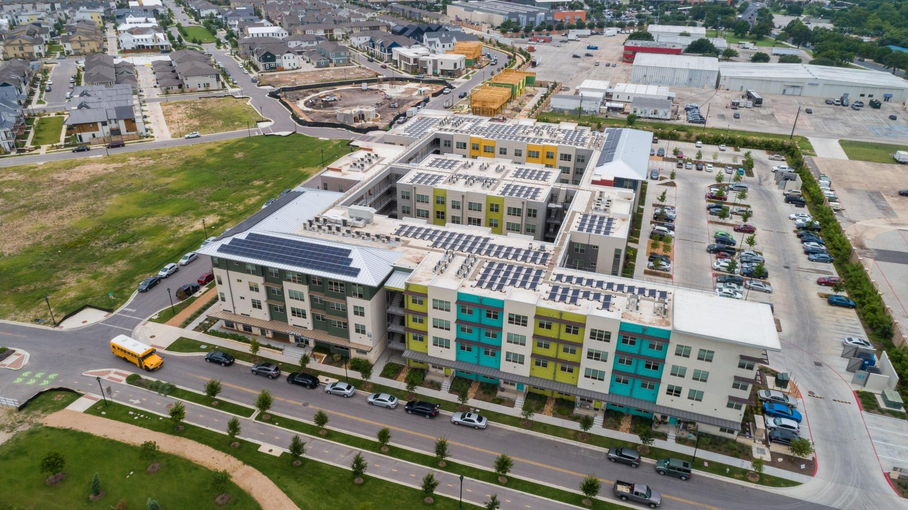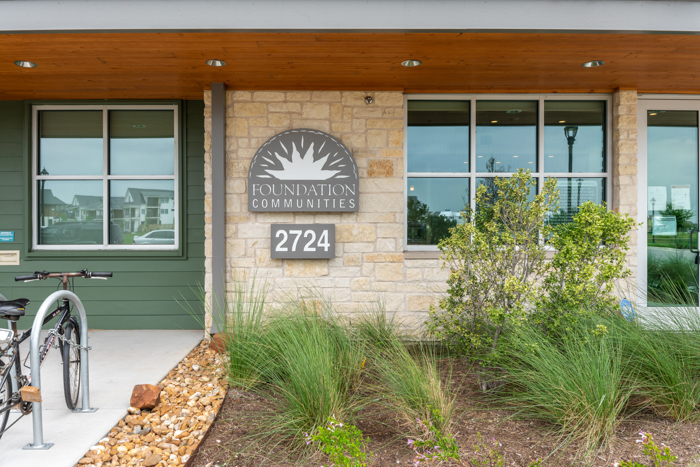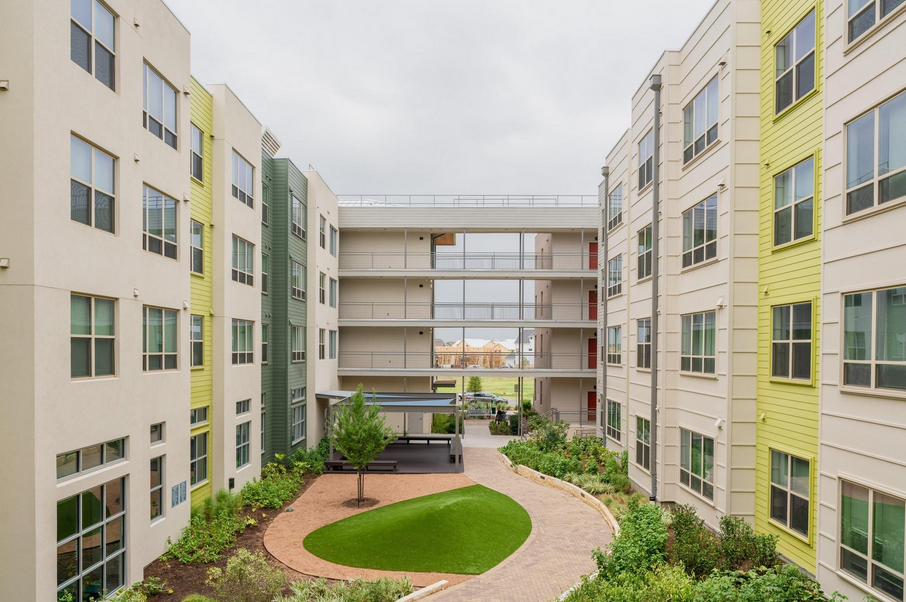 The Jordan at Mueller property has 174 kilowatts of solar energy installed on the roof along with many other "green" amenities.
Check out the Jordan at Mueller property on the Cool House Tour!
Join the Cool House Tour on Sept. 27 from 2:00 – 4:00 p.m. to see more images of the property, learn the complete design build story and get insights about community planning. Learn more about the event and get your tickets here.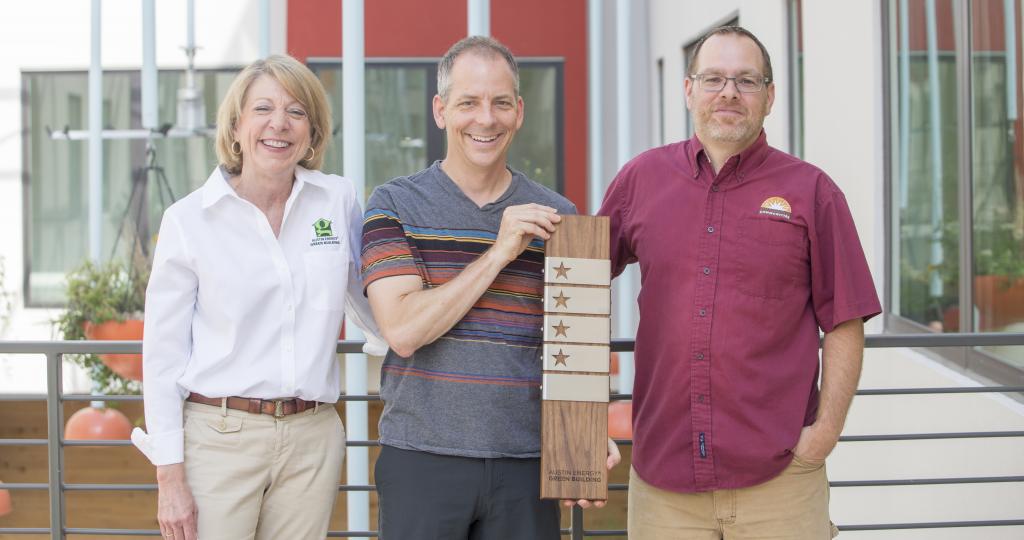 Learn more about climate change in Austin and check out our new Austin Climate Equity Plan. We are accepting feedback on the draft plan through Sept. 30, 2020.
Share your Net-Zero contributions with us on Twitter or Facebook and use #NetZeroHero. If you know a Net-Zero Hero (or heroes!) who should be recognized for their efforts, send your nomination to sustainability@austintexas.gov.