High-Injury Roadways
Austin Transportation's Vision Zero program identified 13 High-Injury Roadway sections to receive effective, low-cost safety improvements. The Vision Zero team analyzed the most recent five complete years of crash data to identify top locations for focused engineering design initiatives, improved signage, and targeted enforcement on key dangerous driving behaviors.
Over 350 Austinites were seriously injured or killed in the last five years on just these 13 sections. The 13 sections also comprise more than half of the top 100 comprehensive cost locations in Austin, which is based on national guidance to quantify the negative quality of life and economic impacts of crashes on our community. Pursuing low-cost treatments to increase safety will continue to build on the ongoing efforts towards reaching Austin's Vision Zero goal of eliminating serious injuries and deaths caused by traffic crashes.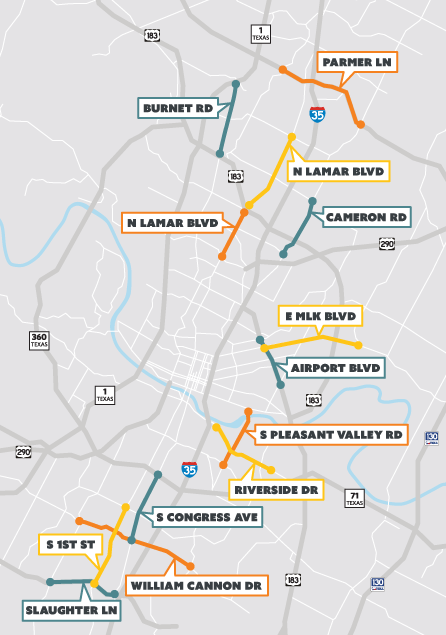 | | |
| --- | --- |
| Airport Blvd. (Manor Rd. to Springdale) | Riverside Dr. (Lakeshore Blvd. to Montopolis Dr.) |
| Burnet Rd. (US 183 to MoPac) | South Congress Ave. (Ben White Blvd. to William Cannon Dr.) |
| Cameron Rd. (E St. Johns Ave. to Rundberg Ln.) | South Pleasant Valley Rd. (Cesar Chavez St. to Oltorf St.) |
| East Martin Luther King Jr. Blvd. (Airport Blvd to Johnny Morris Rd.) | Slaughter Ln. (Menchaca Rd. to IH-35) |
| North Lamar Blvd. (US 183 to Braker Ln.) | South First St. (Stassney Ln. to Slaughter Ln.) |
| North Lamar Blvd. (Koenig Ln. to US 183) | William Cannon Dr. (Menchaca Rd. to Elm Creek Dr.) |
| Parmer Ln. (Metric Blvd. to Dessau Rd.) |   |
Sections in progress
Installation of High-Injury Roadway signage has begun and will continue throughout July, and Austin Transportation will begin traffic signal improvements, on the following three sections first:
Slaughter Lane (Menchaca Road to IH-35),
Pleasant Valley Road (Cesar Chavez Street to Oltorf Street), and
Cameron Road (E St. Johns Avenue to Rundberg Lane).
Engineering improvements
The scope of work will vary for each section depending on current conditions and observed crash patterns. In some locations, Vision Zero is partnering with planned street design work already underway on other City of Austin projects, including multiple 2016 Mobility Bond projects.
Improvements may include:
New roadway signage
Traffic signal upgrades, which can include adjusted cycle timing, new or expanded protected left turns, new retroreflective backplates, and new leading pedestrian intervals
Refreshed roadway markings and crosswalks
New pedestrian hybrid beacons
Improved street lighting
Bus stop relocations
Other street design changes in partnership with planned or ongoing street design work, including lane conversions, new bicycle facilities, and additional pedestrian crossing opportunities
Selection methodology
To identify the 13 High-Injury Roadway sections, a quantifiable approach based on national guidance was developed to compare crash locations. Through using a consistent standard of comparison, a number of streets were identified where focused efforts might have the biggest impact.
A comprehensive cost scale was used to determine the economic impact of crashes at locations throughout the city, including costs associated with wage and productivity loss of those involved in the crash, medical expenses, motor-vehicle damage employers' uninsured costs and more. This approach does not attempt to put a dollar value on a life, but represents the loss of calculable costs and the loss of quality of life depending on the severity of the injuries resulting from a crash.
After applying a comprehensive cost, crashes were mapped out through GIS so that aggregated comprehensive costs for any particular location could be viewed along with their location. The top comprehensive cost locations were analyzed and 13 sections accounted for over half of the top 100 locations. The 13 sections were selected as High-Injury Roadways.
To learn more about the methodology for High-Injury Roadway identification, read the report.