ABOUT THE TEMPO PROGRAM
The AIPP program requested proposals from visual artists or artist teams to design, fabricate, install and de-install short-term or time-based exterior artworks to be sited on City-owned locations throughout Austin.
The intent for the TEMPO temporary public art program is to promote tourism, cultivate curiosity, spark imagination, engage the community in a meaningful dialogue about public art, foster work by local artists and cultivate exploration of the City of Austin. Artists are encouraged to create artworks that reflect the site where they exhibit their work, and design artwork that can be easily installed and de-installed.
These artworks were commissioned through TEMPO, part of the City of Austin's Art in Public Places (AIPP) program of the Cultural Arts Division, Economic Development Department. Local artists created temporary sculptures and sited them at Austin Public Library branches through Austin.
TEMPO 2021
The TEMPO 2021 temporary public art exhibition offers paid opportunities for practicing visual artists or artist teams to design, fabricate, install and de-install short-term or time-based exterior artworks. A variety of mediums including sculpture, mural, and time-based work will be considered.
Austin area artists are encouraged to submit a Request for Proposals by Tuesday, January 26, 2021 at 5:00 p.m. Artist Budgets: $3,000 to $10,000 (all inclusive). 
Artist Budget: $3,000 - $10,000
Deadline to Apply EXTENDED: February 11, 2021 at 5:00 p.m. CST  
Apply here: https://www.publicartist.org/austinaipp/   
View the TEMPO 2021 Artist Information Meeting.
---
Click here for TEMPO 2019 project videos.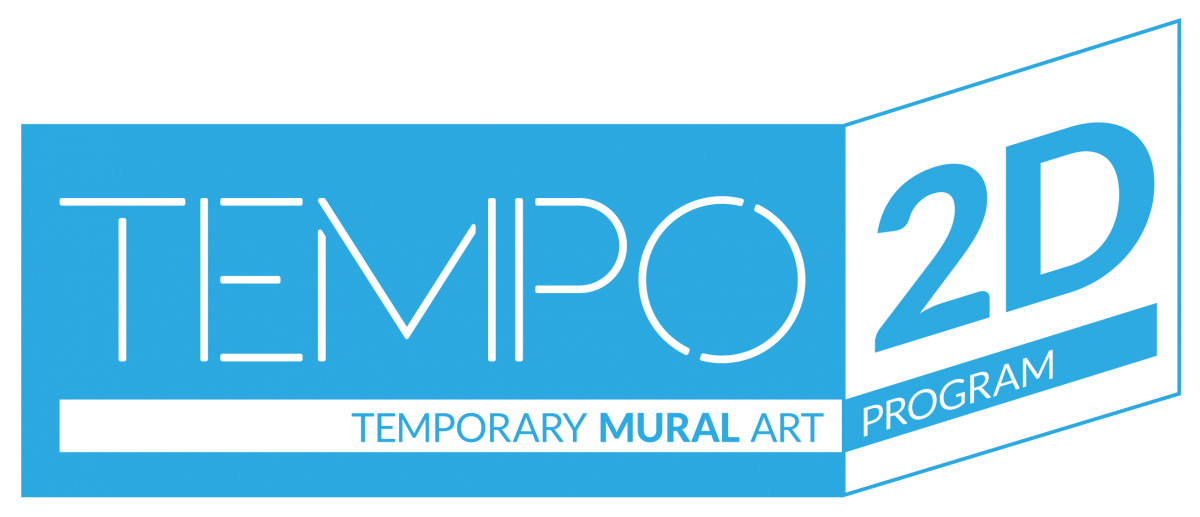 TEMPO 2D
TEMPO 2D 2019 awarded artists:
Olaniyi Akindiya (ABIA)
Lucas Aoki (Northwest District Park)
Steffany Bankenbusch (Austin Nature and Science Center)
Samson Barboza (South Lamar and Treadwell)
Samara Barks (Mabel Davis District Park)
Essentials Creative (4801 Bolm Road)
Alonso Estrada (Eiland Moss Skate Park)
Brian Joseph (Springswood Park)
Larissa Akhmetova (Gustavo "Gus" Garcia Recreation Center)
Bill Tavis (7600 Wood Hollow Drive)
In 2018, TEMPO expanded to include wall-based artwork! Through the TEMPO 2D program, twelve local artists were selected to create hand-painted murals, vinyl adhesive artwork, and fiber art at locations across Austin including public parks, the Austin Bergstrom International Airport, and other high-profile locales. In October 2019, ten new artists will create all new works!
Click here for 2018 project descriptions and locations.
TEMPO 2D 2018 awarded artists:
Matthew Briar Bonifacio (Bolm Road)
Lance Bradley (Mabel Davis Skate Park and Pool)
Show Goat Mural Works (Eiland/Moss BMX/Skate Park)
Kel Brown (Rosewood Neighborhood Park)
Veronica Ceci aka Flash Collective (30th and N. Lamar)
Rebecca Harrell (Jamie Odom Gazebo)
Jonathan 'Chaka' Mahone (Austin Public)
Jesse Melanson (Austin Nature and Science Center)
Christine Angelone and Alexander Bingham (Wood Hollow Drive)
Luis Angulo (Barton Springs Road)
Adreon Henry (Bartholomew Pool)
Rakhee Jain Desai (Austin Bergstrom International Airport)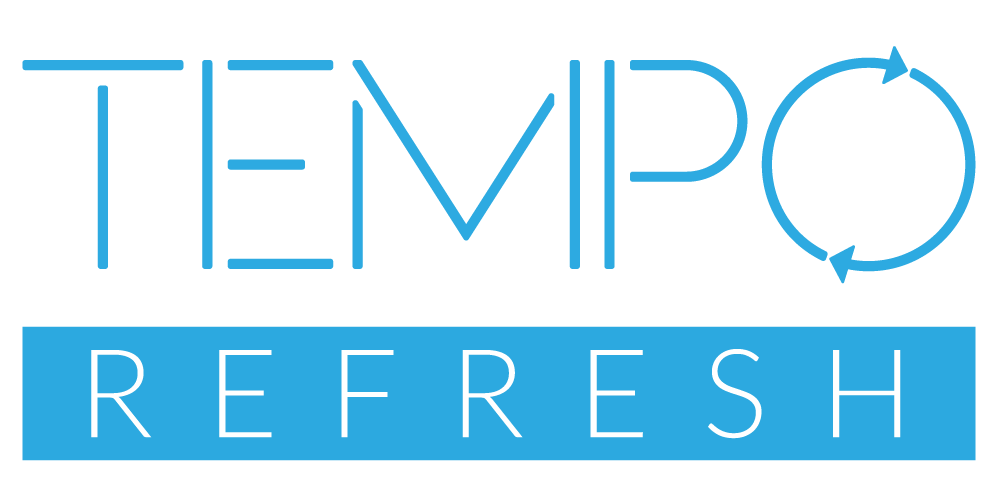 TEMPO Refresh
Another expansion of the TEMPO program this year is TEMPO Refresh, an initiative through which an artist has re-imagined an existing work in the AIPP collection. For the inaugural year of this pilot program, artist Laurie Frick has created an installation on top of and around artist Carl Trominski's Moments--an artwork comprised of "blue signs" sited on the Lamar Bridge Underpass. The work was chosen to mark and  celebrate Moments' 15th anniversary and because Moments is one of the most discussed artworks in the City's collection. Trominski has been supportive of the concept from the beginning, and generously stated, "I am totally open to a temporary artwork intervention for Moments. This project was a great opportunity for me at the time and I'm happy that it can continue to provide opportunity to others today."
Laurie is an artist who explores data through her artwork, revealing the people behind the numbers. Proposing to re-paint the walls of the Lamar Boulevard Underpass in vibrant color, her murals highlight why visitors come to Austin and what they do when they get here. The artwork is expected to remain in place until September 2019.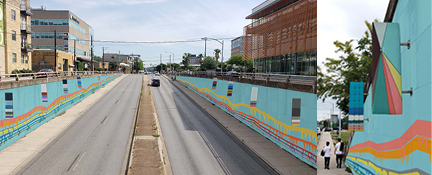 Artist rendering of 2018 TEMPO Refresh project
---
2018 TEMPO INSTALLATION VIDEO PLAYLIST