2019 People's Gallery Exhibition
The Call for Artworks for the 2019 People's Gallery exhibition will open mid-August and run through mid-October 2018. For updates, please sign up for our mailing list or follow our Facebook page. We look forward to recieving your submissions soon!

The People's Gallery is designed to showcase the work of regional artists and to encourage public dialog, understanding, and enjoyment of visual art. Each year, the Cultural Arts Division issues a call for artworks to Austin-area artists, galleries, museums, and arts organizations, and presents a year-long exhibition of works by over 100 local artists.
2018 People's Gallery Exhibition

We are pleased to announce the opening of the 14th annual People's Gallery exhibition at Austin City Hall on Friday, February 23, 2018.
The presentation will feature a wide array of painting, sculpture, drawing and other media by 102 artists from across the Austin area. The public is invited to an opening reception Friday, February 23, 6 to 9 p.m., to view artworks throughout City Hall, meet the participating artists, and to enjoy light refreshments and live music by the Austin Community Steelband. Remarks by Austin Mayor Steve Adler and others will begin at 6:30 p.m.. Limited parking is available in the City Hall garage and will be validated; however, visitors are encouraged to walk, bike, or use public transportation.
When: Friday, February 23, 6-9 p.m.
Where: Austin City Hall, 301 W. 2nd Street
Free and open to the public
The 2018 selection panelists were arts educator and artist Teruko Nimura; artist and Preparator (Blanton Museum of Art, University of Texas at Austin) John Sager; and artist and Professor of Art, St. Edward's University Tammie Rubin.
Each year, the public is invited to vote for their favorite artwork in the exhibition, and a "People's Choice" is selected from among the top-voted artworks to be purchased and added to the City's permanent collection. Ballots for the 2018 People's Choice will be available during the opening reception on February 23, and during normal exhibition hours through October 26, 2018. The People's Choice award for the 2017 recipient will be presented at the opening reception at 6:30 p.m.
Visitors to City Hall can view the People's Gallery during regular building hours, from 8 a.m. to 5 p.m., Monday – Friday. Admission is always free. For gallery and cell phone tours click the picture below. The 2018 exhibition will remain on display through January 1, 2019.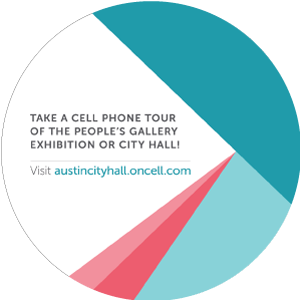 Images: (left to right) Dave McClinton, Monica Mohnot, Rachelle Diaz, B Shawn Cox