Visiting the People's Gallery? Share it with us on social media using #PeoplesGalleryATX
We are pleased to announce the opening of the15th annual People's Gallery exhibition at Austin City Hall. The presentation features 140 artworks in a wide array of mediums, including painting, sculpture, drawing and other media by 114 artists from across the Austin area. 
The People's Gallery is designed to showcase the work of regional artists and to encourage public dialogue, understanding, and enjoyment of visual art. Each year, the Cultural Arts Division issues a call for artworks to Austin-area artists, galleries, museums, and arts organizations. This year, approximately 1,250 entries were submitted by more than 350 local artists. A diverse panel of three local visual arts professionals served as the jury this year: Vy Ngo, Ric Nelson, and Stephanie Sandoval.
This year, the People's Gallery exhibition includes a special selection of photographs by the organization Bold Beauty Project Texas. Featuring images of Texas women with disabilities by a range of photographers from across the state, their quest is to banish any stigmas associated with disabilities and to rejoice in the strength, fortitude, and spirits of these beautiful women.
The People's Choice
Each year, the public is invited to vote for their favorite artwork in the exhibition, and a "People's Choice" is selected from among the top-voted artworks to be purchased and added to the City's permanent collection. Ballots for the 2019 People's Choice are available in the second floor lobby through October 25, 2019. To view the current People's Choice winning artwork, click here! 
Hours and Admission
Visitors to City Hall can view the People's Gallery during regular building hours, from 8 a.m. to 5 p.m., Monday – Friday. Admission is always free. The 2019 exhibition will remain on display through January 1, 2020.
Visitors who would like to see the artwork in the Council wing must make an appointment with a Council Member.  For contact information, click here.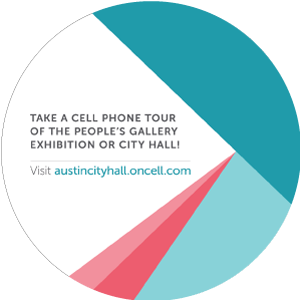 Spread the word with #PeoplesGalleryATX and follow us on Facebook and Instagram!
---
2019 Exhibition Guide
Many of the works are offered for sale, and marked as such in the 2019 exhibition guide (click here or the image below).  Remember that anyone can be a collector, and all proceeds go directly to the artists!  We in Economic Development and the Cultural Arts Division are so proud to celebrate Austin's local artistic talent today and every day.  We hope that you will visit the exhibition throughout the year and encourage your family and friends to do the same.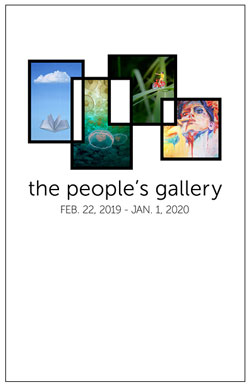 Looking for past People's Gallery exhibitions? Click the year you are interested in to see web catalogs of past presentations. 2011, 2012, 2013, 2014, 2015, 2016, 2017, 2018.
Guidelines for the People's Gallery Exhibition program may be found here.