The Onion Creek Metropolitan Park is a 555-acre regional park located in southeast Travis County, just south of Onion Creek. The land – flat, woody and pond-filled – is undeveloped and used by area residents. The Onion Creek Greenbelt is north of the creek. Onion Creek travels approximately 79 miles.
The regional park may include improvements to open space and the creek, making them more accessible to the public. Also being considered are safe, accessible trails for walking, running, or biking; dog park; equestrian activities; ball fields; and areas in the park for gatherings. New facilities for recreation or multi-entertainment, exercise and education are being contemplated as part of the vision for the park.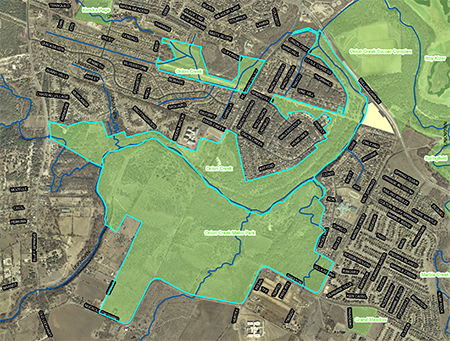 Click on the MAP to see a larger image
Master Plan Project Fact Sheet
Master Plan Public Engagement
The Austin Parks Foundation, in collaboration with the City of Austin Parks and Recreation Department, held a series of four community workshops to define a vision for the Onion Creek Metropolitan Park. The entire Austin community was asked to help identify a vision for the types of activities and improvements for the Onion Creek Metro Park and Greenbelt Corridor to be included in the Master Plan for the park.
First Community Workshop
Monday, March 17, 6-8 p.m.
Mendez Middle School
Meeting Materials:
Second Community Workshop
Thursday, September 11, 2014, 6-8 p.m.
Blazier Elementary School
Meeting Materials:
Third Community Workshop
Thursday, December 4, 2014, 6-8 p.m.
Blazier Elementary School
Meeting Materials:
Final Draft Vision Plan
Thursday, March 12, 2015, 6:30pm - 8:30pm
Widen Elementary School
Meeting Flyer
Onion Creek Metropolitan Park Master Plan Report
Download Report , Published on July 17, 2015
Consent Agreement
Download Proposed Consent Agreement Presentation
Phase 1 Master Plan Implementation
The phase 1 development of Onion Creek Metropolitan Park will consist of approximately 30-acres of irrigated area including open play fields, a 50-space parking lot, trails and a perimeter sidewalk. Download Phase 1 Site Plan.  An additional 20-acres will be improved for accessibility and ecological restoration through selective clearing. The anticipated phase 1 construction schedule is as follows:
August, 2017 to November, 2017 – Contractor Bidding and Award
March, 2018 – Phase 1 Construction Begins
October, 2018 – Phase 1 Construction Completion (Anticipated)