The City of Austin Economic Development Deparment and partners will host a Family Resource Fair on Saturday, March 2 from 10:00 a.m. to 1:00 p.m. at Barbara Jordan Elementary, 6711 Johnny Morris Road.
This family-friendly event is being organized by the Colony Park Sustainable Community, a city and community effort focused on the implementation of the Colony Park Master Plan approved by Austin City Council in 2014. In October 2018, Council authorized city staff to enter into exclusive negotiations with Catellus Development Corporation for development of the 208–acre, city-owned land located on Loyola Lane and Colony Loop Drive. The City anticipates a six-month process for completion of the Exclusive Negotiating Agreement (ENA), followed by up to 24 months to negotiate the terms of a Master Development Agreement. Until then, the City is continuing its goal of improving services for residents living in the surrounding area.
The Family Resource Fair will feature exhibitors from a wide range of local organizations and workshops offering support in home repair, health care eligibility, job training, tax preparation and more. The festivities will also include free health screenings, child identification cards, animal services, and updates on City-wide mobility and health efforts. During the event families can enjoy free food, face painting, raffle prizes and a variety of educational activities for children and teens.
The event is being organized with the support of the Colony Park Neighborhood Association, Austin Area Urban League, Austin Independent School District, Austin Police Department, Austin Parks and Recreation Department, Austin Public Health, Austin Resource Recovery, Austin Transportation Department, Austin Water, Boys and Girls Club of the Austin Area, Capital Metro, Central Health, and Travis County. The event is free and open to the public. Spanish translators will be available.
For more information about Colony Park Sustainable Community Project, please visit us at http://www.austintexas.gov/department/colony-park.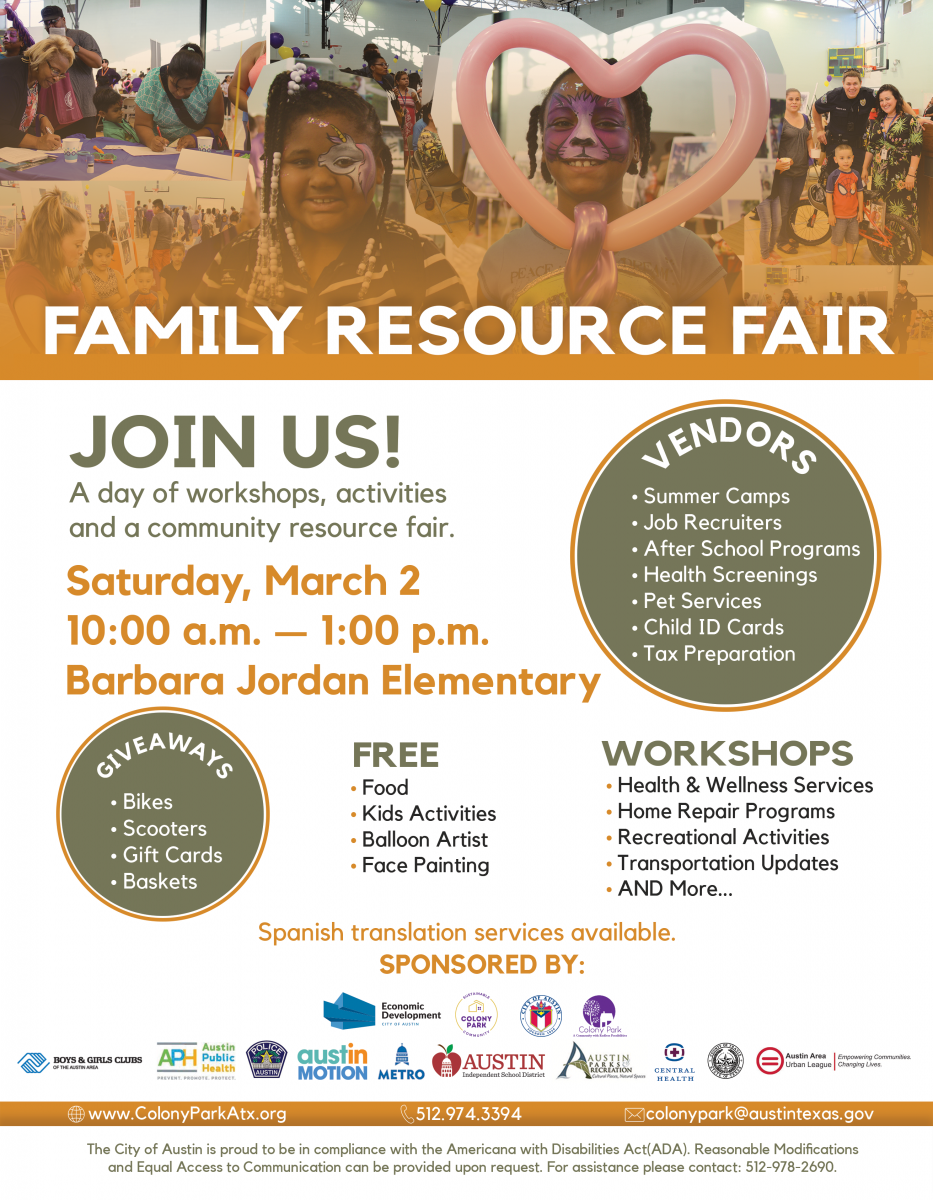 Para su publicación inmediata:
Contacto: Martin Barrera, City of Austin Economic Development Department Redevelopment Project Manager, 512-974-3394
La Ciudad y sus Socios Invitan a la Comunidad a la Feria de Recursos Familiares
El Departamento de Desarrollo Económico de la Ciudad de Austin y sus socios organizarán una Feria de Recursos Familiares el sábado 2 de marzo de 10:00 a.m. a 1:00 p.m. en la escuela primaria Barbara Jordan Elementary ubicada en el 6711 Johnny Morris Road.
Este evento para familias está organizado por la iniciativa de Comunidad Sostenible de Colony Park, un esfuerzo de la ciudad y la comunidad centrado en la implementación del Plan Maestro de Colony Park aprobado por el Concejo Municipal de Austin en el 2014. En Octubre del 2018, el Concejo autorizó al personal de la ciudad a iniciar negociaciones exclusivas con Catellus Development Corporation para el desarrollo del terreno de 208 acres, propiedad de la ciudad, ubicada en Loyola Lane y Colony Loop Drive. La Ciudad anticipa un proceso de seis meses para completar el Acuerdo Exclusivo de Negociación (ENA por sus siglas en inglés), seguido de hasta 24 meses para negociar los términos de un Acuerdo Maestro de Desarrollo. Hasta entonces, la Ciudad continúa con su objetivo de mejorar los servicios para los residentes que viven en los alrededores.
La Feria de Recursos Familiares contará con expositores de una amplia gama de organizaciones locales y talleres que ofrecen asistencia en reparaciones en el hogar, elegibilidad para el cuidado de la salud, capacitación laboral, preparación de impuestos y más. Las festividades también incluirán exámenes de salud gratuitos, tarjetas de identificación para niños, servicios para animales y actualizaciones sobre la movilidad y los esfuerzos de salud en toda la ciudad. Durante el evento, las familias pueden disfrutar de comida gratis, pintura de caras, premios de rifas y una variedad de actividades educativas para niños y adolescentes.
El evento se está organizando con el apoyo de la Asociación de Vecinos de Colony Park, la organización Austin Area Urban League, el Distrito Escolar Independiente de Austin, el Departamento de Policía de Austin, el Departamento de Parques y de Recreación de Austin, el Departamento de Salud de Austin, el departamento de Recuperación de Recursos de Austin, el Departamento de Transporte de Austin, el departamento de Agua de Austin, el Club de Niños y Niñas del Área de Austin, Capital Metro, Central Health y el Condado de Travis. El evento es gratuito y abierto al público. Habrán traductores de español disponibles.
Para obtener más información sobre el Proyecto de Comunidad Sostenible de Colony Park, visítenos en la página http://www.austintexas.gov/department/colony-park.