Many communicable diseases among children are preventable. However, more than one-fourth of the children in Texas don't receive the immunizations they need by age two.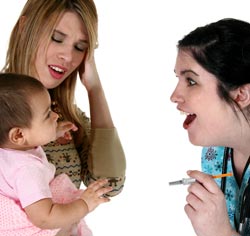 If not protected against the illnesses these immunizations will prevent, children can develop life-threatening medical conditions including brain damage, deafness, pneumonia, and seizures. Some diseases, like Rubella, can be spread to pregnant women and cause miscarriage or birth defects. Adult diseases that used to be common can now be prevented with immunizations.
Flu shots
Flu shots are  available at Shots for Tots/Big Shots clinics for children who are uninsured or Medicaid recipients, and for uninsured adults.  Cost of the flu vaccine is $25 for adults, $10 for children, and free for children with Medicaid. No one will be denied services if they are unable to pay.  Appointments are needed at a clinic: call 512-972-5520. 
Services
All services are available to children who are uninsured or Medicaid recipients. Services are also available to uninsured adults.
Services are by appointment only. Call 512-972-5520 Monday through Friday 8am to 4:30pm to make an appointment.
Clinic Locations
Far South Austin clinic, 405 West Stassney, Austin, 78745
North Austin St. John clinic, 7500 Blessing Avenue, Austin, 78752
Clinic Schedules
Shots for Tots and Big Shots Clinic Schedule in English
Shots for Tots and Big Shots Clinic Schedule in Spanish
Clinic Fees
Children: $10 per dose of vaccine. Adults: $25 per dose of vaccine. Shot Records: $5. No one is refused services if they are unable to pay.
Shots for Tots for Children
Requirements for Children's Immunizations at Texas Department of State Health Services.
Big Shots for Adults
The following vaccines are available:
Hepatitis A and
Hepatitis B
HPV
Meningitis (through age 21)
Measles, Mumps, and Rubella (MMR)
Pneumonia
Tdap/Td
Varicella (Chicken Pox)
Zoster (Shingles)
Store your Immunization Records in ImmTrac
ImmTrac remembers which vaccines you've had, when you can't. This free services safely stores your immunization records in one electronic system. To save time, if you are 18 or older print out this form, fill it out, and bring it with you to your appointment.
Vaccines for Children
Vaccines for Children (VFC) is a federal program that is administered by Austin Public Health.  The program provides no-cost vaccines to doctors' offices, clinics, and schools in Travis County. 
VFC serves uninsured and other eligible children from birth to 18 years of age.  The Adult Safety Net (ASN) program serves uninsured adults 19 years of age and older.  Every year, VFC/ASN participants in Travis County provide more than 230,000 vaccines to more than 90,000 people in our community.
To learn more or to become a participant, send an email to APH-Travis County VFC. 
Shot Records
Shot records are available at clinic locations for anyone who received their immunizations at public health clinics in Austin and Travis County, including Shots for Tots and Big Shots.  Note that shot records may not be available for immunizations given at private physicians' offices. For more information, call 512-972-5520.
Save time! Print out this form (in English and Spanish), fill it out, and bring it with you to the clinic.
Equal Opportunity: We do not discriminate on the basis of race, color, national origin, sex, age, income status, disability, sexual orientation, gender identity, or veteran status in any programs or activities.