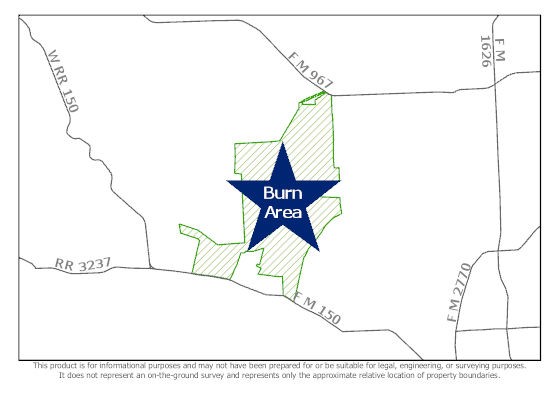 AUSTIN – Austin Water's Wildland Conservation and partnering agencies plan to conduct a prescribed burn on approximately 150 acres of Austin's Water Quality Protection Lands on Tuesday, July 30, 2019.
Prescribed burns safely mimic the natural fire cycle and maintain fire-resilient landscapes for the benefit of people, water, and wildlife. Prescribed fire reduces brush, and promotes grasslands, allowing more water flow into the aquifer.
Smoke may be visible north of FM 150, south of FM 967, east of FM 1826, and west of FM 1626 from noon to sunset. The burned area will be extensively patrolled for at least a week after the fire.
Conditions such as wind speed and direction are monitored closely and if conditions become unsuitable the prescribed burn will be rescheduled. Wildland firefighters are highly trained professionals and safety is their primary objective.
Neighbors or anyone interested, can sign up to receive notifications by email at this link.
For more information, please visit www.austintexas.gov/rxfire and follow regular updates about the prescribed burn at www.facebook.com/AustinWater and www.twitter.com/AustinWater