City of Austin
FOR IMMEDIATE RELEASE
Release Date:

---
New flights to operate on Tuesdays, Thursdays and Saturdays.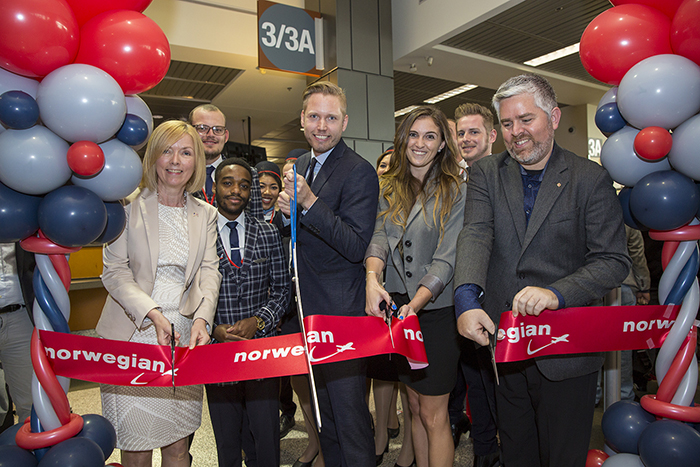 The ribbon is cut on Norwegian's new Austin-London Gatwick nonstop. From left are Karen Bell, British Consul General; Norwegian flight crew members; Anders Lindström, Director of Communications, Norwegian; Erin Nemeth, Visit Britain PR & Marketing Manager, USA and Austin City Council Member Jimmy Flannigan.
AUSTIN, TEXAS – Norwegian inaugurated new, nonstop service between Austin-Bergstrom International Airport (AUS) and London Gatwick Airport (LGW) on March 27, 2018 with a launch event at 5 p.m. The event celebrated Norwegian's entry to Austin and marked the airline's first nonstop in Texas. Officials from Norwegian, the British Consulate and Visit Britain cut the ribbon for the inaugural flight. Adding British atmosphere with an Austin flair was live music performed by British expatriate and Austin singer-songwriter Katie Marie.
 "We're very excited to bring the Norwegian experience to Austin," said Norwegian's CEO Bjørn Kjos. "This city makes perfect sense as our first entry into the Lone Star state. Austin is one of the fastest-growing cities in America, which perfectly fits Norwegian, being the world's fastest-growing airline. We see great opportunities with our new route, both in terms of lowering trans-Atlantic fares for Austinites and bringing more tourists and business travelers to the region, which will help support thousands of local jobs."
Norwegian's new nonstop flight between Austin and London Gatwick Airport operates on Tuesdays, Thursdays and Saturdays. The eight hour flight departs from the Barbara Jordan Terminal at 4:20 p.m. and arrives in London at 7:20 a.m. Flights depart LGW at 10 a.m. and arrive in Austin at 2:20 p.m. All times are local. Flights are operated on Boeing 787-9 Dreamliner aircraft. Tickets are available for booking at www.norwegian.com/us.
London Gatwick Airport is a popular gateway to London.  It is the second-busiest airport in the UK and an accessible entry point to all of Europe.  
The airport of choice for Central Texas is Austin-Bergstrom International Airport (AUS). New nonstop international flights include London Gatwick, United Kingdom (LGW) on Norwegian Air, www.norwegian.com/us, Punta Cana (PUJ), Dominican Republic on Vacation Express, www.vacationexpress.com,  Guadalajara, Mexico (GDL) on Volaris, www.volaris.com, and Mexico City, Mexico (MEX) on AeroMexico, www.aeromexico.com. New for SXSW 2018: Delta to Amsterdam (AMS), www.delta.com, and SAS to Stockholm (ARN) www.flysas.com/en/us/.   Find all nonstop routes with the free interactive flight guide on www.abia.org. Connect with us on Twitter, @AUStinAirport, Facebook, www.facebook.com/abia and on Instagram, @AUSairport.