City of Austin
FOR IMMEDIATE RELEASE
Release Date:

---
Kid Band Week at Austin Airport From July 15-19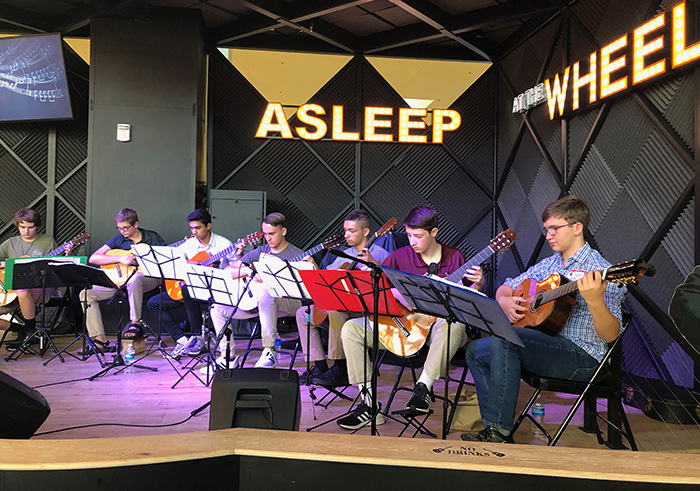 Childbloom Chiara Stalla Group performs at the Austin airport. Photo by Michael Pennock, Austin-Bergstrom International Airport
AUSTIN, Texas – The 12th Kid Band Week is currently running from July 15 – 19, 2019 (Monday – Friday) at the Austin airport. These performing bands are young and diverse musicians that are ranging from 10 to 18 years old.
Kid Band Week is an exciting time for young musicians to perform their talents to travelers. This will be the 12th year that the Austin-Bergstrom International Airport has Kid Band Week takeover the Asleep at the Wheel Stage.  The airport is eager to show their support and be a part of this music moving summer tradition with these artists.
All performances are scheduled from 3:30 to 5:30 p.m. at the Saxon Pub, Asleep at the Wheel Stage, located near Gate 19.
Kid Band Week Performances:
About the bands:
Childbloom Guitar Ensemble began in 1980 as a national program to introduce youth to music through the guitar. Their goal is to provide kids with the skill and literacy necessary to pursue any musical direction they desire. For more on Childbloom, visit http://www.childbloom.com/.
Band Aid School of Music is a well-known rock band school in Texas. Since 1990, Band Aid School of Music founded by James Mays has taught students of all ages and developed a philosophy of education that engages students, parents and their communities. For more on the Band Aid School of Music, visit http://www.bandaidschoolofmusic.com/.
The Barton Hills Choir is a choir comprised of third, fourth, fifth and sixth grade students from Barton Hills Elementary School. Led by the elementary school's music teacher and choir director, Gavin Tabone, this choir has performed at events such as ACL and is accompanied by professional musicians. For more on the Barton Hills Choir, visit https://bartonhillschoir.org/.
The Austin Jazz Club is led by Joe Morales with the goal of teaching kids a love of jazz that will last their lifetimes. Joe's goal for the Austin Jazz Club is to provide a non-competitive environment where kids can learn teamwork, jazz technique, performance skills, and improvisation, and a love for jazz. To learn more about the Austin Jazz Club, visit https://www.facebook.com/pg/austinjazz.club/about/.
The Radha School of Music aims to provide knowledge, enjoyment, and creativity to children in a fun music environment. Staffed by six teachers, each with a background in a variety of instruments, Radha School of Music serves the local music community with professional and fun music lessons for children. To learn more about the Radha School of Music, visit https://www.radhaschoolofmusic.com/Home.
The airport of choice for Central Texas is Austin-Bergstrom International Airport (AUS). New nonstop international flights include Calgary, Canada (YYC) on WestJet www.westjet.com; Frankfurt, Germany (FRA) on Lufthansa www.lufthansa.com; London Gatwick, United Kingdom (LGW) on Norwegian Air, www.norwegian.com/us; and Mexico City, Mexico (MEX) on AeroMexico, www.aeromexico.com. Austin also welcomes new carrier Spirit Airlines,  www.spirit.com.  Find all nonstop routes with the free interactive flight guide on www.abia.org. Connect with us on Twitter @AUStinAirport, Facebook,  www.facebook.com/abia and on Instagram @AUSairport.
This release was written by PIO interns Christina Mendoza and Tanya Haden.