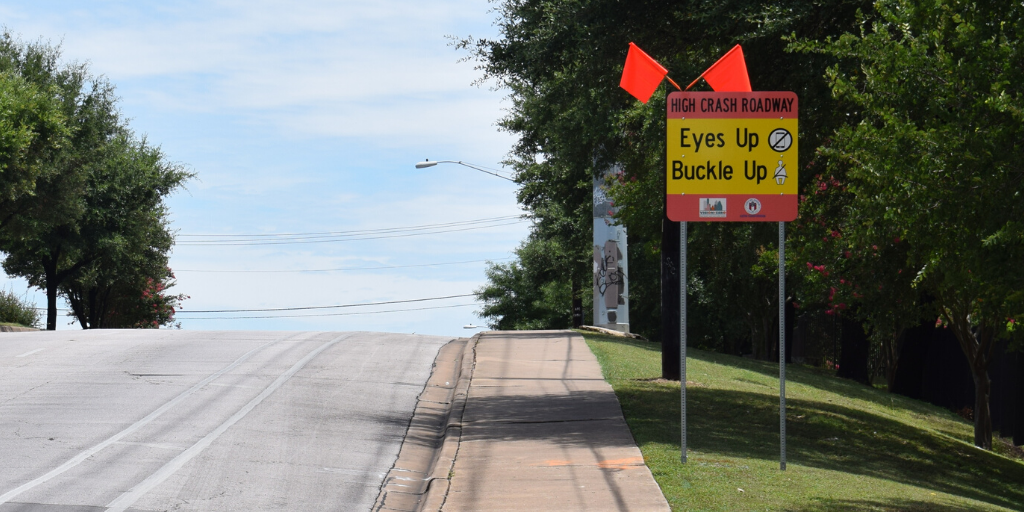 Austin Transportation's Vision Zero program identified 13 High-Injury Roadway sections to receive effective, low-cost safety improvements. The Vision Zero team analyzed the most recent five complete years of crash data to identify top locations for focused engineering design initiatives, improved signage, and targeted enforcement on key dangerous driving behaviors. Visit the High-Injury Roadway webpage for more information on each of the identified sections.
 "More than 350 Austinites were seriously injured or killed in the last five years on just these 13 sections," said Robert Spillar, Director of Austin Transportation. "By using a data-driven approach, we've identified locations which would greatly benefit from lower-cost solutions to quickly enhance safety for everyone who travels on our roadways, whether you drive, walk, bike, or take transit." 
The scope of work on each section will depend on current conditions and observed crash patterns. Improvements may include:
New roadway signage
Traffic signal upgrades, which can include adjusted cycle timing, new or expanded protected left turns, new retroreflective backplates, and new leading pedestrian intervals
New pedestrian hybrid beacons
Refreshed roadway markings and crosswalks
Improved street lighting
Bus stop consolidations or relocations
Other street design changes in partnership with planned or ongoing street design work, including lane conversions, new bicycle facilities, and additional pedestrian crossing opportunities
Installation of High-Injury Roadway signage has begun and will continue throughout July. Austin Transportation will begin traffic signal improvements on the following three sections first:
Slaughter Lane (Menchaca Road to IH-35),
Pleasant Valley Road (Cesar Chavez Street to Oltorf Street), and
Cameron Road (E St. Johns Avenue to Rundberg Lane).
In some locations, Vision Zero will work with partners to expedite or expand upon planned City of Austin street design projects already underway, including multiple 2016 Mobility Bond Corridor and Local Mobility programs. Targeted outreach to residents and neighborhood groups will be initiated for those living and doing business near each section.
Targeted enforcement efforts will focus on the four behaviors seen in the most severe car crashes in Austin: speeding, distracted driving, impaired driving, and failure-to-yield.
Austin Transportation data reveal that the 13 sections identified also comprise more than half of the top 100 comprehensive cost locations in Austin, which is based on national guidance to quantify the negative quality of life and economic impacts of crashes on our community. Pursuing low-cost treatments to increase safety will continue to build on the ongoing efforts towards reaching Austin's Vision Zero goal of eliminating serious injuries and deaths caused by traffic crashes.
 
###
ABOUT VISION ZERO
Vision Zero
is a policy directive to reduce traffic-related fatalities and serious injuries to zero. Through a safe systems approach which combines safer street design, targeted enforcement, evidence-based public policy, thoughtful public engagement, and good decision-making from all roadway users, we can ensure Austin's streets are safe for everyone who uses our city's diverse transportation options. The Austin Strategic Mobility Plan includes key actions, indicators, and targets intended to shape future Vision Zero initiatives.  
ABOUT AUSTIN TRANSPORTATION
In collaboration with area partners, Austin Transportation Department leads our community's 
Vision Zero
 goal of eliminating traffic deaths and serious injuries on Austin streets, the achievement of a 50/50 commute type split by 2039 as established in the 
Austin Strategic Mobility Plan
, and actively seeks innovative solutions and piloting technology that can decrease the use of single-occupancy vehicles and improve safety through Austin Transportation Department's 
Smart Mobility Office
. For details, please visit 
AustinTexas.gov/Transportation
.