City of Austin
FOR IMMEDIATE RELEASE
Release Date:
Contact: Communications and Public Information Office 512-974-2220 Email
---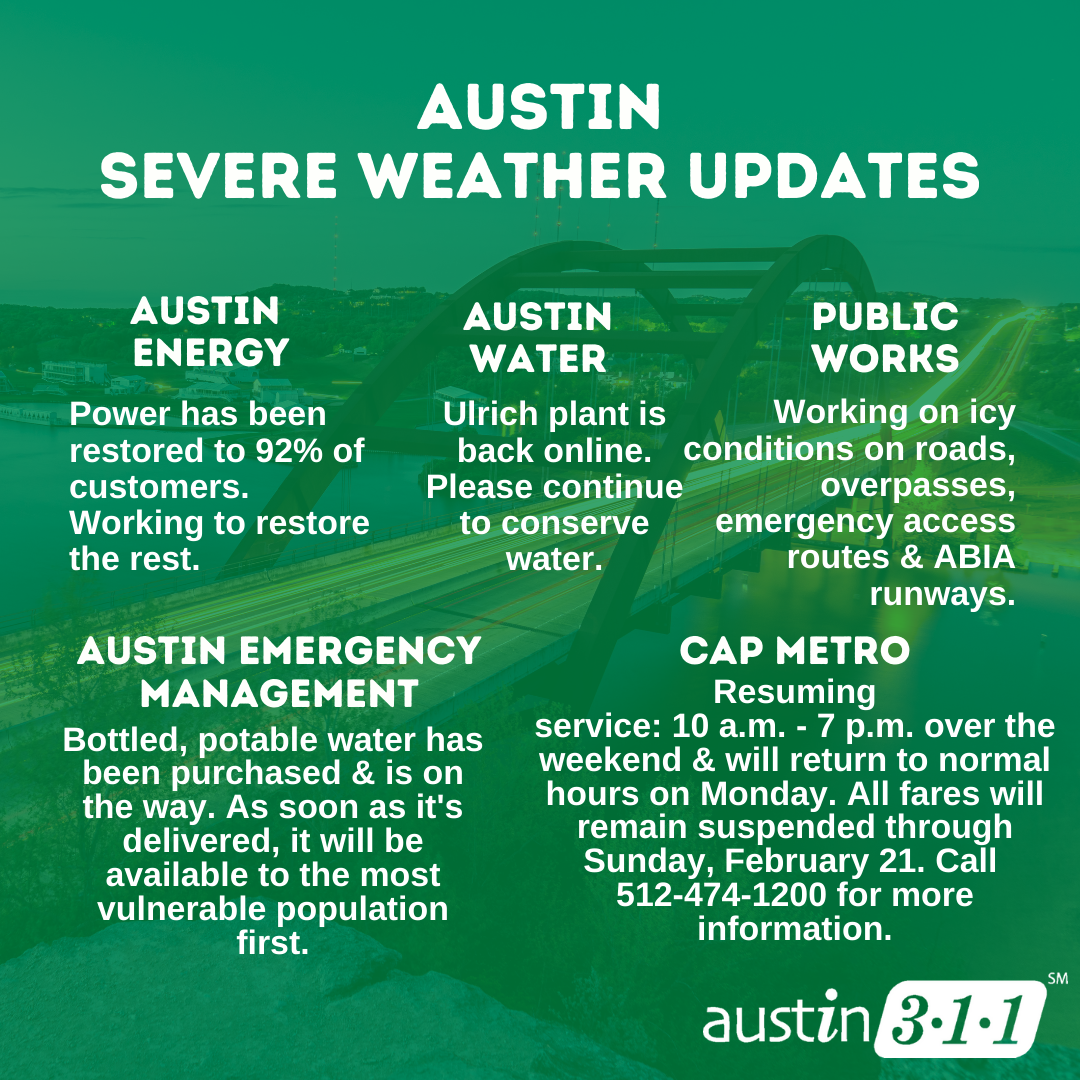 The City of Austin and its partners, Thursday, provided the community with information on the response to the multiple weather-related crises being managed by City leadership.   
 
"This winter storm is stressing our entire community in ways we've never experienced," said Austin City Manager Spencer Cronk at a virtual news conference. "I know we have asked you repeatedly to be patient and we continue to make that ask of you. We are sorry for the continued hardships so many in our community have had to endure in recent days."   
View the full news conference HERE.
The following is current information related to the services the City of Austin and its partners are providing: 
 
Shelters and warming centers update  
 
The Palmer Event Center is now at full capacity and cannot accept any more people in need of shelter. However, there is still limited room available at:  
Del Valle High School, 5201 Ross Road, Del Valle, TX 78617   
Mendez Middle School, 5106 Village Square, 78744  
Reilly Elementary School, 405 Denson Drive,  78752 
There are also other shelter sites. The Austin Disaster Relief Network has activated a network of faith-based locations to operate as shelters. These locations are not equipped with full services. People accessing these locations should bring supplies and blankets. Churches that are a part of the network with ADRN which can be found by visiting their website at  https://adrn.org/shelters/ 
 
The Austin Independent School District (AISD) has set up warming centers that will provide individuals a place to warm up and charge essential medical devices. These warming centers will operate from 9 a.m. to 9 p.m. These centers will not operate as overnight shelters and will have only minimal resources on site.
 
They are located at:   
Lee Elementary School - CENTRAL 3308 Hampton Road in the 78705  
Murchison Middle School - WEST 3700 N. Hills Drive in 78731  
Joslin Elementary School – SOUTH 4500 Menchaca Road in 78745 
Barrington Elementary School – NORTH 400 Cooper Dr in 78753  
For individuals who are unable to shelter in place and must travel to one of the shelters listed above due to medical necessity, please contact Austin 3-1-1 to arrange transportation. You can also email coaemergencyrides@austintexas.gov and provide your name, phone number, address, number of people needing transport, and medical needs.  
 
Austin Energy/Power restoration update  
 
Austin Energy has restored power to almost 92% of its customers. AE is prioritizing customers that have been out the longest. 
  
Electric Reliability Council of Texas (ERCOT) is not currently mandating outages which allows crews to work through the night to restore power.  If weather conditions deteriorate, ERCOT may mandate more outages, but Austin Energy will make every effort to restore these as quickly as possible if that becomes necessary.  
 
Customers without power can help by lowering thermostats, turning off or unplugging any fixtures or appliances, and only leaving on one light to indicate when the power is back on. These measures will help gradually add load to the circuit.  
  
For those with power, conservation continues to help. You can:  
Keep your thermostat at 68 degrees or lower, if possible.
Keep doors and windows closed.  
Unplug nonessential electronics.  
Avoid using large appliances.  
Austin Water Utility/Water restoration  
 
Austin Water treatment plants are now operating in a stable mode.  Austin Water is prioritizing water availability for hospitals and power plants, as well as supporting the Austin Fire Department's fire-fighting capability. They are also identifying and repairing leaks in the pipeline system brought on by the cold weather.  
 
Austin Water asks the community's patience as it is working around the clock to repair leaks and restore water to all customers.  
 
How you can help:  
If you do not have water, you can boil clean snow or ice to make it safe for consumption. If you have potable water, save that for consumption, and use boiled snow/ice for bathing, dishwashing, and toilet flushing.  
If you do have water service, we need you to limit use to only essential needs:
- Turn off dripping faucets indoors and outdoors.
- Delay using washing machines and dishwashers. 
- Report water main breaks to Austin Water.
- If pipes at your home or business have burst, stop water waste by turning off your water at the property-owner's cut-off valve. If you are unable to locate your property-owner's cut-off valve or if it won't work, submit a request to Austin Water for assistance.  
To report a water or wastewater emergency, report a leak or main break, visit AustinWater.org to submit an online request form. Austin Water will provide regular updates at austinwater.org.  
 
A citywide boil water notice issued yesterday due to low pressure in the City water distribution system remains in effect. Customers are asked to continue boiling water used for drinking and cooking.  This boil water notice is a precautionary measure to ensure the health and safety of customers. Austin Water has not detected contaminants in the water it is providing.  
 
Hospital/Medical Facility Transfers 
 
The City of Austin has worked with local and regional partners including Capital Area of Texas Regional Advisory Council (CATRAC), Austin Travis-County EMS (ATCEMS), ambulance providers, Capital Metro, and volunteers, to move or transfer more than 100 patients to or from medical facilities in the area. The level of need ranged from providing a ride home to patients who didn't have transportation, transferring patients to different facilities due to operational or medical need, and providing rides to COVID-19 alternative care sites. 
 
The City will continue to work with local hospitals and community partners to move patients to appropriate medical care sites based on the operational status of facilities and individual patient need. 
 
Fire Prevention/Safety  
 
Due to the extreme cold weather, the Austin Fire Department is asking residents to take extra precautions to ensure safety of homes and families.  
Contact Austin 9-1-1 for signs of smoke or fire  
Evacuate immediately and notify neighbors 
Fire protection systems may not work as expected 
Expect elevators not to work  
Listen for instructions and know your exit path   
Do not use using unsafe alternative heating measures that could cause a fire.   
The use of candles for heat or lighting is strongly discouraged.  If candles are used, place them on a solid surface, keep them at least two feet away from combustibles and never leave them unattended. 
If you use a portable heater, keep it at least two feet from furniture, curtains, laundry, or bedding.  
Do not use your stove to heat the house.   
Please direct questions and concerns to fireprevention@austintexas.gov 
Public Works/Roadways 
 
Austin Public Works says many roadways are still in dangerous condition and travel should be limited for only critical needs. If you must travel, follow these safety tips:  
Travel during the day, before sundown; use larger and more-traveled roadways (such as major arterial) 
Avoid overpasses and use extreme caution on elevated roadways and bridges 
If you have access to a vehicle with four-wheel drive, or a heavier SUV or truck, use that instead of small cars. 
Drive slowly and be aware that visibility can be impaired by snowbanks and frozen windshields 
Treat all flashing or dark signals as four-way-stops no matter which direction or road you're traveling on.  
With the help of the Austin Transportation, Watershed Protection and Fleet Services departments, Public Works crews have been working around the clock to clear critical routes, streets and sidewalks of snow, ice, and downed tree limbs. So far, more than 117 lane miles have been cleared or inspected. These efforts will continue through the night Thursday and into Friday as conditions improve.  
Public Transportation 
 
Capital Metro has returned to limited-service as of Thursday, and anticipates expanding services over the next couple of days. Visit www.capmetro.org/winter for the most up to date information and which routes are currently operating. All Capital Metro fares will remain suspended through Sunday, Feb. 21, to keep people out of the cold and move them to their destinations as quickly, and safely as possible. 
 
Trash, Compost and Recycling
 
Curbside trash and recycling collection starts Friday, February 19 for those scheduled on Friday. Crews may take longer than usual due to road conditions. Download the Recycles ATX app for the most up to date info on your collection services. 
Updates on Severe Weather Response and Resources
For cold weather resources and information visit: austintexas.gov/weatherinfo OR in Spanish: austintexas.gov/infoclimatica.