City of Austin
FOR IMMEDIATE RELEASE
Release Date:
Contact: Kathleen Brady Stimpert 5129747875 Email
---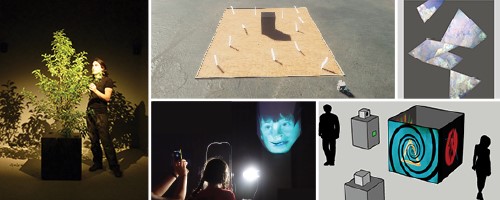 The City of Austin Cultural Arts Division, part of the Economic Development Department, and SXSW announce the second annual UNESCO Media Arts Exhibition at SXSW. Hosted March 9-17 as an official part of the SXSW art program, the exhibition features media art installations by artists from Austin and other UNESCO Creative Cities including Linz (Austria), Guadalajara (Mexico) and Lyon (France.) A companion panel discussion will highlight the role of the UNESCO Creative Cities Network (UCCN) in implementing initiatives and best practices that support and promote digital art making around the world.
As an innovative global leader bridging the fields of art and technology, Austin received its UNESCO (United Nations Educational, Scientific and Cultural Organization) Media Arts designation in 2015 and is currently the only city in the Unites States with such distinction. The City's partnership with SXSW supports the designation by introducing Austin media arts artists to an international audience and fostering collaboration with other UCCN cities.
"Austin is widely-recognized as a collaborative community at the forefront of media arts technology," said Cultural Arts Division Manager Meghan Wells. "For years, SXSW has showcased the talent and innovation of interactive, music, and film industries and has served as an international hub for creative exchange. We are pleased to partner with them to spotlight Austin's fantastic homegrown media arts talent as well as that of other cities' artists through the lens of the UNESCO Creative Cities Network."
"The mission of SXSW is to help creative people achieve their goal," added Hugh Forrest, Chief Programming Officer for SXSW. "This focus on creativity is why having an art element within the event makes so much sense. We are very excited at how much this art element has grown over the last few years. It has been wonderful to collaborate with the City of Austin to exhibit both local and international artists at SXSW 2019 as part of the UNESCO Media Arts Exhibition. The exhibition highlights how this focus is positively resonating with the local and international community."
Exhibition
The UNESCO Media Arts Exhibition at SXSW, hosted within the 3,000 square foot gallery at the City of Austin Central Library, will feature installations by artists or artist teams whose work explores the intersection of art and technology:
Exhibiting Artists
Adrian Aguilera and Betelhem Makonnen (Austin)
Shawn Camp (Austin)
Dadageek: Lisa Woods, Barna Kantor and Jerome Martinez (Austin)
Sonya Gonzalez (Austin)
OSSMO: Cesar Axel Aguilar Rodriquez, Carlos Andres Zenteno Pineda and Jorge Armando Vargas Bravo (Guadalajara, Mexico)
Steven Parker (Austin)
qujOchÖ: Thomas Philipp, Davide Bevilacqua and Eva Maria Dreisiebner (Linz, Austria)
Scenocosme: Gregory Lasserre & Anais met den Ancxt (Lyon, France)
Mila Sketch (Austin)
Panel Discussion
In tandem with the exhibition, a panel discussion, free and open to the public, will be held March 9 at 4PM at the Austin Central Library. It will explore the role of the UNESCO Creative Cities Network (UCCN) and the individual and joint initiatives of its member cities and their communities to promote digital artmaking.
UNESCO Creative Cities Network: Fostering a Strong Future for Digital Artmaking
March 9, 2019, 4-5:30PM, Austin Central Library
Immersive media exhibitions have become highly popular in recent years, showing much success in attracting and engaging audiences. Media artists have unprecedented new opportunities but also face unique challenges. These demands include securing funding, fabricating complex artwork, creating work that can tour, and maintaining tech-dependent art. At the moment, there are few organizational or informational sources of support for media artists. In order to fill this gap, media artists and arts administrators from UNESCO Media Arts cities around the world will gather to share their lessons about how to navigate and thrive in this new art landscape.
Participating panelists:
Moderator: Lisa B. Woods (Artist, Dadageek) –Austin, Texas
César Axel (Artist, OSSMO) –Guadalajara, Mexico
Zac Traeger (Director, The Museum of Human Achievement) - Austin, Texas
Thomas Philipp (Artist, qujOchÖ) - Linz, Austria
Anna Gallagher Ross (Curator, Fusebox)- Austin, Texas