City of Austin
FOR IMMEDIATE RELEASE
Release Date:
Contact: Communications and Public Information Office 512-974-2220 Email
---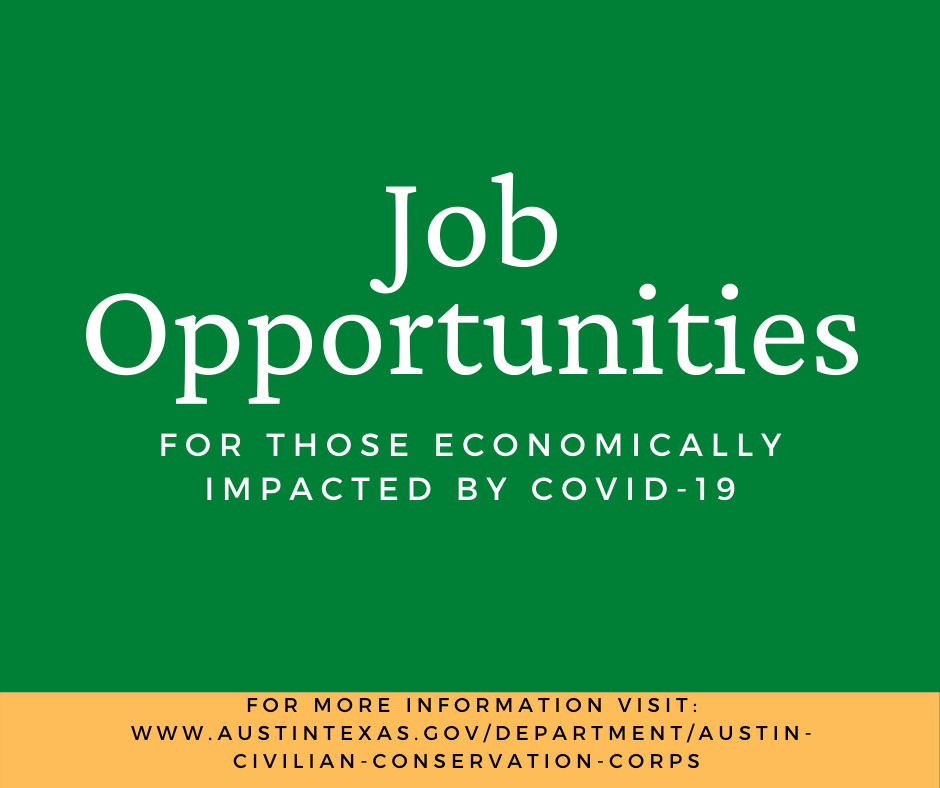 The City of Austin, along with community partners, is launching the Austin Civilian Conservation Corps (ACCC). The primary goal of ACCC is to help Austinites who have been economically impacted by the COVID-19 pandemic to earn income, serve their community and gain skills that can lead to new sustainable careers.
The initiative was created following the adoption of a resolution by the Austin City Council on May 7, 2020.
 
There are many different types of work available through the ACCC, including landscape preservation and tree care, wildfire mitigation, green building and solar installation, and public art installation. Community partners and City staff are currently working to understand resident needs and developing additional work programs to meet them.
One of the first nonprofit organizations to partner with the ACCC program is the Texas Conservation Corps, which will train and employ residents to preserve and restore Austin parks and preserves while gaining critical skills and certifications that will allow them to advance into environmental careers.
"Right now Austin must do more for its citizens and its environment. Inspired by FDR's New Deal program, I worked to create the Austin Civilian Conservation Corps," said Council Member Alter, who sponsored the May resolution. "The Austin Civilian Conservation Corps will employ Austinites who have lost their jobs due to COVID, provide training, and help make Austin safer and more beautiful. Not only will the ACCC get folks back to work, the focus on conservation-related projects ensures the work will have long-lasting positive impacts. These projects will create career opportunities and build community in our city. I am proud to see the ACCC launch with such enthusiasm."
Council Member Alter added: "Cities today must do more than just meet immediate needs in the wake of the pandemic. The cities that will prove resilient will be the ones that make long term investments. That was my impetus for the Austin Civilian Conservation Corps."
"I'm excited and proud that Council made equitable access to green careers a key part of Austin's economic recovery," said Daniel Culotta, ACCC Program Coordinator. "The Austin Civilian Conservation Corps provides a great opportunity for residents affected by COVID to gain income and build new careers. It gives us all the opportunity to create positive change in the city we love."
 
Regardless of the program they are in, ACCC participants will receive skills training, certifications, and professional development wherever possible. The knowledge gained through the programs will position participants for future jobs and conservation-related careers.
 
The following ACCC program is currently accepting applications:
American Youthworks Parks and Public Lands Improvement
This employment opportunity will last for eight months and pay $15.00-18.00 per hour. There are two openings for a crew lead and six openings for crew members.
Other ongoing and future employment program opportunities include:
Environmental monitoring and project management
Urban Forestry and arborist certification
Ecosystem restoration and trail building
Wildfire prevention and management
Construction and solar panel installation and certification
Public art design and installation 
The ACCC is also still seeking partnerships with local sustainable businesses who are interested in providing employment opportunities and training through the ACCC.
For more information on how to get involved with the ACCC, program applicants and potential community partners are encouraged to explore the ACCC website.