About Lights, Camera, Safety
Get ready for the Safe Routes to School Program's first annual Lights, Camera, Safety PSA contest -- coming to a street near you starting March 10!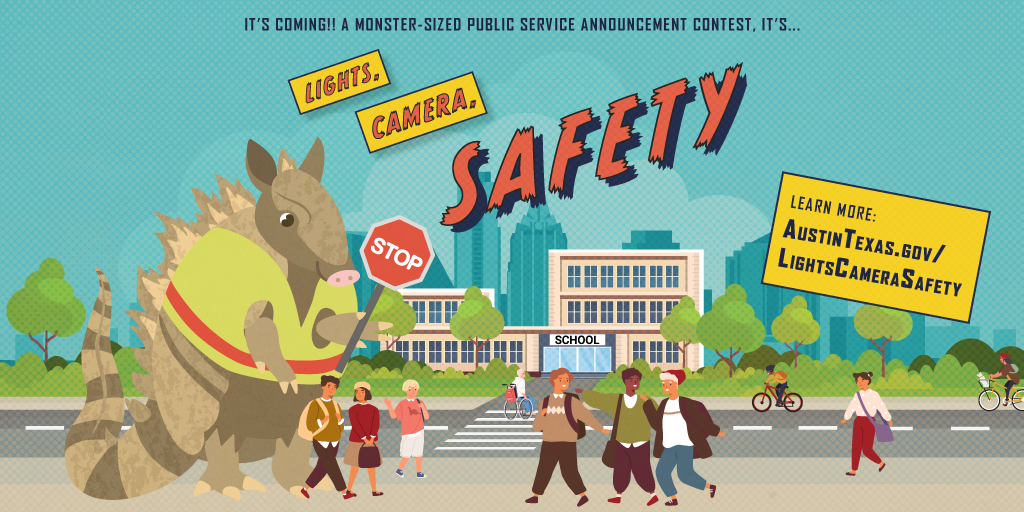 A PSA, or Public Service Announcement, is a video that influences opinions and helps people learn about important topics.
In this contest, Austin 6th, 7th, and 8th grade students are invited to create their very own short PSA showing how to walk, bike, and roll to school safely. The winning team will receive Alamo Drafthouse Gift Cards, and their video will be shown in middle schools across Austin.
Stay Safe and Stay At Home!
While students can't walk or bike to school right now, being a safety all-star is always in style! Follow these tips to stay active and safe while making your PSA:
Stay close to home while walking and biking – no need to film your PSA at school.
Cast family members as the stars of your PSA, since it is unsafe to meet with friends who live outside of your household.
Create your film with your cell phone – no fancy equipment needed!
Be sure to follow the CDC's social distancing guidelines.
Acerca de Luces, Camara, Seguridad
Prepárate para el primer concurso anual de Luces, Cámara, Seguridad PSA del Programa de Rutas Seguras a la Escuela, ¡llegando a una calle cercana a partir del 10 de Marzo! Un PSA, o Anuncio de Servicio Público, es un video que influye en las opiniones y ayuda a las personas a aprender sobre temas importantes.
Consulta las nuevas reglas actulizadas del concurso y obtén información sobre cómo remitir (o enviar) tu video usando el manual de reglas de Luces, Cámara, Seguridad aquí.
¡Mantente seguro y quédate en casa!
Mientras que los estudiantes no pueden caminar o ir en bicicleta a la escuela en este momento, ser un estrella de seguridad siempre está en estilo! Sigue estos consejos para mantenerte activo y seguro mientras haces tu PSA:
Mantérte cerca de casa mientras caminas y andas en bicicleta, no necesitas filmar su PSA en la escuela.
Lanza a los miembros de tu familia como las estrellas de tu PSA, ya que no es seguro reunirse con amigos que viven fuera de tu hogar.
Asegúrate de seguir las regulaciones de distanciamiento social del CDC.
Contest Details
Contest Eligibility: This contest is open to all 6th, 7th, and 8th graders in Austin. Students can enter the contest on their own or with their families
Contest Period: Submissions will be accepted from March 10 through August 3. Winners will be announced in September 2020.
Contest Rules: All submissions:
Must have a title.
Must be in either English or Spanish.
Must be between 30 seconds to two minutes in length.
Must follow the CDC's social distancing guidelines.
Must NOT include any offensive materials. 
Must NOT include ANY copyrighted music, audio/video clips, characters, logos, or other protected material. Videos may include music only if it is considered "open source" music, or if it is composed and played by a student (or students) in the group.
Check out the updated Lights, Camera, Safety Handbook to learn more or get tips and tools for your PSA.
How to Enter This Contest
Ready to get your camera rolling? Here's how to submit your contest entry.
1. Read our Lights, Camera, Safety Handbook for all contest rules and information.
2. Once you finish your PSA, upload it to a video hosting website (like Youtube or Vimeo).
3. Send an email to SafeRoutestoSchool@austintexas.gov with:
The name of everyone in your group
A link to your uploaded PSA so that we can watch it online!
4. Stay tuned for updates! Safe Routes will reach out to contest winners in September 2020.
Questions?
Need more info about this contest? Reach out to the Safe Routes to School Program at SafeRoutestoSchool@austintexas.gov. Go to the Safe Routes to School website to learn more about this program.