- to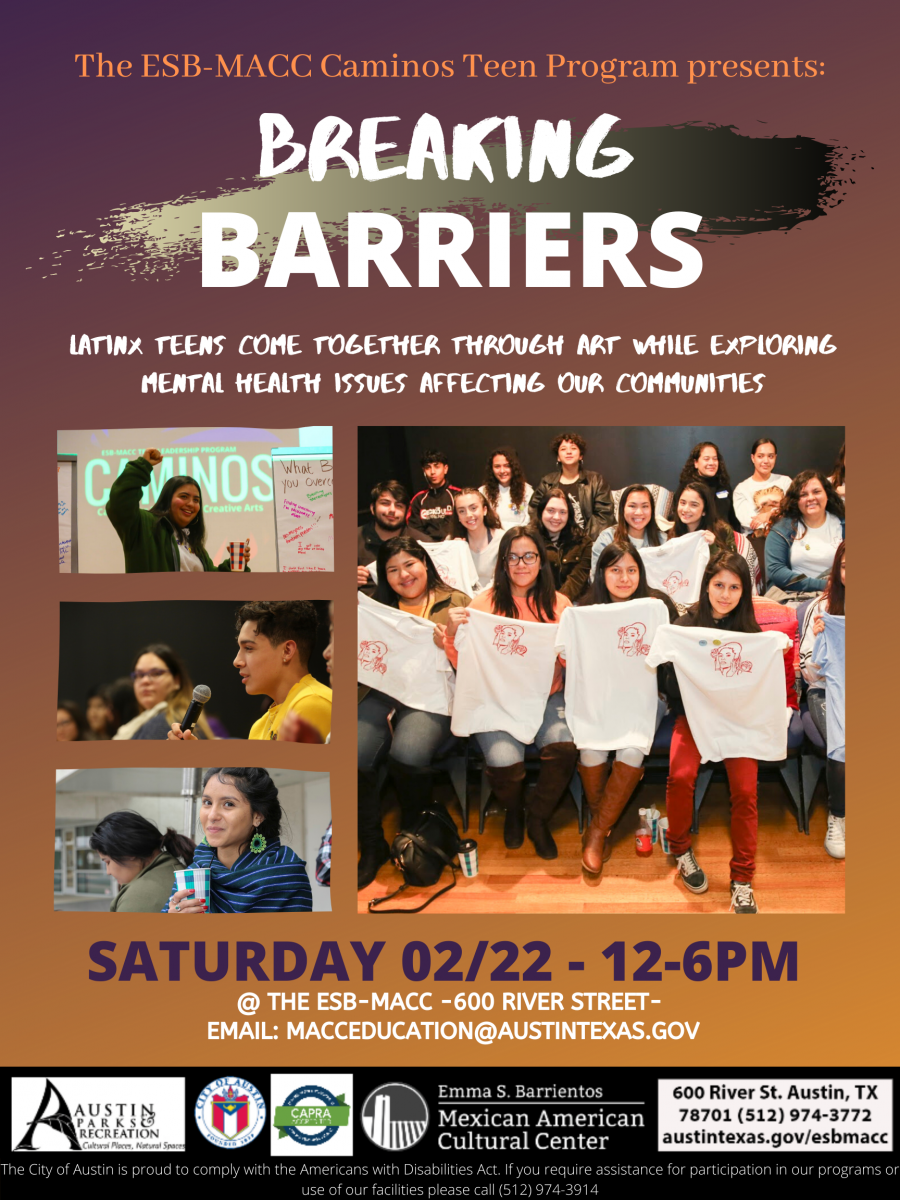 Breaking Barriers 2020!
Saturday, February 22nd from 12pm-6pm
For teens ages 13-19 years old 
Free, RSVP here! 
Breaking Barriers Latinx Youth Conference is a day of art, music, and community dedicated to Latinx youth, presented by the teens of the ESB-MACC Caminos Teen Leadership program.  On February 22nd, teens will collaborate with emerging artists and cultural activists to facilitate exploration and self-expression around the theme of "breaking barriers".This year our teens have chosen to take a closer look at what 'Mental Health' means and how does it affect our many communities.
Conference activities will include screen printing (bring something cool to print on), graffiti arts workshop, interactive art stations, we4lnness activities led by teens, music performances and much more. This event is uniquely created BY teens, FOR teens.
Schedule:
12:00am - Arrival and Greetings
12:20 Program Starts
01:30-3PM- Art Workshops
3PM- Snack Break (on-site)
3:30- 5PM Session 2 
5:00-6:00PM- Musical Performances; Art Stations and Conclusion
What to bring: A blank t-shirt for screenprinting. Snacks are provided and it is recommended to bring $10 for lunch. Please come willing to share your voice.
To participate in the open-mic, bring any needed instruments. Free parking is available on-site. Students may earn volunteer credit at their school for attending if they get pre-authorization from their school and bring any necessary documentation for a staff signature. Adults may contact the organizers to volunteer at the event.
More about Caminos: CAMINOS is an immersive paid internship empowering Austin-area Teens to carve their own path in the creative arts. Students apply and are accepted into the program for one year, during which they are actively engaged in the various elements of the program which include working with ESB-MACC professional staff; artist mentorships, community engagement, special workshops and cultural events.
Contact: Caminos@austintexas.gov
 
Emma S. Barrientos Mexican American Cultural Center
600 River Street
Austin , TX 78701
United States