- to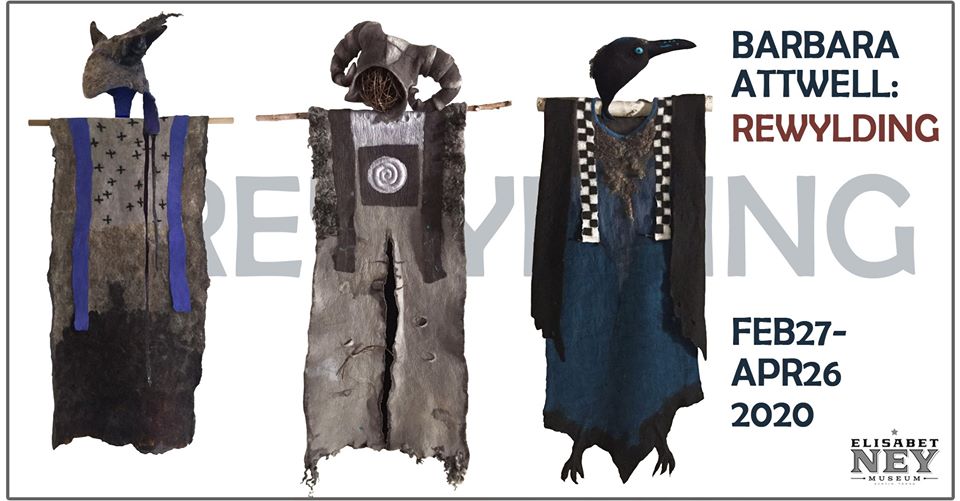 Join us for this marvelous Spring exhibition. Barbara Attwell's work explores the inner and outer lives of ourselves and nature. Her work is made of a very special wool felt and will be displayed both indoors and outdoors. Attwell will also lead a very unique outdoor nature/art activity at the Ney's Nature Day, Saturday March 7.
______
Barbara Attwell
REWYLDING at the Elisabet Ney Museum
Attwell's work is the search for ways that all things wild - clouds, mountains, otters, ourselves - are connected in a delicious and fierce beauty. She strives to reawaken the singularity we have lost with this powerful undercurrent.
In today's culture, alienation and a peculiar poverty of soul are the result of spending more time controlling nature than knowing it. We need to summon our primordial self – the one who stomps on the ground to bring rain, lays down on the earth to listen for underground rivers, and introduces themselves to trees, knowing that they respond.
Adding to Attwell's successful career as both painter and sculptor, is experience in the field of environmentalism, and thus a rich and intensive knowledge of nature informs her art. Current works center on the wisdom, beauty, and plight of wildthings, and paths back to our wild, holy home.
The works exhibited here feature felted wool. Large clothing-like wall hangings refer to an ancient Celtic tradition of binding oneself in protective clothing to meet the wild forces of Nature. Some resemble the animal one desires to draw power from; others use the primitive symbols to tap into our ancestral selves. Sculptures offer narratives about the relationship between people and wildlife.
Felting is little known here in South Texas, but in Europe and the Middle East, it is a 3000-year-old art. Having studied in Ireland with some of their best felters, the process Attwell uses in her studio is the same as felters from 1200 BC. It starts by layering fine wool, then massaging it with warm, soapy water until it snakes into a form. Wool is beautiful -colorful, tactile, and extraordinarily strong. The process is physically intensive, and conjures up a rich primordial-soup kind of experience. Attwell sources wool from places like Navajo Tribal Lands and the Faroe Islands, sometimes knowing the shepherdesses who tended the sheep. Best of all there is no harm done to the animal – their part is getting an occasional haircut.
Biography
Barbara Attwell began with a scholarship to the Houston Museum of Fine Arts from the 4th through 12th grades, followed with a BFA Cum Laude from the University of Texas. Her extensive career includes numerous shows and awards, and her work unfolds in many formats – habitat sculptures, endangered species paintings, graphic design, funerary urns, and felted works. Her work can be seen here: www.barbaraattwell.net
Elisabet Ney Museum
304 E 44th St.
Austin, TX 78751
United States