The Sabine Street Promenade project, located along Sabine Street between 4th and 6th Streets, gives priority to bicyclists and pedestrians by creating a festival street atmosphere. 
This project consists of transforming a one-way roadway and sidewalk into a right-of-way to enhance connectivity between the existing Lance Armstrong Bikeway and the historic building fabric. The proposal to create a thoroughfare for cyclists and pedestrians along the west side of the right-of-way is intended to provide an environment for events without disrupting local access for vehicular traffic.

Construction Time Frame
Spring 2018 – Summer 2019
*5th Street will remain one-way from Red River Street to I-35 until summer 2019.
Project Update
The project has reached substantial completion. Telecom companies are required to remove overhead fibers and establish new connections underground.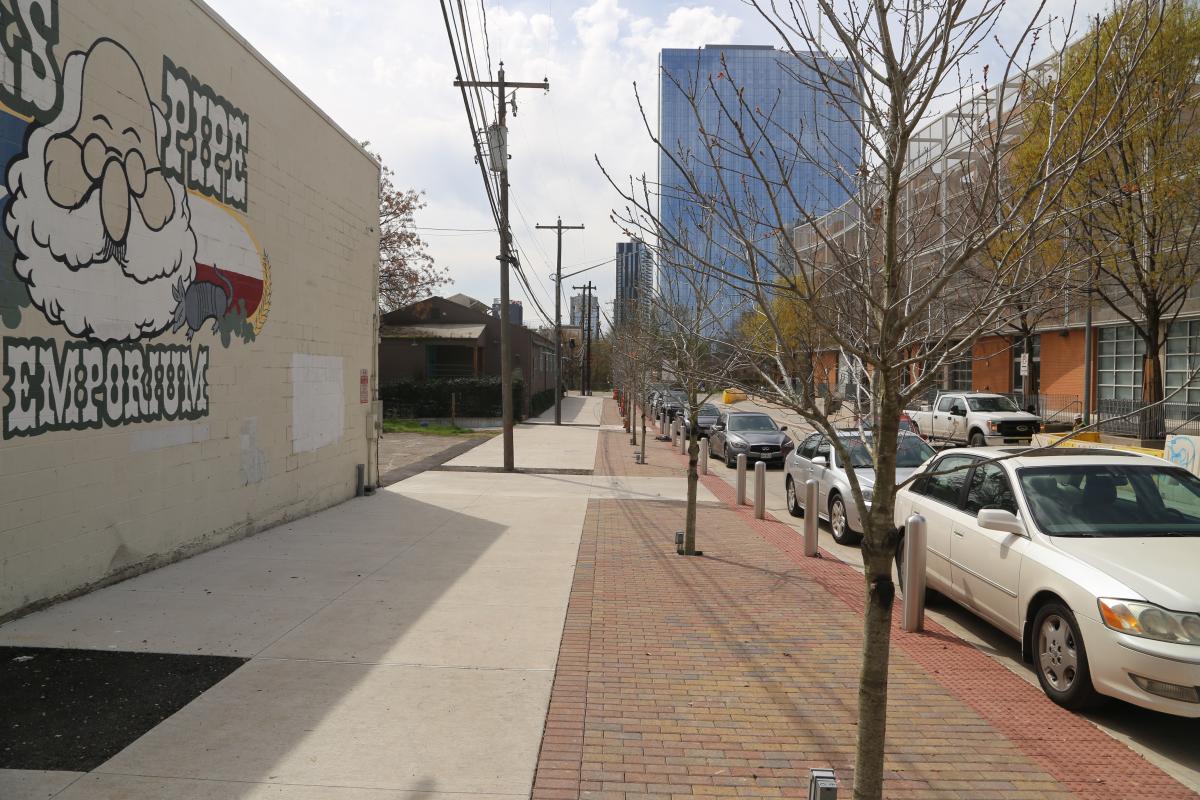 Overhead utility lines shown in this photo have been relocated and will be removed.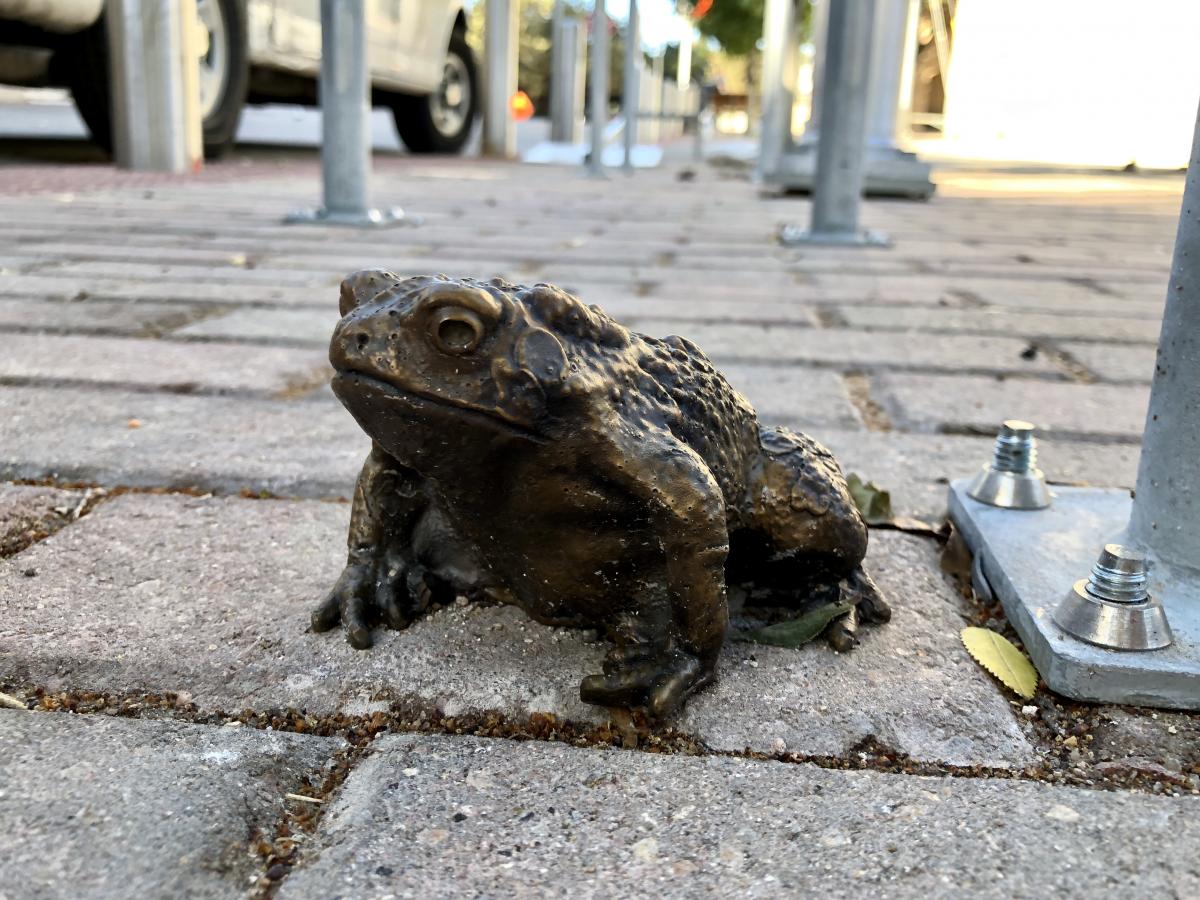 Art in Public Places has completed artwork installations.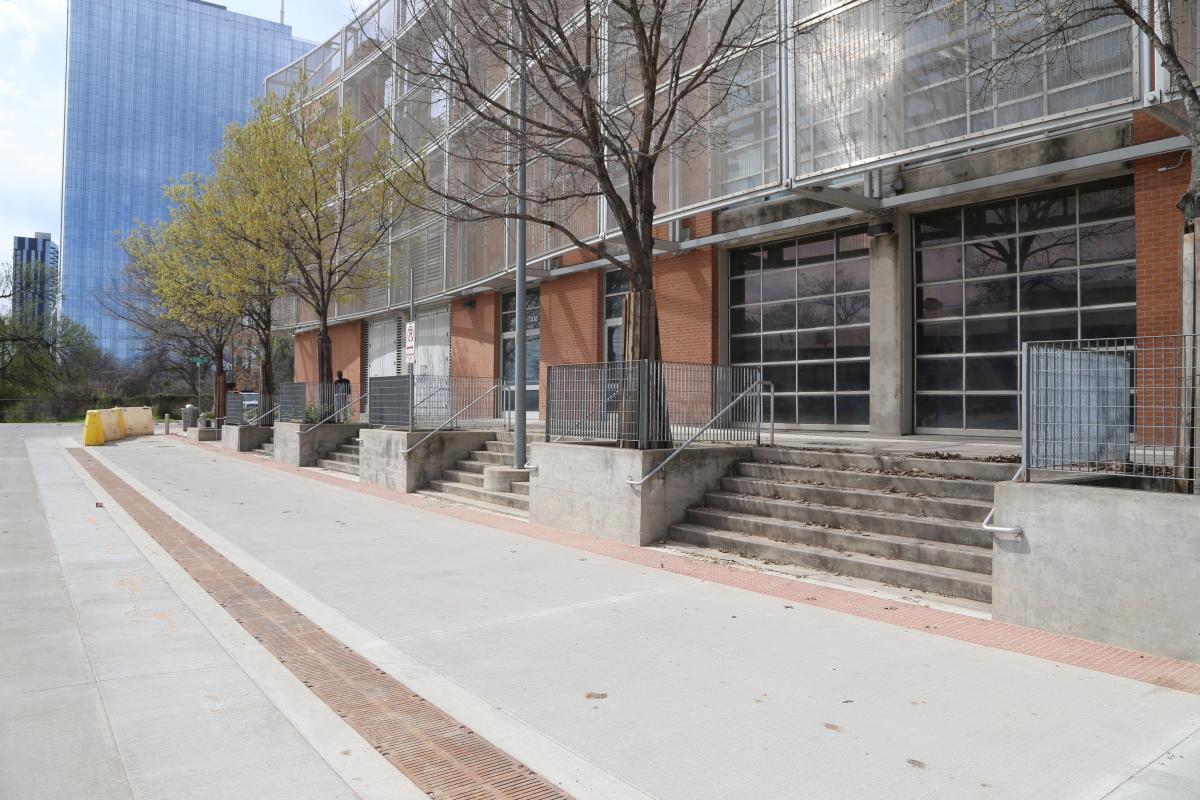 Construction Budget
$2.8 million – Funded by 2010 Proposition 1 – Mobility (Pedestrian/ADA/Bikeways); 2012 Proposition 12 – Transportation and Mobility (Street and Bridge)
 
A portion of the construction costs are eligible for reiumbursement from the Federal Highway Administration, "STP Metropolitan Mobilty Project Off-System."
Project Highlights
Relocate existing overhead utilities to underground
New water and wastewater piping for area businesses and residences
Installation of 18-foot sidewalks
Addition of two-way bike lanes
Protection of established trees and addition of new trees with irrigation 
Addition of landscape features including small plantings and benches
Additional lighting
Improved drainage 
Restriping of parking area
Art in Public Places
Project Renderings 
Additional renderings of the project can be seen here. 
Construction Phasing
East side from 4th to 5th Street

West side from 4th to 5th Street

East side from 5th to 6th Street

West side from 5th to 6th Street

4th to 7th Street (Pavement Markings)
The order of these phases is subject to vary due to the nature of construction.
Project Contacts
Jessica Salinas, Project Manager
(512) 974-7646
Email
James Mendez, Construction Inspector
(512) 974-1576
Email
Matt Hart, Public Information
(512) 974-7268
Email