Nov 1, 2019
October Events and Outreach
Thanks to everyone who came out to learn more about the Land Development Code Revision!  As planned, we focused on community outreach and education throughout the month of October. During our interactions with Austinites, we shared information about the proposed revisions to the Land Development Code and how to provide feedback to the Planning Commission and City Council. Throughout October, staff hosted and participated in a multitude of meetings and activities on a near daily-basis, including Council-led Town Halls, City Council Work Sessions, Council Committee meetings, Boards and Commissions Meetings, a variety of neighborhood and community meetings, as well as staff -led Public Testing and Open Houses.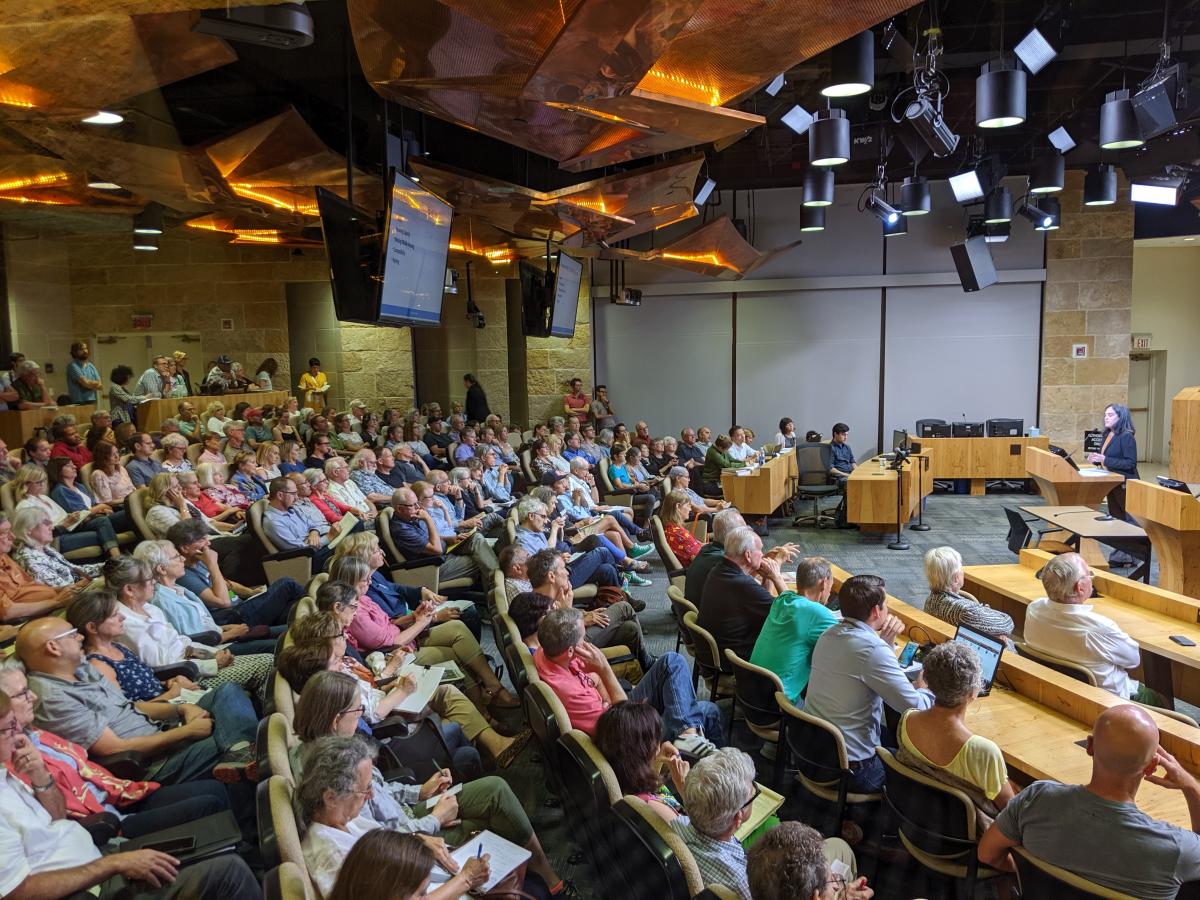 image: District 9 residents attend a Council-led town hall. 
Public Testing
On Friday, Oct. 19, 2019 approximately 100 people made their way to City Hall to participate in a Public Testing session of the proposed Land Development Code. Public Testing allowed the community to better understand the proposed Code, examine how the draft Code might affect the design of homes and commercial property, and evaluate how the Code meets the City Council policies related to the Code revision. Staff pre-selected five sites representing a variety of new zoning districts or different types of lots found in the City. Community members were encouraged to produce designs for the sites based on the current code and their understanding of the draft Code. During the event, community members were able to discuss their designs with staff.
The information gathered from the exercise is included in the Supplemental Staff Report which has been provided to the Planning Commission and City Council for their discussions about the draft Code.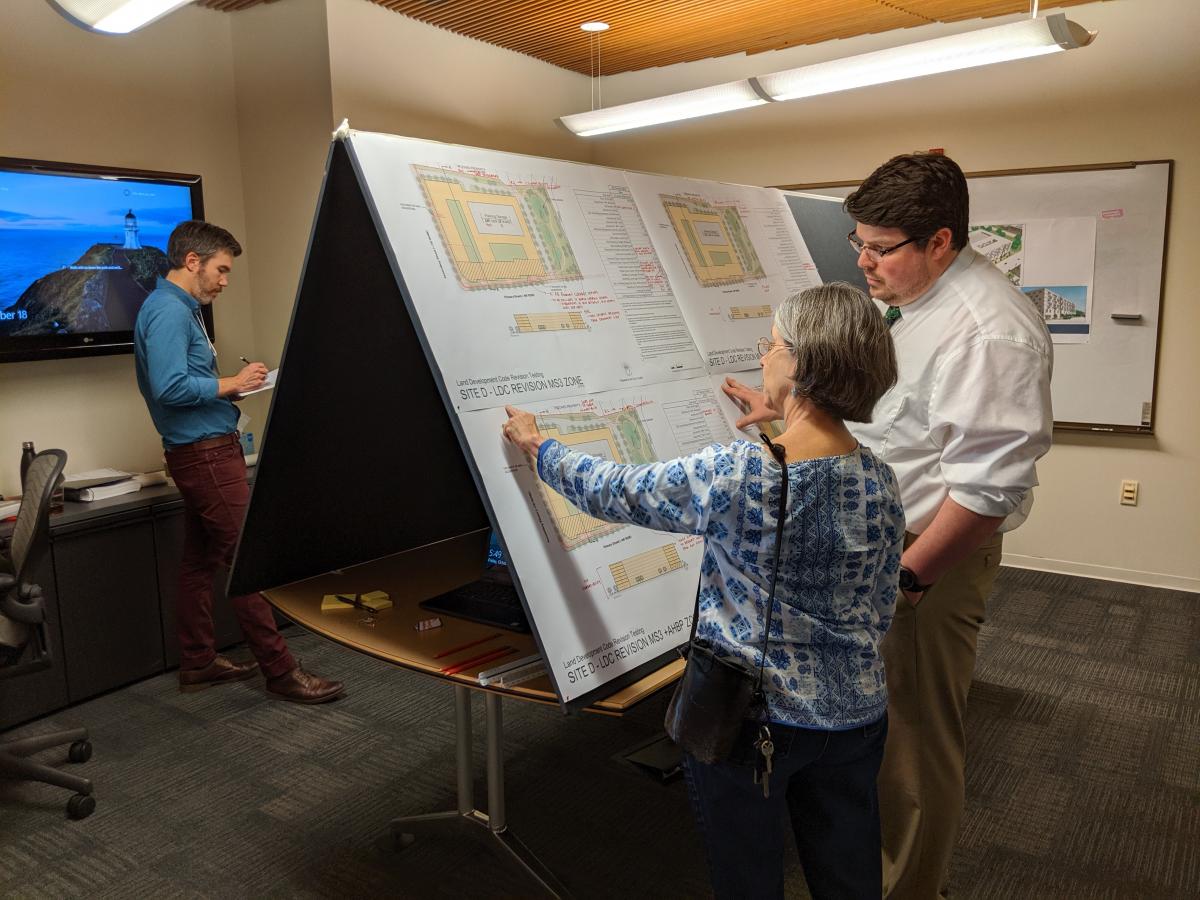 image: Participant reviews sample site with staff during Public Testing.
Below are the sites as marked up by City staff and the public:
Complete List of Site Renderings
Complete List of City Submissions
Complete List of Public Submissions
Open Houses
Open Houses were held on Saturday, Oct. 19 at the Conley-Guerrero Senior Activity Center and Wednesday, Oct. 23 at the Central Library. Over 200 Austinites attended these "come and go" events. The open houses provided opportunities for the community and City staff from multiple departments to interact and foster a deeper understanding of multiple topic areas including transportation, affordability, transition zones, missing middle housing zones, and the environment.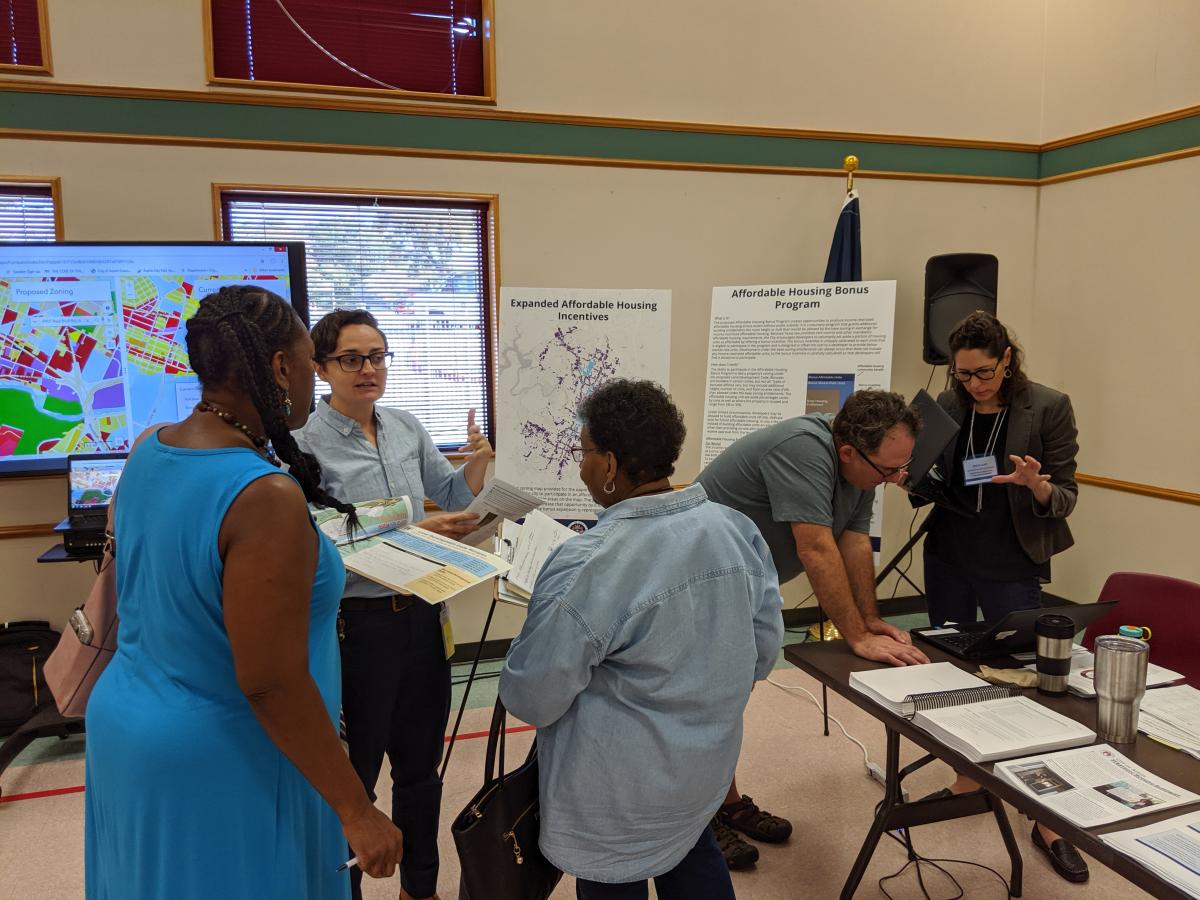 image: Austinites speak with Neighborhood Housing Staff at an Open House.
Below are digital files of all the poster boards on display during open houses.
Office Hours
Office hours with City staff provide Austinites with opportunities to meet one-on-one with a planner to discuss how the draft code might impact their neighborhood or property. Staff met with approximately 100 people during October office hours which were held in every Council district in Austin. An additional 120 Office Hour appointments are scheduled throughout November. If you weren't able to schedule a session, please visit our FAQ to see if others might have asked similar questions. If you don't see your question listed, we encourage you to submit a question.
Lastly, if you haven't already, please subscribe subscribe to our newsletter to make sure you get the most up to date information on the Land Development Code Revision.
Upcoming Events
November 2019
December 2019
For a list of all past events related to the Land Development Code Revision, visit the Past Events page.