The Widespread Stone (Perlesta decipiens)
STONEFLIES!!!! IN AUSTIN??? A fly fisherman who day-dreams about speckled trout snapping at a well-named fly rhythmically casted over a river of mountain snowmelt might laugh at the idea of stoneflies living in Austin's creeks. The laughing would be misplaced though, because there are a few species of stoneflies tolerating the harsh conditions here in Austin. The most common of which is the Widespread Stone (Perlesta decipiens). Measuring only a half-inch in length, Perlesta decipiens is considerably smaller than the 1 ½ inch monsters of the Pacific Northwest, but they are just as awesome by any other measure.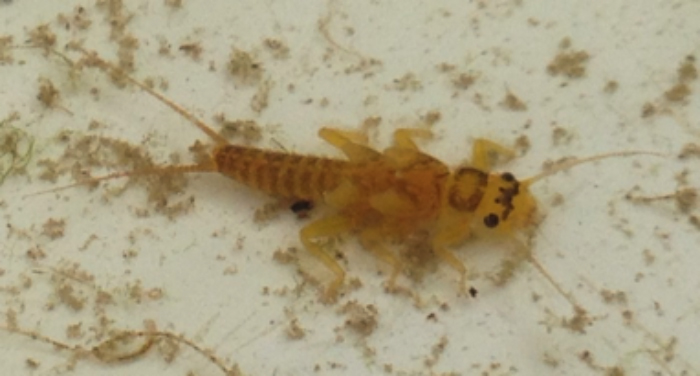 Perlesta decipiens nymph (photo: Todd Jackson)
Stoneflies are easy to distinguish from other aquatic insects by their two tail filaments, two long antennae, and two pairs of similarly-shaped wing pads. One of the really neat features of stone flies is their gills which can be seen branching out from their thorax near their legs (see photo).
Since they require reliable cold, well-oxygenated and relatively clean water, they make great water quality indicators. In fact, when we do find them, these critters are typically in spring-fed streams with high water quality like Barton, Bull and Onion. The adult doesn't live very long, but you just might see one crawling near a creek if you're very lucky. They look just like the nymph, but with four long wings (see photo).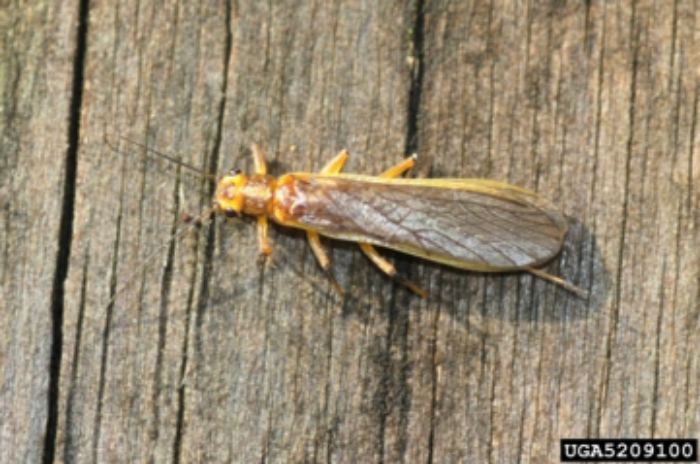 Adult Perlesta decipiens (photo: Whitney Cranshaw, Colorado State University, Bugwood.org - See more at: www.Insectimages.org)