Gardening in Texas isn't easy. You may do everything right, tending to your garden regularly, adding what you think is the best fertilizer and mulch, only to have no luck getting your veggies to grow. If this is the case in your backyard, you might be missing one very important step to growing that perfect tomato—soil testing.
Soil quality can make or break a garden. In order to grow a successful, healthy garden, it's important to know about nutrients that are present or lacking. In addition, food gardeners especially need to know if there are any other elements lurking in the soil.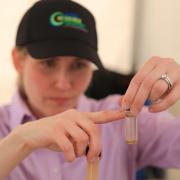 Lucky for Austinites, the Brownfields Revitalization team is here to help by hosting a free Soil Kitchen, April 14 – 17 at Parque Zaragoza Recreation Center.
The Soil Kitchen is a four-day opportunity for backyard and urban gardeners to learn about their soil, how they can make changes to improve nutrients and reduce any potential exposure to lead or other metals. The event is focused on engaging people in protecting their health and the health of their communities.
It's an easy, confidential process—just bring a soil sample to the Kitchen between 9 a.m. and 2 p.m. and representatives from Austin Brownfields Revitalization Office, the Environmental Protection Agency and Texas A&M's AgriLife Extension will be on hand to test your soil for nutrients and the presence of heavy metals. The results will guide Austin food growers in deciding how to safely and effectively start or continue gardening.
Participants simply write their initials, date of soil collection and the closest intersection on their sample bag. A number is then assigned to the anonymous sample and the gardener can look up their number online around mid-May.
The Soil Kitchen is a perfect opportunity for backyard, school and community gardens to learn more about safely and effectively growing great, healthy food. And on Saturday, April 16, it will coincide with the East Austin Garden Fair. The Fair is also a free event and will include a variety of family activities ranging from building a rain barrel to keeping backyard chickens.  So dig your dirt, grab your bag and head to the Soil Kitchen to get the scoop!