West Food Park Under Construction for Amy's Ice Creams, East Side Pies, FlyRite and Hat Creek Burger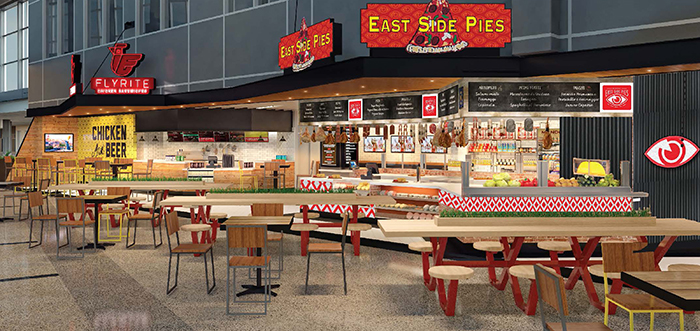 Rendering of East Side Pies and FlyRite concepts currently under construction at Austin airport across from Gate 21.
 
The west food court closed on Oct. 17 and construction walls mark the start of renovations to Amy's Ice Creams and the construction of East Side Pies, FlyRite chicken, and Hat Creek Burger Company. Closed is Cinnabon, Schlotzsky's and Maudie's across from Gate 21. Construction to the 9-gate expansion continues with the installation of carpet, patio pavers, and business centers.
West Food Park Construction Includes Three New Venues
Construction has started and three new venues that will operate jointly in a 3,227 square foot location at the Austin airport, now called the West Food Park. After construction using a mixed seating set up, East Side Pies, FlyRite chicken, and Hat Creek Burger Company will operate across from Gate 21. This was the former location of the now-closed Cinnabon, Schlotzsky's and Maudie's.
East Side Pies, with four current Austin area locations, will offer thin crust farm to table pizzas with seasonal and local veggies and sauces. Its location is in a new 697 square foot site inside the Barbara Jordan Terminal. With Texas sourced meats, East Side Pies sauces include red, chimichurri, extra virgin olive oil, black bean, pesto, and ricotta. 
FlyRite, founded in Austin with two current locations, will offer at the airport its chicken sandwiches on whole wheat buns, chicken and veggie wraps, and chicken strips. From its new 719 square foot spot inside the airport, FlyRite will offer salads, breakfast tacos, beer on tap, wine by the glass and housemade sauces such as avocado salsa, sriracha mayo, cucumber yogurt, and Thai chili.
Hat Creek Burger Company, was founded in Austin, in 2008 operating out of a food trailer. Offering fresh, never frozen, all natural beef burgers, Hat Creek will operate out of a new 793 square foot location at the Austin airport. Its burger menu includes the Big Hat double, Signature Burger with Happy Sauce and sauerkraut, the Cowboy Hat, and the Sombrero with Yellowbird Hot Sauce. Also offered are chicken sandwiches, salads, and breakfast tacos, bowls, and platters.
In the back of the West Food Park will be a Grab & Go selection and display. Concessionaire Delaware North will operate East Sides Pies, FlyRite chicken and Hat Creek Burger Company.
Amy's Ice Creams, currently closed is building a stand-alone location next to BookPeople across from Gate 21. Bathrooms in the West Food Park area will be accessible during construction.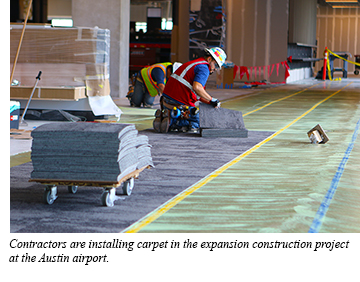 Amy's Ice Creams Design to Feature Paper Plane
Renovation plans for a new 690 square foot freestanding Amy's Ice Creams location, will feature a paper airplane like design made of metal, serving as the canopy for the venue. Located 25 feet above the store, in front of Gate 21, the suspended plane will nearly be 30 feet long and 14.5 feet wide. Amy's signature cloud sign will be elevated on a pole, motorized and rotated.
Carpet, Patio Pavers and Business Centers Installation Begin in the 9-gate Expansion
In the 9-gate terminal expansion over 43,000 square feet of high durability and high traffic, carpet tiles have been placed inside the 9-gate terminal expansion at the Austin airport.
Over 15,992 carpet tiles, each 24 x 24 inches will be installed in the Custom's corridor and is currently being installed in the airline hold room gate areas.
Out on the east terrace patio, 428 wood pavers and 276 concrete pavers, covering a total of 4,827 square feet are being installed. Each concrete paver weighs 200 pounds and is 30 inches wide x 30 inches long and 2.25 inches thick.
Eighteen business centers and counters are being installed in the terminal expansion to provide a place to charge electronic devices and operate business and personal computers. Over 500 square feet of work surface counter space is devoted to business center space throughout the 9-gate terminal expansion.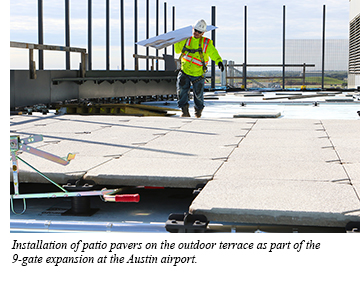 DOT, FAA Grants Expands Austin Airport Apron
The U.S. Department of Transportation has announced that the Federal Aviation Administration has awarded $12.7 million in infrastructure grants to the Austin airport. This includes discretionary funds to use for the final phase of expanding the paved aircraft area around the Barbara Jordan Terminal to accommodate larger and more aircraft.
"These grants will help Austin better serve the flying public, which will strengthen the economy and create jobs in this community," said U.S. Department of Transportation Secretary Elaine L. Chao.
Phase 3 of apron work is using awarded FAA grants to complete the widening of the third taxiway entry, Golf 3. Golf 3 is currently closed and under construction on the apron. Phase 1 saw the completion and widening of Golf 1 with 528,400 square feet of pavement. Phase 2 saw Golf 2 completed with 314,000 square feet of additional pavement for flight, taxi-lane and remain overnight (RON) parking.
"In our mobile society, we need infrastructure that can keep up with our increasing demands," said U.S. Sen. John Cornyn.  "Thanks to this grant, the Austin airport will be more efficient and ultimately safer for traveling Texans.  I'm proud to have supported this funding in the Senate and grateful to the Trump Administration for supporting Texans traveling to and from Austin."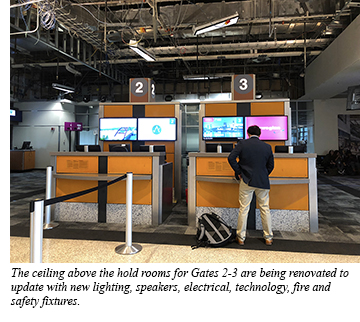 Terminal Gate Hold Room Ceiling Updates Reaching Completion
Above Gates 2-3, passengers will notice removed ceiling tiles in the gate passenger hold room area in the Barbara Jordan Terminal. This is the last set of hold rooms to be updated and to allow for upgrades for new lighting fixtures, sound and public address speakers, electrical and technology equipment, including fire sprinkler and safety improvements.
The modernization of hold room ceilings from Gates 5 – 34 has been completed. The majority of the hold room construction takes place at night after the last flight has departed or arrived, as not to interrupt airline and passenger services.