The Way Forward: The 2015 Imagine Austin Annual Report
Just three years after adoption, the City of Austin and its partners have already moved the needle in our community in implementing the comprehensive plan across all eight priority program areas.  How much has the needle moved?  For starters, four of the policies created with a 30 year vision have already been completed! But there is much more being done - the 2015 Imagine Austin Comprehensive Plan Annual Report highlights the work the City and our partners have done to navigate the way forward.
This year's Imagine Austin Annual Report provides key facts and accomplishments of the Imagine Austin Priority Program teams over the course of a year, from fall 2014 to fall 2015. The annual report highlights the important initiatives that are helping make Imagine Austin a reality in our community.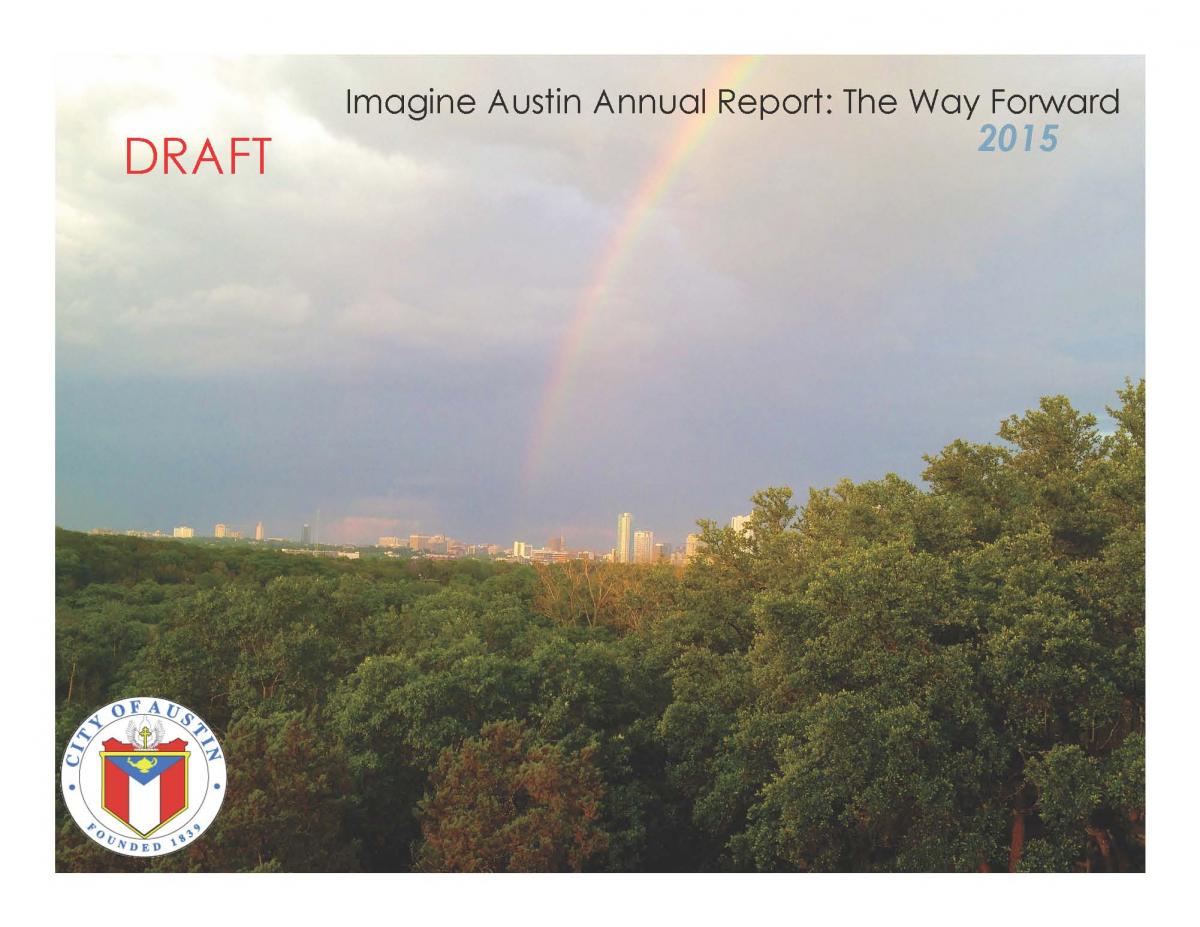 Last year priority program teams, working in the areas of mobility, creative economy, health, the land development code, the environment, affordability and workforce and education made tremendous progress on their goals.  Just since the fall of 2014, 34,459 pounds of healthy organic food were grown in community gardens on City land; more than 66,000 feet of ADA compliant sidewalks were constructed; 39 miles of new and improved bike lanes built, including 10 miles of buffered or protected lanes in 2014; 49 acres of Water Quality Protection lands were acquired in the Barton Springs Zone; and 181 acres of parkland were acquired, utilizing 60% bond funding and 40% parkland dedication funding.
The Imagine Austin Comprehensive Plan moves forward each year through a five-point implementation program: education and engagement, alignment, regulations, capital investment, and partnerships. As the city continues to implement the policies and actions contained in the comprehensive plan, education and engagement - of both the public and City staff across departments - is a top priority. A variety of media and forums are used to highlight our success stories. Communicating these stories to the public helps build confidence both in the plan's vision, and also in the City's dedication to achieving that vision.
Fulfilling the big-picture vision of the comprehensive plan requires the City of Austin to take a more collaborative, cross-departmental approach to major initiatives. With this in mind, City staff has developed ways to better integrate department work programs, decision-making, and long-range budgets to align our work internally.
Numerous City regulations affect the comprehensive plan's implementation, including the City's land-use regulations. Priority Program 8, CodeNEXT, was created to address development regulations and process that hinder compact and connected communities as envisioned in Imagine Austin.
As City departments continue with budgeting and capital planning for the upcoming fiscal year, new requests for both operating and capital funding are being reviewed against Imagine Austin's vision, policies and priority programs.
And finally, Imagine Austin is a big plan with big ideas that extend beyond what the City of Austin can realistically accomplish alone. Partnerships are critical to helping us realize the community-wide vision of Imagine Austin.
To read the entire 2015 Imagine Austin Annual Report online, visit http://issuu.com/imagineaustin/docs/annual_reportdraft, or download a .pdf version from our available documents at http://www.austintexas.gov/department/imagine-austin-download-center.