With so many people moving and visiting Austin each day, it's always nice to know a little about the history of this incredible city and how it is the city that it is today.  One active proponent, both socially and economically, of our beautiful current day Austin was a gentleman named Vic Mathias.

Vic Mathias was Chief Executive Officer of the Austin, Texas Chamber of Commerce for 27 years, from 1957 until 1983. This was a time of tremendous growth for the City of Austin and the Central Texas area and Mathias was instrumental in guiding Austin's economic development. He foresaw the need for a diverse business community to work in concert with the established state government and institutions of higher learning such as the University of Texas. This led him to recruit many high tech companies to the area and to help plan the future of Austin.
In an interview during his term as Chief Executive Officer of the Austin Chamber of Commerce, Mathias stated that the effort to bring in high tech businesses into Austin was motivated by the wish of the community to have jobs for UT graduates who were moving away in droves (he called the students "our biggest export"), to create enough jobs so that people's children and grandchildren did not have to move away, and to create a private sector tax base that would offset the massive amount of tax-exempt government property and agency's that were currently in Austin.
Mathias was also a key player to the recruitment efforts to "brand" Austin.  The Chamber wanted the country to see Austin as a town where "quality of life" was offered to employees of science-related companies. 
In 2014, the City of Austin was asked to rename the East Lawn of Auditorium Shores the Vic Mathias Shores.  It was passed by the city council and his vision for City of Austin lives on today.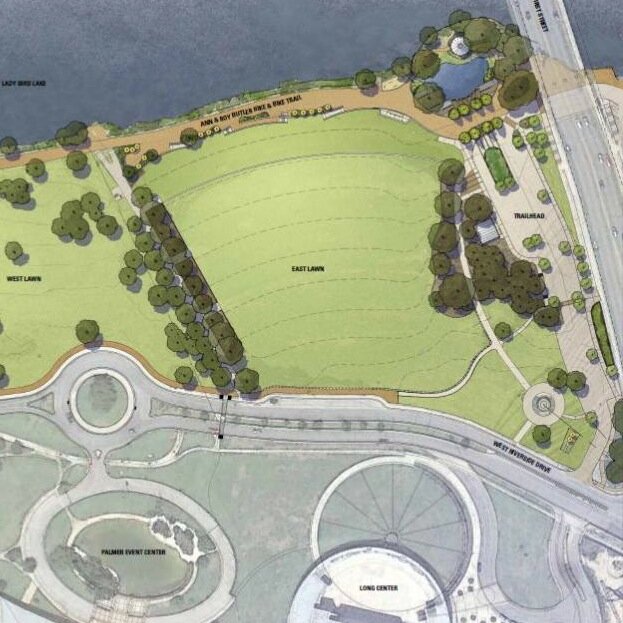 Mathias' friends and family described his vision for Austin in the following way:
From within the Austin business community, a young man in his twenties named Vic Mathias emerged with a vision that was bigger than the city that surrounds you today. He served as the CEO of the Austin Chamber of Commerce from 1957-1983. During his tenure, Mathias nurtured a college town toward maturity by cultivating the concept of hosting festivals at the urban core as an economic stimulator. His influence in leveraging Austin's geography and quality of life to strengthen its base of commerce is legendary, and fueled the growth of high technology, tourism and the beautification of Lady Bird Lake. His passion continues to inspire the way newer generations shape the future of Austin. Vic Mathias was a man who exemplified how vision, leadership, collaboration, and generosity can work together to create great city.*
*A special thank you goes to the website of Vic Mathias for the information that was used in this article.