Unveiling the Master Plan; Colony Park set to show off.
What started as an award from the U.S. Housing and Urban Development Sustainable Communities Challenge Grant program has become a complete communities based master plan. Colony Park, in northeast Austin, is set to reveal its final plan on June 23rd and to start the City Council approval process in July.
---
The U.S. Department of Housing and Urban Development and the U.S. Department of Transportation combined their efforts to award over $25 million in 2011 to cities across the country as part of the Community Challenge Planning Grant program.  The grant program is designed to promote reform and reduce the barriers to achieving affordable, economically strong, and sustainable communities.  Grant monies can be used to help create or revamp master plans in a specific neighborhood or corridor area, and that's just what Austin used its $3 million grant award on.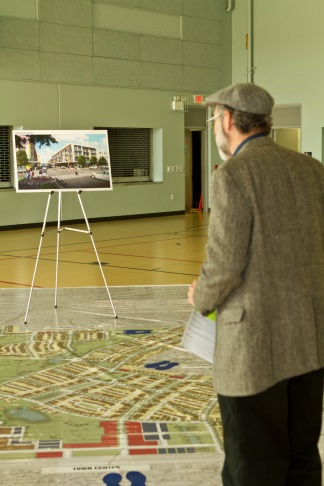 The Colony Park Sustainable Community Initiative is a 3 year planning process for 208 acres of publicly-owned land and 93 acres of parkland in northeast Austin, situated between Johnny Morris Road and Decker Lane on Loyola Lane. The project will include completion of a Master Plan, resulting in rezoning; engineering for subdivision and site planning for review and approval by the City of Austin; infrastructure construction plans; and architectural design guidelines for new sustainable residential and commercial development.  The initiative is designed to promote HUD's six livable principles: to provide more transportation choices; promote equitable, affordable housing; enhance economic competitiveness; support existing communities; coordinate policies and leverage investment; and value communities and neighborhoods.
Additionally, the project fosters strong cross-department and agency coordination, creating successful models for sustainable and equitable development.  Besides land use planning, the Colony Park Sustainable Community Initiative calls for programs to build leadership and other capacity for residents within a targeted area. Through one-on-one discussions with planners, door-to-door surveys, and small group and larger community meetings, Colony Park area residents have participated in this transformational project. Residents have expressed a preference for a walkable, mixed-use development that can be a catalyst for jobs and needed amenities such as a grocery store and medical facilities.
On June 23rd a team of consultants and planning staff will reveal the final draft of the Colony Park master plan, which transforms an area formerly set to be developed as manufactured housing and has sat vacant since 2001.  Plans include a mix of residential housing types, mixed-use commercial, institutional/office, community solar power and gardens, new streets, and overall a generally walkable, bikeable community. Five neighborhood centers will be located within a 5-minute walk or 10-minute bike ride, with paved and natural connectors between residential and commercial areas as well as schools through 18 urban parks.  Eventually, a re-routed bus line through the area will further connect Colony Park. 
See the final master plan draft in person on June 23rd 4-7pm at the Turner Roberts Recreation Center, in the Multi-Purpose room.  For more information on the Colony Park Sustainable Community Initiative, and to view the plan online, visit their website at http://austintexas.gov/department/colony-park or call Zach Stern at 512-974-3100.