Underground Photography at Goat Cave
Shelley Wood, Artist
Brian Leuzinger, Park Ranger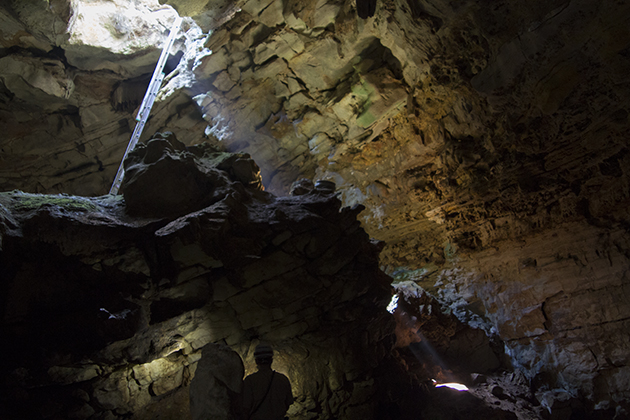 Rappelling down into a 30 foot cave that is usually closed to the public is an experience like no other!  You are only 30 feet underground, but it feels like a unique and alien world with the quiet and the darkness.  Once your eyes adjust, you see that you are surrounded by beautiful stone formations and walls.  It is definitely an experience that everyone should have at least once in their lifetime!
Best of all… Artist Shelley Wood and Park Ranger Brian Leuzinger will be your guides on this adventure, and the purpose of it is to learn how to take beautiful photographs in low light.  If you have ever wanted to photograph a cave and capture the memories of the unique and beautiful experience with your camera, then please sign up and join us for this exclusive opportunity to explore Goat Cave with your camera!  
Throughout the summer months, you will learn the basic techniques to successfully take photographs in caves or low light situations, then this is the photography adventure for you. This three hour workshop will discuss different lighting and shooting techniques, photographer safety and the importance of protecting the cave. A basic understanding of manual exposure will be helpful for your cave photography experience.
Students will either rappel 30 feet into the cave or use a ladder. All students must follow all of the basic cave conservation guidelines. Wear appropriate clothing, closed-toe shoes with a tread, and gloves (optional). The cave is slippery and wet. Bring a towel (optional) and a pouch or backpack for your camera. Rappelling gear is provided.
Workshops starts at the entrance to Goat Cave Karst Nature Preserve located at 3900 Deer Lane, Austin, TX 78749.
Classes Available in July:
Saturday, July 11, 2015
1 class from 10 AM – 1 PM
135732-A5
Saturday, July 21, 2015
1 class from 10 AM – 1 PM
135732-A6
Costs:
Resident: $76
Non-Resident: $82
Minimum 4 students, limit 6 students.